November 4, 2009 This is an interesting area on which we have all spent a lot of time - sanding and varnishing...or wishing we had the fiberglass versions where possible. We will start with hatches motivated by David Baumer's (Aeyla Makaira, Yankee #81) email and photos of his hatches. First, some commentary on Yankee's well deserved reputation for quality woodwork, both inside and out. Also, there is a related Technical page on repairing hatches which you can see by clicking here.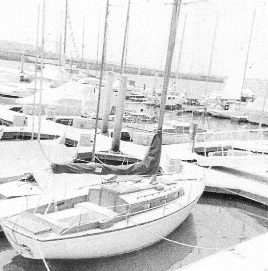 David sent in an email and photos regarding Aeyla Makaira's hatches and specifically her fiberglass cockpit hatches - and this gives us an entree to revisit Yankee's early days. Aeyla Makaira is a Yankee transition boat. Yankee's first four boats were built in late 1964 and 1965 on O'Day supplied fiberglass hulls with Yankee built wood decks, cabins and cockpits. Yankee. at left, now Charlie Drew's Arion with green top sdes below left, was the first boat. The next few boats were progressively changed to more fiberglass components - probably with a few fits and starts. Part of this transition was a new, updated Dolphin 24 design.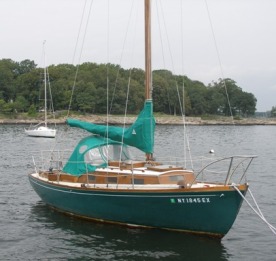 Sparkman&Stephens was having continuing problems with O'Day supporting and producing enough Dolphin 24s to meet the market needs. Having heard from O'Day that there was a guy building Dolphins on O'Day supplied hulls and finishing them to Mermaid 24 (wood Dolphin) plans, at some point in 1965, Olin Stephens visited John Shumaker, Yankee's founder, to discuss with him the possibility of becoming a west coast builder of the Dolphin 24. In addition to getting a new builder this gave S&S an opportunity to use some of the field data they had been collecting about what owners were doing to race their boats more competitively, and, In 1966 S&S issued design #1497-2 named "Yankee Dolphin" with 200 lbs more ballast and 200 lbs lower displacement, an improved rudder design and dual lower shrouds.
John Shumaker visited O'Day's plant to inspect and possibly buy the O'Day tooling but decided to build his own. They gradually built their tooling in late 1965 and 1966 to produce all or most components in fiberglass. There are gaps in this story which may never get filled in, but this seems to fit the available evidence.
Back to cockpit hatches....Yankee had a well deserved reputation for its woodwork, and its supplier H&L Marine Woodwork contributed substantially to this reputation. The 1967 Yankee sales brochure at left has # 80 on its main sail so she is, maybe, a sister ship to Aeyla Makaira, # 81. Its hard to tell what kind of cockpit hatches she has - her transom hatch is glass, and her main and fore hatch are wood, as are her combings, Click here for a large view. Yankee's 1969 price list offers teak hatches as an option whereas the 1967 price list does not mention any hatch options.
So with that intro here's David's email and photos.
Hello Ron,

Erik Evens comments about Yankee making a transition to fiberglass hatch covers after hull 114 really got me thinking about your observation that Aeyla Makaira, Yankee Hull 81, is an interesting transition boat. While looking at photos of other Yankee built Dolphins on your website, I often puzzled as I observed wooden cockpit hatches on Yankee hulls with higher hull numbers than my boat. Feather (Yankee 104), a good example, has teak hatches (see below). In 1967 Yankee built hull 81 with fiberglass cockpit hatches. I wonder if the hatches resulted from a customer request, an experiment, or just a quirk? The more visible hatches on hull 81's house top are fabricated of teak, mahogany, and fir plywood. Someone subsequently glassed over the forward hatch and painted it white; I guess to strengthen and or hide repairs.

Aeyla Makaira's cockpit hatches are fiberglass and a bit unfinished. Perhaps the molds came out too big, because the outboard edges and ends appear trimmed to fit the hatch openings. The hatch covers were later stiffened by fiber glassing (I am guessing) foam panels to the bottom to of the hatch.

The hatches look nice closed. Opened, their interior finish and fit is rather crude; and I can understand why Yankee may have reverted to teak hatches. Perhaps it was cheaper and easier to subcontract teak hatches from H. & L. Cabinet and Marine Co. of Redondo Beach? This company prefabricated a lot of the interior work for Yankee any way. Their stamp is burned into all the drawers built for hull # 81.

David Baumer
Lets look at a few cockpit hatches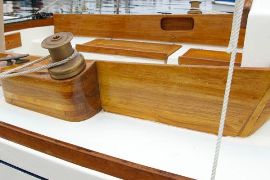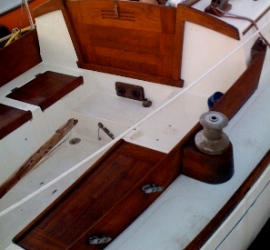 Feather, Yankee # 104 Valhalla, Yankee # 113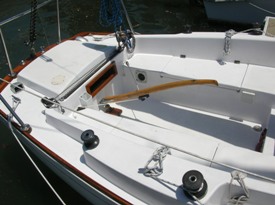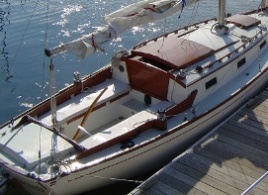 Robin Lee, Yankee # 118 Kestrel, Yankee # 110
Erik Evens (Robin Lee) laments the loss of that neat litttle ice chest/locker on the port cockpit seat that earlier Yankee's enjoyed. I imagine others have the same feelings!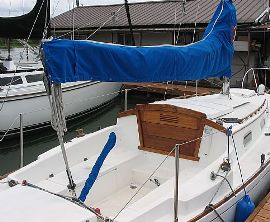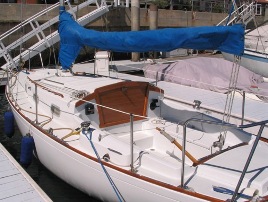 Riant, Yankee # 151 Our Knots, Yankee # 211
*************
Stay Tuned