September 21, 2020. Ron Campbell advised Valhalla has been sold. We'll standby for the new owner to check in.
Fair Winds Ron
**************************************************************
November 19, 2019 We got the following email from Ron. The Craiglist ad is below.
Hi Ron,


It is with a heavy heart that I wish to inform you that Valhalla is up for sale at the ridiculous price of 500 dollars. Scheduling, time, my domestic bliss and financial burden of rising slip fees make it necessary for me to part with her.

Here is the listing on Craigslist:

https://sfbay.craigslist.org/eby/boa/d/alameda-24-yankee-dolphin-sloop-sailboat/7022645602.html

Would you be so kind to further this on to the club?


There are tears in my eyes as I write this but if it's not me I want someone to enjoy her. Thanks for your support over the years.


Ron Campbell

24' Yankee Dolphin Sloop Sailboat - $500 (Alameda)

Just take over the slip fees and she's yours to enjoy. Valhalla is the perfect boat for the bay, Sails like a much larger boat, great for single handling. One of the later boats from a 1959 classic plastic design by Sparkman and Stephens. Go to www.dolphin24.org for lots of information on the design. She's a small, trailerable, centerboard/shoal keel cruiser with classic lines from the era of boats made to race and cruise. Comes with super reliable Nissan outboard.

She needs absolutely nothing to sail today. Her needs are cosmetic. Her teak (mostly the toe rail) needs some love: stripping and varnishing, or just oiling.Full story of boat here: http://www.dolphin24.org/valhalla.html


Great boat currently docked at Fortman Marina in Alameda. My schedule doesn't allow me enough time with her. But I want her to be enjoyed. Call or email today.

email b25285836c923891a22cbf6921073a91@sale.craigslist.org - phone 510-447-9274

***********************************************
June 5, 2008. We first heard about Valhalla on when we received the following email from Ron.
Hello
I just yesterday traded my Santana 22 for a Yankee Dolphin. Her name is Valhalla. I know very little about her except she was built in 1969. I'd like not only to join your roster but also perhaps gather more information on her. I have some restoration to do on her as well. I am in the Bay Area and she is berthed in Alameda at Fortman Marina. I'll let you know the hull # when I get it.

I appreciate your website!

Ron Campbell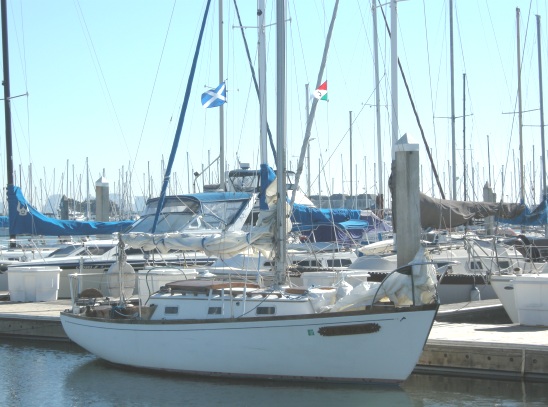 *********************
March 14, 2009. Ron checked in with some questions about trailers, and the following email (minor edits) and pictures:
Hi Ron
Great website. Thanks for keeping it so informative and fun. Valhalla (Hull #113) has been a joy from start to finish. Whether out on the San Francisco Bay going solo or a pleasant day sail with my girlfriend Danielle (pictured) Valhalla has been a charmed vacation awaiting me just five minutes from home. I live in Oakland, Valhalla is berthed in Alameda.

But now I want to get her out of the water. I did all the wood but now she needs it again. I have a long out of town gig (I'm the lead clown in a Cirque du Soliel show) so I need to get her on a trailer and get her down to L. A. for when my show plays there. I'm a complete neophyte when it comes to trailering but I have a possible trailer I will see next week.

I have attached some shots of Valhalla (and Danielle on her) and there is more on my website: soarfeat.org in the "Backstage" section. I'm sure I will be "pulling on your coat" some more as I get closer to moving her.

Thanks again for your expertise.

Ron Campbell
Valhalla
Webmaster Note: Ron is the 3rd Dolphin owner (that I know of) from the performing arts - the others are Dick Beals (Think Big) and Simon Graves (Supernova). A side trip to Ron's website www.soarfeat.org is well worth the trip. The "Backstage" section of his website has a lot more pictures of Valhalla. Click here to go right to it.
Above - Here's that 'Dolphin' lamp again and more Newport - Ensenada Race plaques

Right - Don't mess with this - a seriously determined tiller
Sunset on San Francisco Bay - looks like self steering gear

Right - an interesting picture. It is a great example of early Yankee's woodwork - combing, hatches, trim work. This boat is the last standard production Yankee built this way. Hannah Brownell's Dolphin, hull # 114 has fiberglass hatches and combings.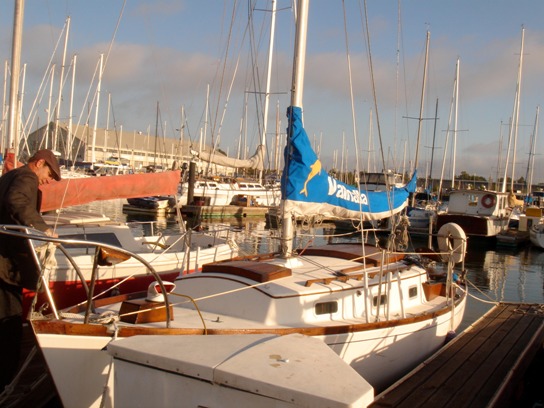 ****************
October 25, 2009 - Valhalla recently made a southern road trip from San Francisco Bay to Marina del Rey to join Ron who will working in LA. Ron sent in the following email and photos.
Hey Ron,

Just a quick update on Valhalla.

In an attempt to keep her with me while I tour the West Coast with Cirque. I took your advice, (Webmaster note: The info came from Doug Pease/Aspara) and had Warren and Carmen of Moger Yacht Transport trailer the boat down to Southern California. It worked out great and she is now happily berthed in Marina Del Rey.

I took the opportunity to do the bottom paint and Dalton Eann helped step the mast for me. Thanks again for your trailer advice.I look forward to meeting other Dolphin owners here in the Southland. The full rundown of the move is on my blog: http://www.roncampbelltempest.blogspot.com/

Attached are some pictures:

Best, Ron
| | |
| --- | --- |
| end of the road trip | new start |
***********************
December 16, 2009. Ron sent in the following email (titled "Valhalla Feeling Swell") and this interesting compilation of sequential photos of Valhalla sailing off the beach near Marina del Rey in large Pacific swells. Click here to see a large image. Use the back arrow on your browser to get back here. There are more pictures at the webpage highlighted in Ron's email. Click on it to go there.
Ron,
In a perfect storm of coincidinks, Bill Hogan was on his Flicka 20 Monday and took a whole slew of pics of me and buddy Chris Bell aboard Valhalla

http://picasaweb.google.com/wfhogan01/DropBox?feat=email#

He happens to be berthed near Erik Evens (Robin Lee) and asked him about the boat. Erik smartly recognized it as my boat and sent me an email with the pics attached.


I've attached the sequential shot Bill made which gives a sense of the size of the swells that day. Fun! What a coincidence!

Best Regards, Ron Campbell
******************
January 6, 2010. Ron sent in the following email (minor edit) and a keeper photo shown below,
Ahoy Ron

Bill Hogan, who has his Flicka 20, Nomad, berthed on the same dock as Erik Evens (Robin Lee) got some great pics of Valhalla in Santa Monica Bay yesterday on a sunny, warm January 5th.

Bill and I each had our cameras and we met up in the main channel and sailed out snapping pictures all the way. All the hassle of trailering Valhalla from Alameda paid off in one glorious afternoon.

I try to keep a ratio of 70% knuckle scraping, back bending maintenance work and hassle and 30% joyous sailing with the boat, but yesterday I forgot all about the hard part of boat ownership. What a day!

Best Regards,
Ron Campbell, Valhalla

Ron and your webmaster discussed the picture above at some length - the issue being the interesting trim of the jib.

"It was a flooky day that day"

**********************************
August 15, 2014. We got the following update and photos from Ron
Hi Ron,


Long time. I finally left the circus (I was with Cirque du Soleil for 5 years), got married (The lovely Momoko is pictured) and started in on my brightwork.


Besides Scott's boat (#95) which I did not know about but read about on your website and Avanti (?? http://dolphin24.org/aviva.html??) which is across the way from me, a new Dolphin just moved in on my very dock! I met the owners but promptly forgot their names (???). That makes 4 that I know of in one small marina. Time for a regatta I say!


All the best,


Ron

ps ​I've included 3 pics. Note the "racing stripes" of masking tape. (I'm in the process of tung oiling.)

ps 2 - check out still another Dolphin at this Marina Maxi Sun
Webmaster Note: We'll get Ron working on finding/confirming who these other Dolphins are...
​
​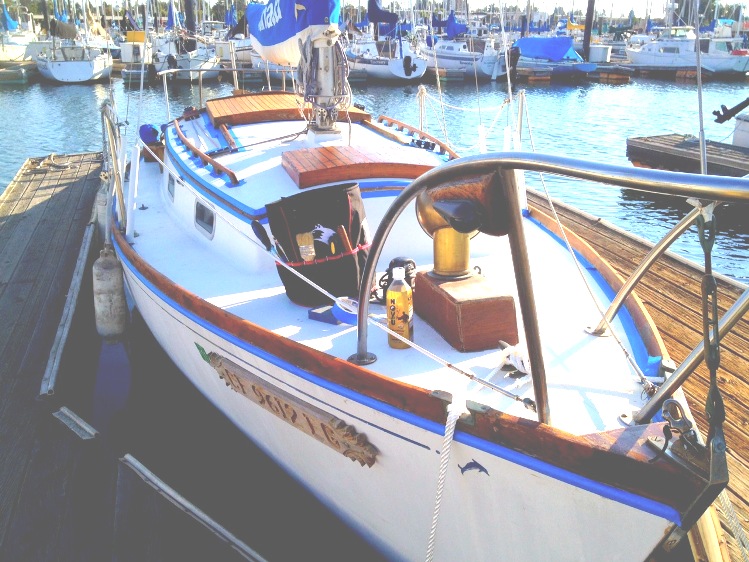 ​
Nice looking tape job - maybe keep it?? Click on photos for a larger view
***************************************************
September 2, 2014. For his work in helping us find Dolphins the DFI badge has been given to Ron. Click Here!
****************************
April 5, 2015 Webmasters work when 'on vacation'. Since this vacation is based in San Franciso a visit to the Dolphin pod at Fortman's Marina in Alameda was scheduled. Found 3 of 4. Here's a couple of pictures of Valhalla and her environs.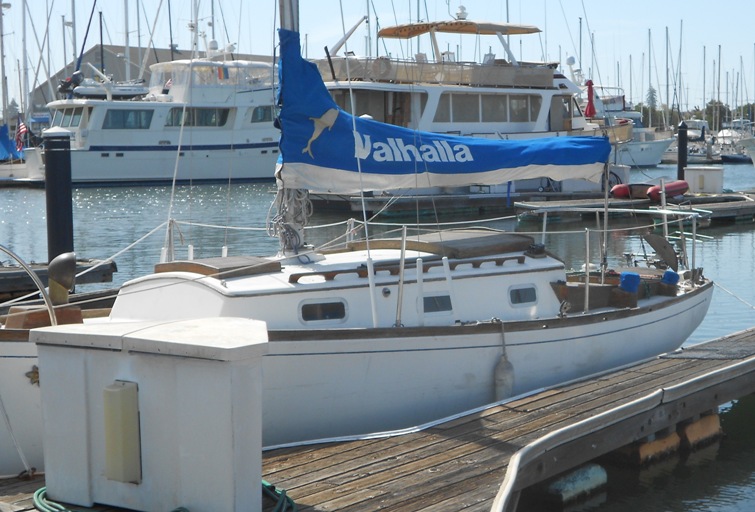 | | |
| --- | --- |
| | Fortman's Marina in Alameda at left. Strategically located next to the Alameda YC, which according to a local, is a good place to libate. |
Valhalla's Self Steering System - Click on photos for larger views
*******************************************
March 5, 2016. It's been a while so we thought we'd check into what Valhalla's been up to. The quickest way is to go to his website http://soarfeat.org/Backstage.php. There's a bunch of great photos up there. Here's one with the great view.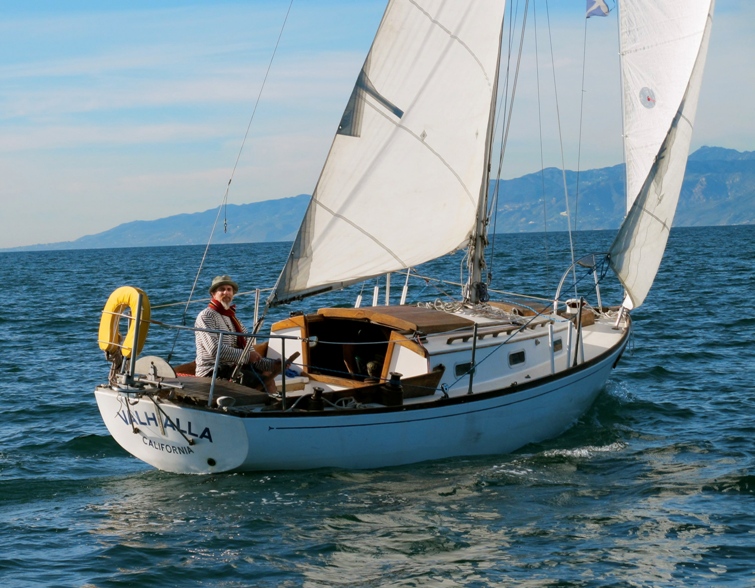 March 6, 2016. We got a reply from Ron, and another Dolphin photo (minor edits);
HI Ron,


I'm looking forward to being back in the Bay Area and sailing SF Bay in the Spring but right now I'm down in San Diego playing Buckminster Fuller in a one man show. http://www.sandiegouniontribune.com/news/2016/mar/04/san-diego-rep-bucky-preview/ .

"Bucky", besides being one of the great minds of the twentieth century was also an avid sailor. (He named his boat "Intuition".)


I'll be sanding and tongue oiling Valhalla soon.


Thanks for asking!
Best,
Ron Campbell

ps photo at right is a "View from Valhalla", of another Dolphin from Fortman Marina, possibly Scott Henry's Amaya".

Click the photo for a larger view - click here to go to Amaya
Postscript Note: I don't know what those cranes in the background are called but the rumor is they were the inspiration to George Lucas for those things in Star Wars. For us at Fortman we have to tack by them to get out to SF Bay
**************************************
February 14, 2018. We got the following update from Ron and Valhalla.
Hi Ron,

Thanks for checking in. Valhalla is safe and sound back in Alameda but I am in Seattle performing in Theatro Zinzanni as mad movie director Cecil B. DeGrille. It's a great gig but keeps me far from home and my boat.

I will be back in town in May and back on the water. In the meantime here are some shots from this winter of Valhalla - I got rid of the non working self steering device, tongue oiled all the brightwork and got a full service on my outboard.

I also include a shot of me as Captain Bunsby, one of the 20 characters I played in Around the World in 80 Days recently. If I can't go I can at least pretend!

Hope all is well with you and yours!

Ron

Click on the photos for a larger image

******************************************