This story starts in June, 2010 when Marionette was out at Block Island for the Spring Off Soundings Regatta (she won her class, again!). This is a 2 day regatta - Friday is a race from Watch Hill, Rhode Island out to Block Island, and a Saturday race around Block Island. Friday's race was abandoned as no one finished within the time limit; Saturday's race around the Island - we won! We stayed for the party Saturday night, June 12, and on leaving Sunday morning for the 25 mile sail back home we think we picked up a plastic bag that blocked the water pump. The motor over heated, fried the gaskets, and the end result was we left the boat on a mooring and, the 4 hp Johnson motor with us, took the ferry home.
To make a long, painful story short, Marionette was scheduled to leave the following week for Maine. Because the parts needed to repair the motor were out of stock, the repair took nearly 3 weeks. I borrowed a motor, went out to Block and sailed her home. The window of time I had for the 7 day sail to Maine closed, and "wait 'til next year" was once more the operative phrase. There is another, related short story about the motor coming, patience....
So, for 2011, I decided to trailer Marionette up to Rockland, Maine and launch her there. Its a 300 mile trip, 250 at turnpike speeds with 6000lbs of boat and single axle trailer pushing you forward. Anticipating a meet with Mike Horn's Angel, Yankee #73, a close cousin to Marionette, built by John Shumaker on an O'Day hull, otherwise all wood, Marionette's topsides and decks were repainted, the varnish had at least 4 coats, the bottom a very smooth, double coat of Micron CSC with Biolux. I had Marionette's trailer serviced and I painted it so she looked good. That trailer had made the trip from Boothbay, Maine home with Marionette 3 years previously with no problems, but I confess to have more nervousness about long distance trailering than long distance sailing. Click here for the story on how Marionette's steel cradle became a trailer. Here is Marionette ready to go, June 15, 2011.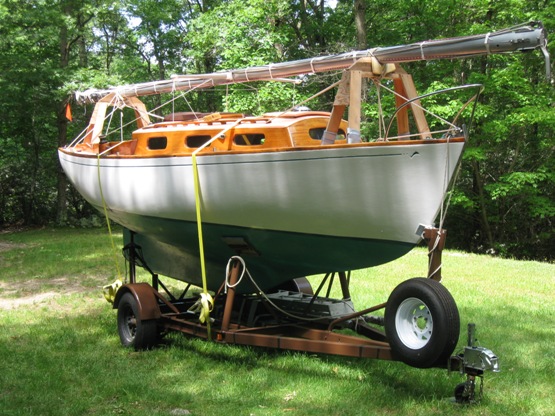 Premonition is one reason why I am uncomfortable with long distance trailering. Before we left the trailer was checked out and serviced by our local trailer company. We had a good trip - nearly 300 miles and no problems. Six miles before we got to Rockland there was an incident. An accident up ahead closed Route #1 and we were detoured off on to a side road where we sat for nearly an hour. This was a opportunity to walk back and check the trailer straps, and so I did. While doing this I noticed a strange black smudge? on the starboard side of Marionette and went back to the truck to get some towel paper. Then I noticed that the right fender bracket was loose, actually broken. The fender already had a dent in it (look closely) from a too tight turn I took out of my driveway on my way to get the trailer serviced a couple of weeks earlier.
On closer examination, mostly out of view, I noticed that a piece of the tire tread was missing ...missing?? The piece missing was about the size of my hand. The tire was fully inflated but I could see the nylon? inner bands that encased the tire inside the treads. This must have just happened! Knowing we dodged a bullet (the single axle bullet) we changed the tire with the brand new spare (never used but 15 years old). The tires on the trailer probably did not have 1000 miles on them - but they too were 15 years old. In the heat of the moment I forgot to take pictures, and I know this will get me in trouble with the webmaster.
After launching Marionette (details later) we took the trailer to a local tire shop in Rockland, bought a new tire and put it on the trailer on the port side, and put that tire on the spare rack. The shop guy told us that the piece that 'flew' out of the tire was probably due to the heat and age deterioration of the tire, not to any on road hazard. The unloaded trailer made it back to Connecticut without problems - and next week will get another new tire to replace the 'new' 15 year old never used spare tire. More on this later.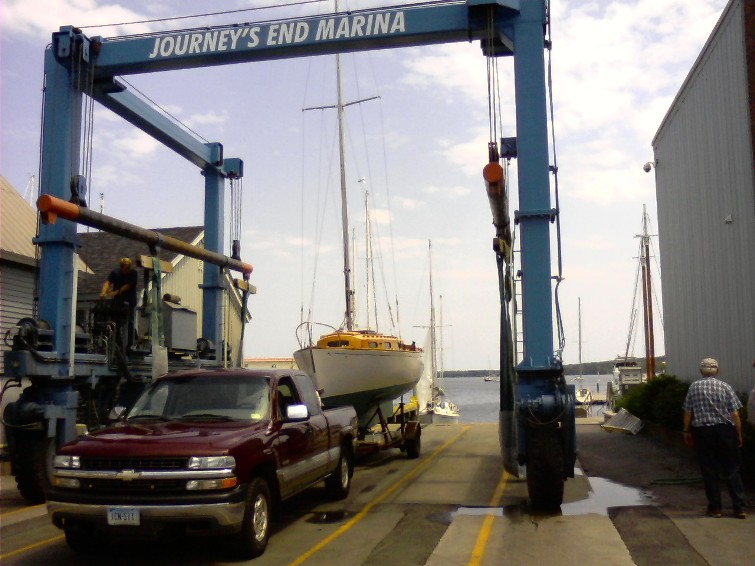 At Journey's End Marina, Rockland, Maine
June 16, 2011. Thursday. Journey's End Marina is part of the O'Hara marine services operation here in Rockland. There were 3 generations of the O'Hara family involved in unloading the trailer, stepping the mast and launching, and in the office. They run a very professional and competent operation. Mike Horn launched Angel here in November after her cross country trip from Marina del Rey, California to Islesboro, a large island in the middle of Penobscot Bay.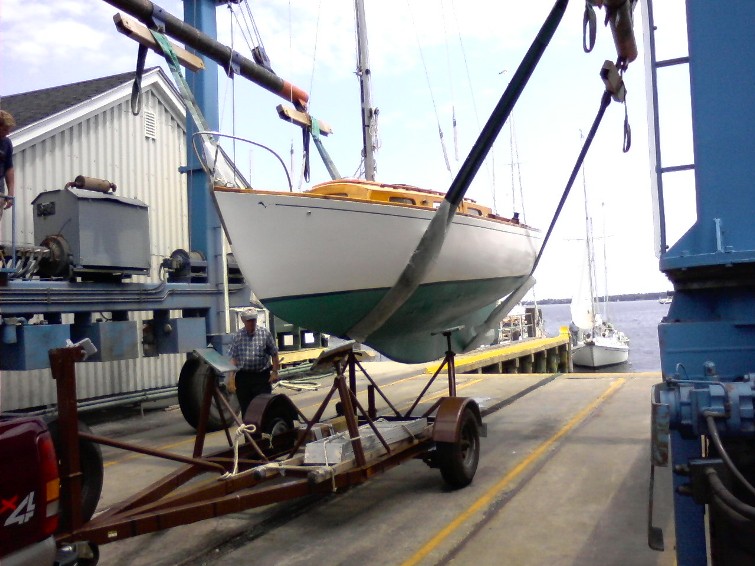 | | |
| --- | --- |
| Friend and driver Mark rowing 'TEER out to Marionette's dock | Lifelines rigged, sails bent on, ready for bed |
June 17, 2011. Friday. Sea trials. An early morning start for Camden, Maine 10 miles up the coast. Here we are leaving Rockland early in the morning..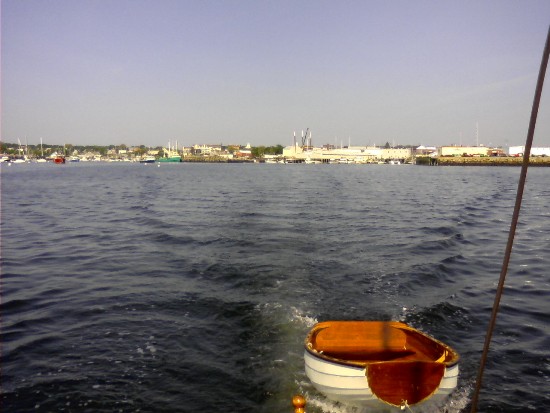 'TEER, leaving Rockland - note white mast tops of 3 masted schooner at dock
Here is a chart/map of the shake down cruise which will take us from Rockland, up the western shore of Penobscot Bay to Camden, then east to Dark Harbor on Islesboro, then further east on to Bucks Harbor in Brooksville at the top of Eggemoggin Reach where Marionette will be based for most of her summer/fall cruising. We'll work on getting a better chart.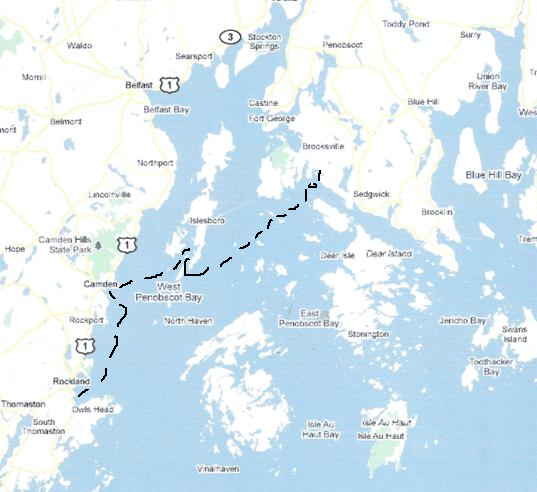 | | |
| --- | --- |
| | |
| Schooner off Rockland | Rockport lighthouse (abandoned) |
Click above two photos for larger views
There was a gentle morning breeze and today's sail did not stress test any parts of the boat - including the skipper. Good. Here is the inner harbor at Camden, arguably one of the prettiest harbors in Maine.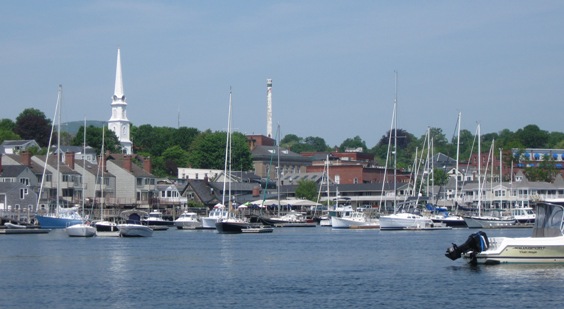 As we were entering the inner harbor a very large wooden beauty passed us on her way to the other side of the harbor. The captain recognized Marionette as a Dolphin 24 and I barely heard him say there was a 'Halsey" aboard but he was down below - and that Halsey also had a Dolphin 24! BTW, the other boat was Belle Aventure, a Fife custom, 84' LOD, 94' LOA, that only a picture could describe.
Halsey and I did not connect then as our boats were in a tight channel on route to berths in different parts of the small harbor. But, we did meet later, and well, talked about Dolphins....Halsey's boat is Elizabeth - click to go there
As I was writing this it seemed to me that boats like Belle Aventure might have some stuff about her on the Internet, and sure enough, there was. http://constructivehands.com/currentprojects-belleaventure.html. I took the picture, below left, of her in Camden. The picture lower right was one of many on the website - this one of her pretty much unbelievable deck. Click here for larger view of it. Click the back arrow on your browser to get back here.
| | |
| --- | --- |
| | |
June 18, 2011. Saturday. The plan called for sailing to Islesboro to meet up with Angel and Mike Horn. Not to be, heavy fog and forecast rain and thunderstorms. These are always opportunity days, especially when this happens in a place like Camden - get to the Camden Library visible off Marionette's transom with its super location overlooking the harbor (photo below left), and where WiFi access permits needed work on the website; visit used books stores, in particular the Stone Soup shop in a 2nd floor warren right on Main St; dinner at the bar at Francine, a great restaurant, where I discovered that the bartender knows Ed Glover (Dolphin)!

Overall, a great day ashore that ended with a promising, and spectacular, double rainbow over the harbor.
| | |
| --- | --- |
| | |
| The library on the hill | The rainbows |
February 8, 2016 - Webmaster Note - Snowing again....We've been working on schooners in recent days (click here), and Camden is schooner country. Back in 1948 the famous 92' top sail schooner, Yankee, was windjamming here in Camden when she was sold and moved up to the Bras d'Or Lake in Cape Breton, Nova Scotia. We found a couple of file photos of Marionette and her slipmate, the 123' Grace Bailey, flagship of Maine Windjammer Cruises.
Click on the photos above for a larger image - Marionette is tucked up on her stbd quarter. That red arrow will help locate her. Bella Aventure is in the left hand photo - upper left corner. Marionette may be 'little' but travels with the big gals!
| | |
| --- | --- |
| | June 19, 2011. Sunday. Breakfast at 6:00AM at the 'last family owned' restaurant in Camden. A light morning breeze and 10-15 knots forecast northwest - meaning a close reach to Islesboro. I motored out of the sleeping harbor, past the Camden YC, and picked up a vacant mooring in the outer harbor where I raised sail - full main and the 140 genoa. |
May 29, 2012 Webmaster Note. I had my Spring Maine fix a few days ago. To conclude this Camden segment here is a picture I took from the tower on Mount Battie in back of Camden - this in a continuing effort to make the case for Camden's beauty. Mt Battie is a 'do not miss' place to visit.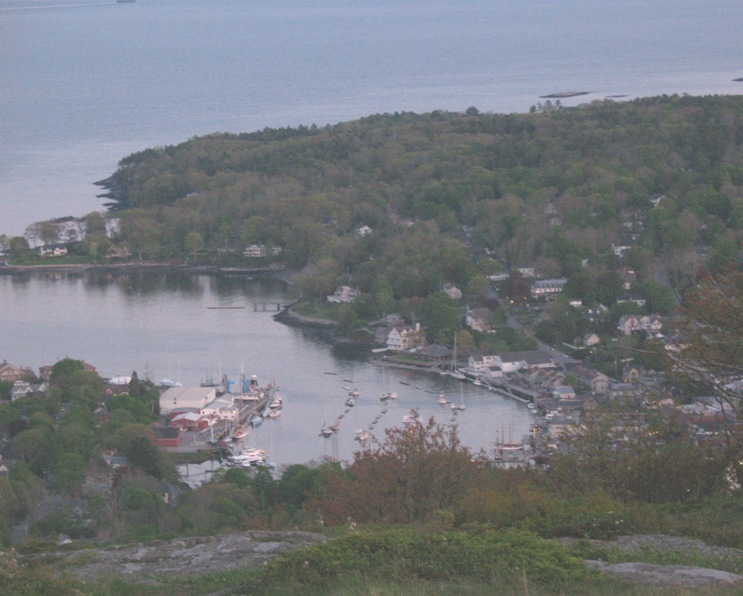 Bella Aventure was there again this year. You can just make her out laying against the wharf - center left
Ok, back to work....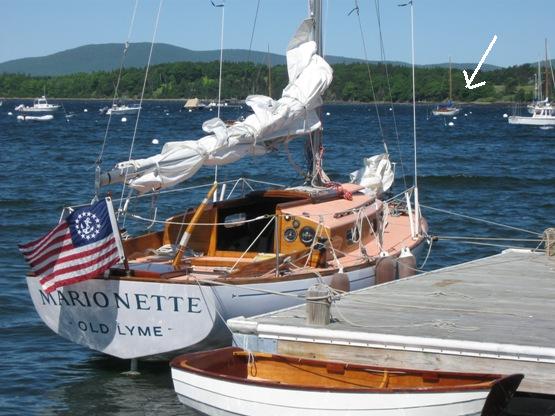 The close reach turned into a tight reach, then a beat, with the breeze more like an exciting (maybe I should reef?) 15 kts than 10 kts, but 3 hours later I tied up at the Taratine YC and called Mike. His Angel is just off Marionette's bow in the distance. This visit with Mike is covered on Angel's page.
During our visits aboard both yachts, and lunch at the no cash allowed, island sandwich shop, the wind continued to build to maybe 20, and some higher gusts, which would make my continuing 15 mile or so voyage that day to Bucks Harbor interesting. I decided to wait a couple of hours to see if the wind abated and then make a decision whether to go or stay overnight. I put a reef in the main, changed to a small jib, and waited.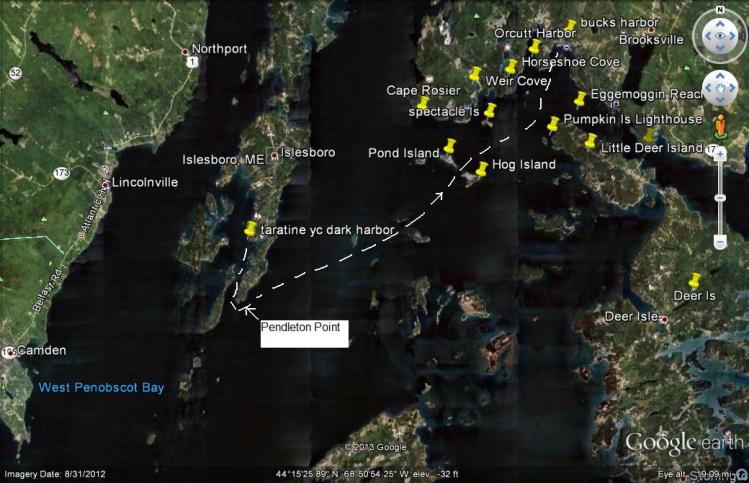 Click here for a larger view (picture inserted March 5, 2013)
The course was about 17 miles overall, a 2 mile downwind leg down Beckett's Channel, then northeast across East Penobscot Bay, weaving through the islands to the Pumpkin Island Lighthouse at the top of Eggemoggin Reach, then into Bucks Harbor - a perfect refuge from any wind from any direction - once you get there.
The wind abated some, enough, I thought, and we left at 3:30. That 2-3 mile downwind leg was a piece of cake - although it was a pretty narrow channel. Turning the corner at Pendleton Point was not bad as we were still in the lee of the island and we had flat water. The puffs were exciting but basically, the breeze was steady to slowly declining so we had a fast, comfortable sail across the Bay and through the islands. The GPS heading for the red/white 'EREE' buoy off Bucks Harbor coincided with Blue Hill Mountain on the horizon which made navigation simple. There were 2 cameras aboard but they stayed where it was dry. Inside Bucks Harbor at 7PM it was flat and calm.
On the left above Marionette is on a temporary mooring off the Bucks Harbor YC docks, and on the right above is the Bucks Harbor YC. I checked in at the YC, walked to Jim Kurt's (The Rachel K) house, for a glass of wine, it might have been two, and by 8PM, exhausted, I was ready for my sleeping bag up in the V-berth.
June 20, 2011. Monday. Up at dawn (4:30 AM) assisted by the distant hum of a lobster boat going out early for its rounds. After straightening out down below, and shaking out the reef, I rowed in for coffee at Bucks, the only store/restaurant in Bucks Harbor. Then I moved Marionette out to Jim's guest mooring off Harbor Island, the protector of Bucks Harbor and which has been in Jim's family for over 100 years. Marionette's mooring is in the cleft of Harbor Island's heart.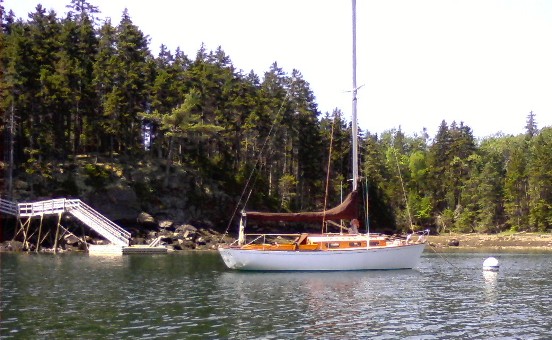 This will be her 'base of operations" for her 2011 Maine cruising. Jim's island cottage, barely visible at the lower right side of the island, is peeking out of the trees at Eggemoggin Reach and the Pumpkin Island lighthouse.

I spent the morning fixing/adjusting all, belay that, some, of the little things I had noted on my to-do list. Unfortunately, the YC no longer allowed visiting dinghies extended in water storage at their docks so 'TEER was moved the 400 yards or so from the stony launch ramp (low tide) to the side of Jim's garage at his shore home. I borrowed a junior sailing program dinghy dolly for the trip.

The next challenge was getting the pre-reserved taxi to pick me up at the YC and take me on the 1 hour drive to Bangor airport where I had reserved a rental car for the 6 hour drive back to Connecticut. The pre-reserved taxi never showed up!! and a new taxi service was contacted - a 3 hour delay, but I was home by 10PM - exhausted.
June 28, 2011. Tuesday. A week at home, cut the lawn, fix things that only seemed to break when I was away, miscellaneous chores, negotiations with the Admiral, and an early morning start for the 6 hour drive from Old Lyme back to Bucks Harbor. I got there just before Noon, and discovered that the YC junior program had finished putting all their boats out on floats, and had stored their dinghy dollies on a rack - WITHOUT WHEELS!! I like to brag about 'TEER's 42lb weight, and I can, and do, carry her for short distances - but 400 yards!! We loaded 'TEER on the roof rack of Jim's station wagon and drove her to the stony launch ramp - low tide - timing is everything. Something needed to be done about this issue - and it was not buying a bulky $500 launching dolly. More later
June 29, 2011. Wednesday. The plan was to sail to Center Harbor, Brooklin about 2 hours easy reaching sail down the Reach, dinner at the Pub, the cellar bar under the Brooklin Inn, a ritual stop. Then next morning, sail through the Wooden Boat anchorage, stop and say hello to Jane Ahlfeld and Bill Thomas, owners of Ruby, nee Jim Kurt's The Rachel K, then out through the narrows at Neskeag at the bottom of the Reach, around Flye Point and up Blue Hill Bay to Blue Hill. The weather forecast looked dicey so, since I had my car, I decided to stay over in Bucks Harbor, keep my 'appointments' by driving around the Blue Hill peninsula, sightsee, and sail straight through to Blue Hill on Thursday. A nice easy day messin' around on Marionette, thinking about a solution to moving 'TEER around on shore, and some quality time ashore. This included a visit to nearby Weir Cove and Undercliff Farm where we have rented a cottage in August for the past several years. This double rainbow picture, taken there three years ago from the front porch of our cottage, is a keeper.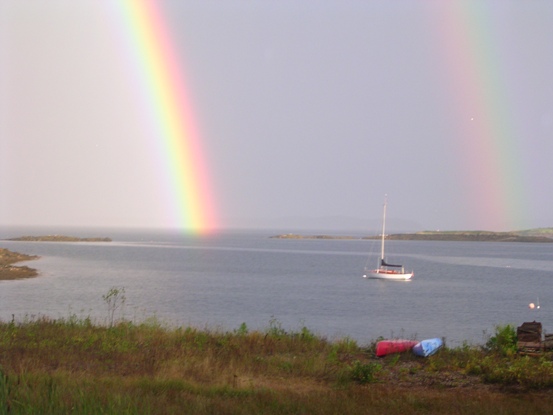 June 30, 2011. Thursday. Early in the morning I rowed ashore and drove my car to the Kollegewidgwok YC (KYC) in Blue Hill where I had arranged with my same taxi lady to pick me up and bring me back to Bucks Harbor - a 20 minute, $50 with tip, cab ride. Its about 26 miles by sea from Bucks Harbor to Blue Hill.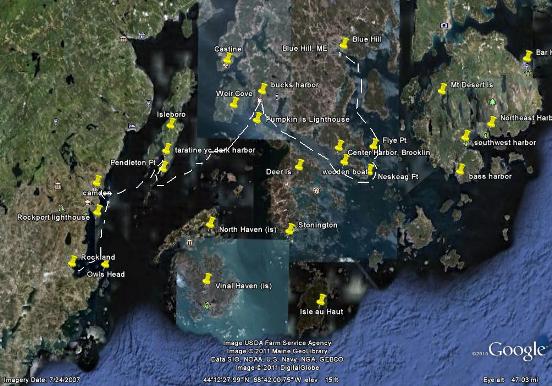 Currents can be up to 1 kt but today they will cancel out as half the time they are favorable, and half the time they are not. The light morning breeze is from the northeast so it's a reach down the Reach, with full main and 140 genoa, and a beat up Blue Hill Bay. It took 6 hours and I was on a mooring KYC at 2:30.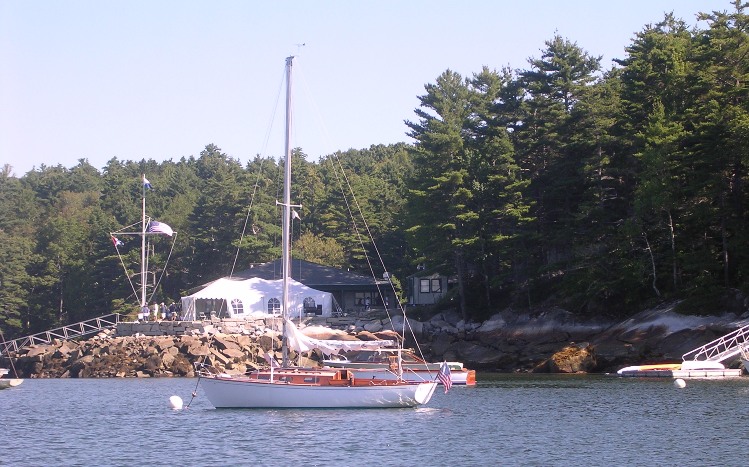 Marionette at KYC (photo from 2008 trip)
Webmaster Note: It should be noted here that Marionette was here last in 2008 - for the Atlantic Class National Championships. Relish, #91 was your webmaster's boat for 17 years and has, since the late 1990's has been here at Kollegewidgwok Yacht Club in Blue Hill. She was racing in the Nationals and we were here to cheer her on.

Your webmaster was here again in August, 2012 for these same championships, alas, sans Marionette - great parties!!!

Click here for more on Atlantics and their connection to designer Starling Burgess and his connection to Olin Stephens and the Dolphin 24.
OK, back on track - I was planning to stay aboard overnight and then go home in the morning, but decided to close her up and drive home. Left at 4PM, home at 10. Exhausted, but nice to sleep in my own bed. Oh, did I mention that somehow, my windshield got hit by something while up in Maine and I have a big star shaped series of cracks on the passenger side.
July 5, 2011. Tuesday. A long holiday weekend, some project time in Marionette's barn workshop, and a late start due to the need to get a new windshield. In the trunk was the solution to the dinghy dolly problem. The challenge was to come up with a quick, low cost, easily stored on a Dolphin, easy to use, low usage dolly. Here it is - 'TEER'S skeg dolly.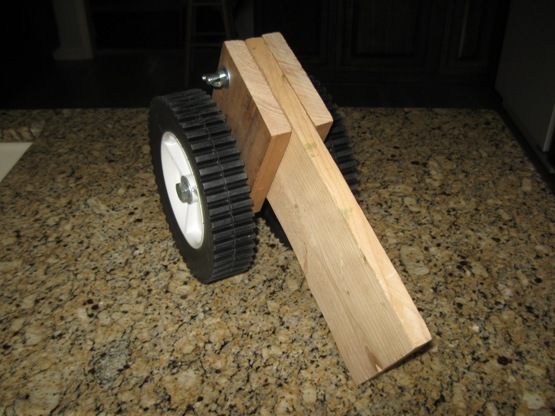 The Skeg Dolly
For some reason, hard to explain to the webmaster, pictures of this dolly affixed to the dinghy's skeg got accidentally deleted.The above picture shows the dolly squeezed to a blank piece of wood the same thickness and approximate depth of the skeg. New pictures will be taken on the next trip up - scheduled July 19, and be inserted below. Basically, its a 2 wheel dolly that is squeezed on to the dinghy skeg by that bolt/wing nut. A hole was drilled in the skeg to accommodate the bolt. The two upright pieces of wood are sized to allow the underside of the dolly hull rest on the top edges. The dolly is held by the front transom hand holds and pushed or pulled like a wheelbarrow.

The assembly was put together on the dinghy dock at KYC and tested there. It worked on the dock, and 2 days later it worked at Bucks Harbor. I pulled the dinghy up on that stony ramp - low tide again, of course, fit the dolly to the skeg, tightened the wing nut and wheeled 'TEER up the ramp and over the road to Jim's garage. It worked!

The two 8" diameter wheels have plastic rims and cost $13 the pair at Home Depot. The 7" long, 1/2" axle bolt and nut, the 3/8" squeeze bolt and wing nut, and the spacer washers on the dolly axle between the hull supports cost $4. The wood was was in my left over pieces box. Total cost $17, total weight 5 lbs, and it fits in a Dolphin 24 locker.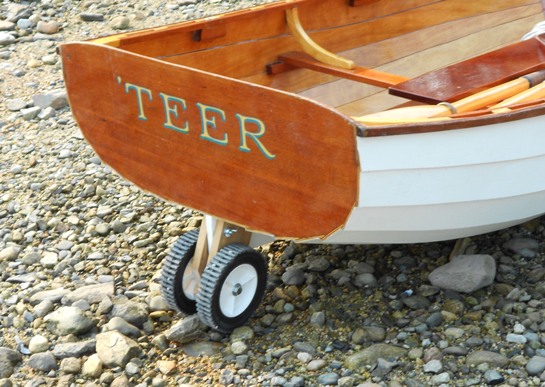 This revolutionary development requires a place in the Technical Section - Click here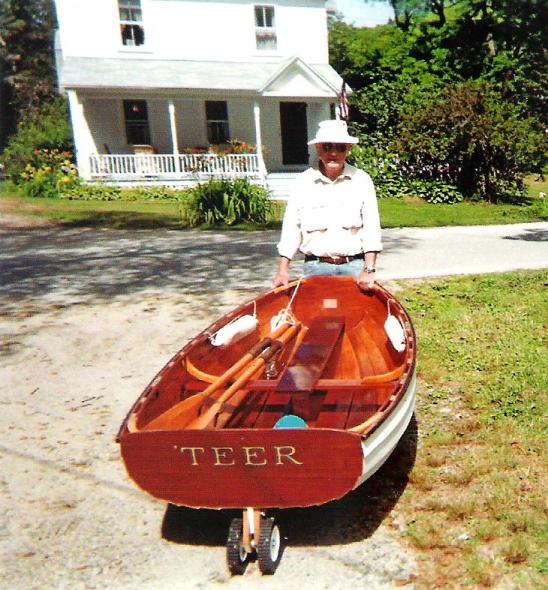 In Use!!
Ok, back on our time track - its still Tuesday, July 5th. Marionette was fine on her mooring. The plan was to leave early tomorrow for Bass Harbor on Mt Desert Is - about a 4-5 hour sail. Spend the afternoon on the Island Explorer bus system to check out Hinckley at Southwest Harbor, Morris Yachts' new service facility at Northeast Harbor, check in with Gary DeLong (Savili) if he was around, dinner somewhere neat, back to Bass Harbor in the evening, then the following morning up early for the 5-6 hr sail across lower East Blue Hill Bay, through Casco Passage and up Eggemoggin Reach to Bucks Harbor. I got tired just thinking about this plan, so I bagged it.
July 6, 2011. Wednesday. Instead, Since I had my car at Blue Hill why not take it easy the next day and just drive over to Mt Desert Island, an hour's drive away, and keep all my 'appointments by car. Sound familiar? Done! It was a very relaxing day - Hinckley and Morris passed inspection, there was time for a 'Website Check In' at the library in Northeast Harbor, a nice visit to the Tulia Gardens (just to make the Admiral jealous), lobster roll lunch at the bar on the upper deck of a waterside restaurant in Bar Harbor, missed Gary who was entertaining visitors, back for a superb steamed mussels dinner in Blue Hill, and in my sleeping bag by 9. Exhausted.
July 7, 2011. Thursday. Rowed into KYC and drove my car to Bucks Harbor YC where my same taxi lady met me and then returned me to KYC in Blue Hill. Beautiful day, forecast 5-10 kts from the NE shifting 10-15 kts out of the SW, but nothing at 8AM when we left Blue Hill. No fog visible but fog reported on lower Blue Hill Bay. We motored with the main up making 4.6 - 4.8 knots, and around 10:30 hit a solid bank of serious fog approaching the narrow channel at Flye Point. Here is the Flye Point Lighthouse - picture taken when I could see it on the way up to Blue Hill last week. I did try to take a picture when I couldn't see it but....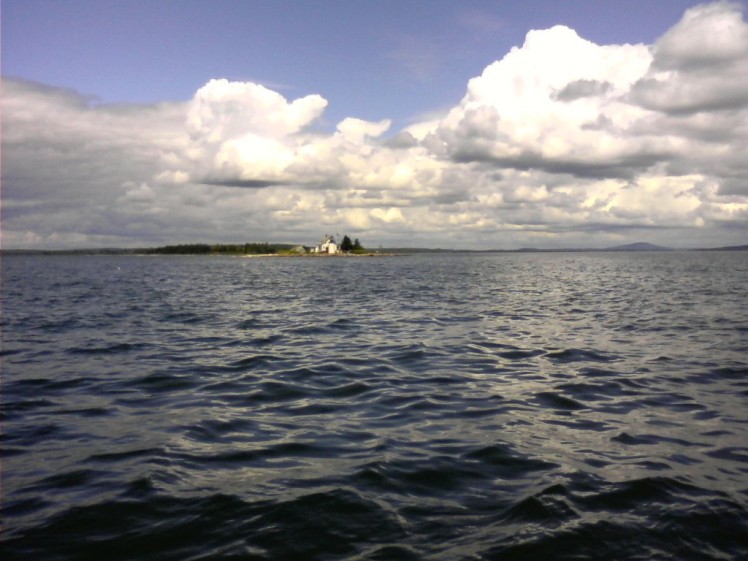 Blue Hill is on the horizon on the right (click for a larger view)
The area around Flye Point is loaded with rocks and low lying small islands - very challenging with less than 50 yards visibility. I circled 1/4 mile outside the fog bank, and when it lifted a bit, made a dash and got through. I actually saw the 3 buoys in the channel. Then the course took me close to the shore visible at the left of the lighthouse. From that point on the fog lifted and I could see the buoys and we rounded Neskeag Point and entered the Reach. Still motor sailing....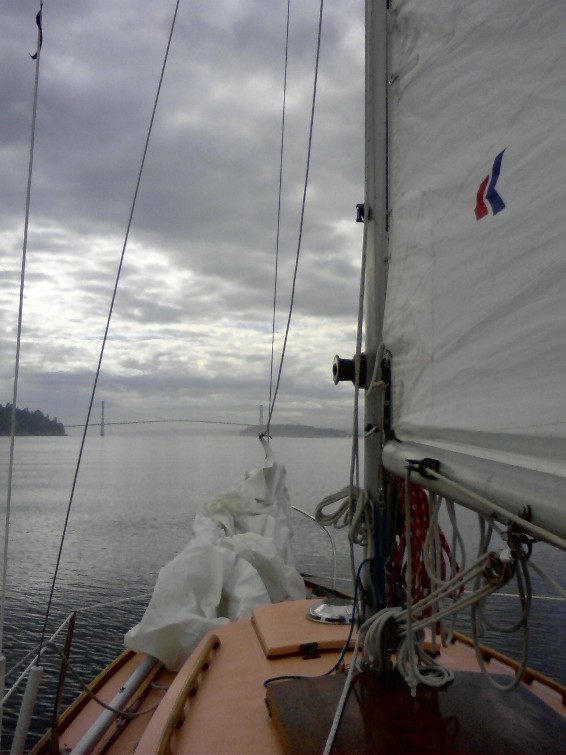 A couple of hours later we approached the spectacular Deer Island Bridge, and shortly thereafter entered Bucks Harbor. There was one patch of breeze on the whole trip that lasted maybe 10 minutes. It was 2:15PM - the 26 mile trip took just over 6 hours.
Webmaster Note: For the bridge enthusiast - this bridge, both loved and unloved by its opening of Deer Is to the world, is famous for its design innovation and beauty, and infamous for its fluttering and movement in high wind situations. Its has been stiffened and strengthened many times, most recently in 2010. A sister bridge of the same design, the Tacoma Narrows Bridge (WA ) failed and collapsed - see following

http://www.wsdot.wa.gov/tnbhistory/machine/machine1.htm

"...girder depth to span—had a great influence on suspension bridge design in the 1930s. Its revolutionary design led to the building of several major bridges, such as the Golden Gate (1937), the Deer Isle (1939), and the Bronx-Whitestone (1939). The Golden Gate Bridge, built over the entrance to San Francisco Bay under the direction of Joseph Strauss, was upon its completion the world's..."
With Marionette securely on her mooring it was time to seriously field test the skeg dolly. I rowed to shore, low tide again at the stony ramp. I pulled 'TEER up out of the water, took the skeg dolly out of the 'small' bag and fastened it on to the skeg without any problems - just bent down, slipped the assembly under the skeg, fumbled a bit with the wing nut and bolt, and it was done.
The trip up to Jim's garage was without incident except for interruptions by querulous yachtsmen and women passing by. Detailed explanations resulted. I wheeled 'TEER past Jim who will bear witness. The skeg dolly really worked! (pat. pending...)
At 3:30 I was in the car for the 6 hour drive back to Old Lyme. Arrived safely. Exhausted.
Current plan is to head back up on July 18. Stay tuned.
*****************************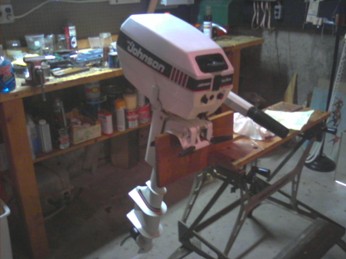 July 18, 2011. Monday. A late start out of Old Lyme, CT and I didn't get to Bucks Harbor until 4:30PM. I got 'TEER from the back of Jim's garage and walked/wheeled her down to the stony ramp and launched - no problem. It was a 10-15 minute row over to Marionette's mooring. I had with me my 'new' old motor - see 1st two paragraphs at the top of this page. Having had last year's Maine summer on Marionette cancelled due to a rare problem with her motor - I have said that my 4hp Johnson, 2 stroke was one of the best, most reliably performing pieces of machinery I have ever owned - I was determined to find another motor just like it to have as a back up.
I found such a motor, not running, but otherwise looking almost like new at a Marine Education Foundation in Old Saybrook, CT.. It came on a 22' sailboat that had been donated to them. I found the motor in their back room where it had sat for years, dry and comfortable, waiting for me.The only difference was that she had a 'long' shaft, 5" longer than my present motor, and consequently weighed 3 lbs more - 35lbs. Theoretically, the longer shaft should be more efficient as the prop is deeper.
I got it for $25, and after a few weeks waiting for parts and inspecting and cleaning the guts, replacing all the gaskets, the throttle control, water pump, etc., and $400, the report from my marine engines service guy was "she is like a new engine!!". Sea trials for this motor are on the agenda for this trip. For reasons that will become clear later, this motor will be referred to as #2.
Also, an evening sail was planned for Tuesday out on the Reach over to Weir Cove with Jim Kurt and his son Dave, a long time crew on the Rachel K - they were Dolphinless and hurting since Jim sold his Rachel K last year. And some time is needed for minor maintenance projects - tightening the tiller rudder head, fixing a couple of locker latches, oiling the teak and holly sole, etc. Also, and very important, planning needed to be done for how Marionette would 'observe' the upcoming Eggemoggin Reach Classic Boat Regatta(s) August 4-6 - this best done over a few beers or glasses of wine with those who possess local knowledge.
And, I must not forget to mention that, in this area, cell phones do not work, or sometimes work in highly secret, only accidentally discovered locales, and therefore Internet access is complicated. The Dolphin 24 website never sleeps, demanding vigilant attention, so a daily visit to a 'hot spot', usually a library, is required.
July 19, 2011. Tuesday. Up at dawn, 4:45AM, slowly made breakfast, planned the day, listened to the weather and Maine's uniquely Maine public radio programming, straightened out down below, and slowly rowed through the quiet harbor to BHYC. I left "'TEER at the club dinghy dock, OK for short stays. My car was a short walk and, as Buck's opens only at 7AM first stop was Castine, about 20 miles away. This is the site of the 1st leg of the Eggemoggin Reach Regatta on August 4th - Castine to Camden, and, this year, the site of a special Herreshoff designs, in-water, boat exhibit on Wednesday, August 3rd - and also the site of Castine Yacht Club's kick off party for the race that Wednesday evening.

After coffee, a slow ride to check out a couple of boatyards, then a half hour drive across the Blue Hill peninsula to Brooklin and the Brooklin Boat Yard. By this time it was just after 9AM and thanks to Steve White, owner of this really special boat yard, I had a mooring reservation for Marionette Friday and Saturday, August 5th and 6th. The finish line for the Friday ERR Camden - Brooklin race is right off Torrey Island, and the starting line for Saturday's Wooden Boat race is nearby too. Click here for a 'chart' of the area..

At 10AM the tiny, but charming, Brooklin library opened and your webmaster did his duty - the emails were answered and the website updated. Back to Bucks Harbor and a visit to their Tuesday Farmer's Market, and Buck's, for provisioning for the evening dinner sail, then lunch on the boat. The afternoon was spent on the boat under Marionette's fly, doing chores, and reading. I conducted sea trials for the new/old motor, quieter! and maybe 1/2 knot faster! than my old motor! Stay tuned for more on this motor)
Then it was time to motor over to BHYC and pick up Jim and Dave for our 'dinner sail'. At above left Marionette is ready and waiting for her crew.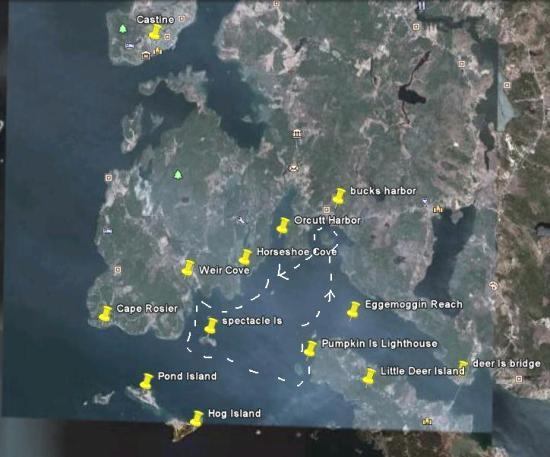 A 2 1/2 hr sail, breeze about 10-12 knots, some higher puffs, full main, 140 genoa. We sailed out the west side of Harbor Island, west past Orcutt Harbor and Horseshoe Cove, to and into the Weir Cove anchorage where Marionette will be moored in August, out to and around Spectacle Island, east toward Pumpkin Island Lighthouse (at left - postcard shot), between it and Little Deer Island, then across Eggemoggin Reach re-entering Bucks Harbor via its east entry.

A perfect sail with 2 guys who love to sail Dolphin 24s. Maybe a picture tells it all?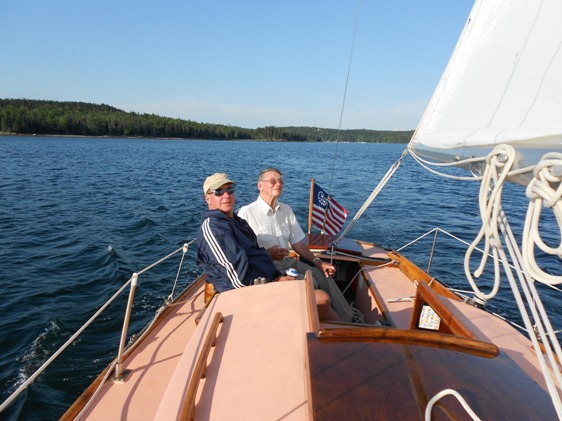 Jim (81) on the helm - think he's having fun?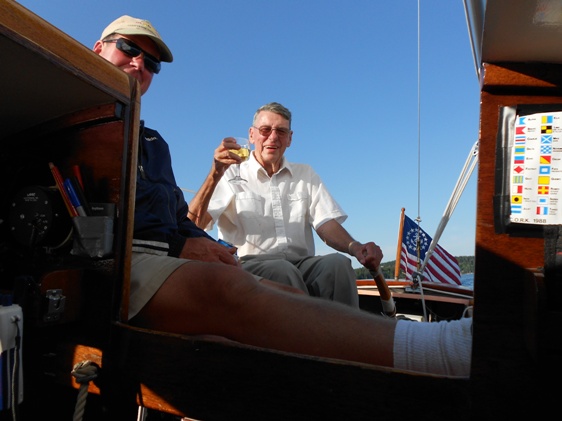 Your webmaster is preparing dinner down below but had to respond to a toast request...
Ok, so dinner was pretty simple - crunchy French baguettes with baked ham, cheddar cheese, tomatoes, lettuce and olive oil, choice of chilled California Chardonney or ice cold lagers. We also had spouse Chris' world famous chocolate chip cookies for dessert, but I forgot...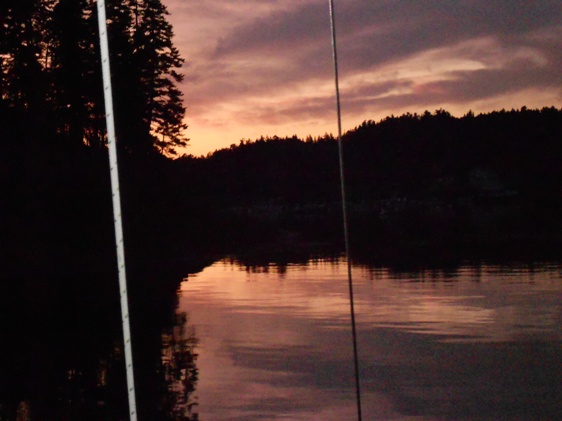 9:15PM - long day, exhausted - good night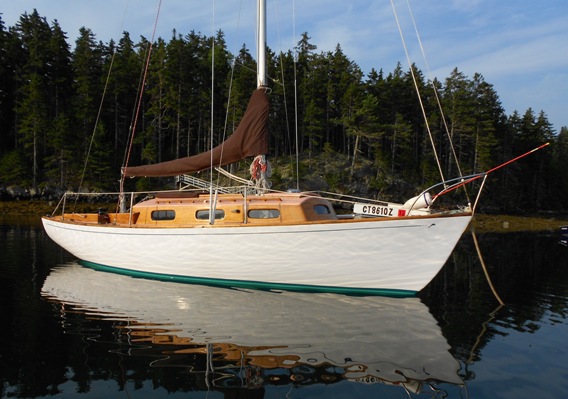 July 20, 2011. Wednesday. 6:00AM Marionette, with her Connecticut boat registration sign boards - technically not legally admissible - those numbers are supposed to be pasted on her hull at the bow below that beautiful arcing dolphin - ugh. Maybe I'll get away with just a warning...She really is pretty, don't you think?
It was a short trip, but now I had to get back to Old Lyme, CT with a stop in Camden 1) at the library to check the website and emails and 2) to connect, hopefully, with Ed Glover and his Dolphin, who has been waiting patiently in a barn in Hope, Maine for 10+ years - nope, maybe next time. We'll be back, with luck, on Monday, July 25. Stay tuned.
**************************
July 25, 2011. Early afternoon, 6+ hours of driving and arrived at Bucks Harbor. Launched "TEER at Bucks Harbor YC - Skeg Dolly field test continues - no problems/a winner. Cloudy sky, no wind, possible thunderstorms, late afternoon 50% chance of rain. Rowed the 1/2 mile to Marionette's mooring. Everything copasetic. Opened boat, dry, ventilation system working fine (more on this below) . Loaded the cooler with block ice and beer, and some food, re-organized the otherwise open/propped up lockers and cushions, made lunch and made a plan - it seemed a good afternoon to go to the Blue Hill Library (Bucks Harbor Library closed today) and work on the website - big day - THREE newly found Dolphins!! Dinner ashore in Blue Hill, got back to Marionette just before a heavy rain shower - alseep by 9.
A short detour here - Maine is infamous for fog and rain to go with its contrasting unbelievably beautiful days. If you have to leave your boat for several days buttoned up ventilation is critical. Marionette's ventilation system consists of a solar powered/rechargeable battery ventilation (exhaust) fan that runs 24 hrs a day - a super piece of equipment now 16 years old (2 battery replacements in that time!), and a main hatch cover that has a flap to allow air to flow through the louvered top companionway panel. A full report on this system is included in the Technical Section/Covers. Here are some photos.
The hatch cover was originally designed to protect varnish but unintentionally blocked air flow. The 'flap' works.
July 26, 2011. Heavy rain last night, no leaks!! Fog, light rain/mist at 6AM. Forecast, 50% chance of rain, possible afternoon thunder storms with quarter size hail. Made breakfast, thought about options. Decided to visit Penobscot Maritime Museum in Searsport (1 hr by car) then the Camden Library for website/DFI work on Kitty C, and find a place for a haircut. Made lunch, packed a couple of cold beers, put on my light foul weather gear and rowed ashore. No sailing but a otherwise a productive day, threatened rail all day, but only a few short showers. Dinner ashore, asleep by 9.
July 27, 2011. Rained some, overnight, but 6 AM report is 72-74 degrees, blue skies with puffy white clouds, Northwest breeze 8-12 knots, possible late afternoon thunderstorms. Plan is to pick up Jim Kurt at the Bucks Harbor YC and sail to the Barred Islands in east Penobscot Bay.
Webmaster Note March 25, 2013 While planning Marionette's 2013 cruise to Maine, the urge arose to review this Log of the 2011 cruise. An update was necessary. I was taking Jim out to these islands for a reason. Thirty some years ago my young family and I anchored in the Barred Islands overnight and my kids, while exploring, had an encounter with a wild and woolly sheep who looked like a white bear, and it was determined to show them who was boss. We heard the yelling from shore and saw the white bear chasing the kids - my wife and I were aboard Marbles, our Alan Payne designed, Columbia 9.6 meter sloop. The inflatable dinghy was on the beach and it was a race by the kids to get to the dinghy before the bear got to them. We watched with a mixture of laughter and concern. My goal on this day was to revisit that island, go ashore and check for white bears, and report back to my kids
This is a photo of Marbles anchored in the Barred Islands, circa 1980. The family is ashore on the island searching for a polar bear masquerading as a wild woolly sheep . It was worth another vist.

Marbles was a great cruising boat - but her racing record was not stellar (crew still in training). But don't get her mad! The sister of a friend, crewing aboard yet another friend's boat, commented to us as we were crossing them before the start, that "anyways, she was a pretty pig". We won that race!!! A never to be forgotten moment....
Ok, back on timeline - Jim and I left Bucks Harbor at 11:30, crossed Eggemoggin Reach heading south for the northern tip of Spruce Head Island, about 7 miles. A beautiful reaching breeze and we averaged about 5 knots towing 'TEER. We had the full main and the 100% blade jib. Had lunch on the way.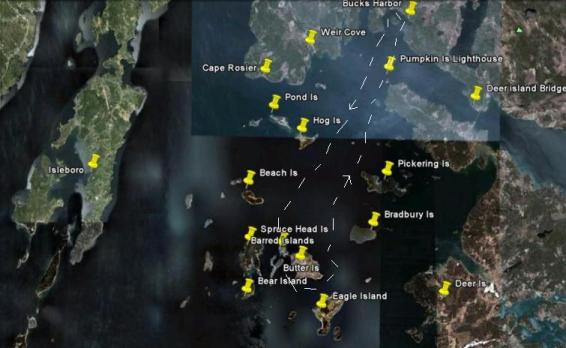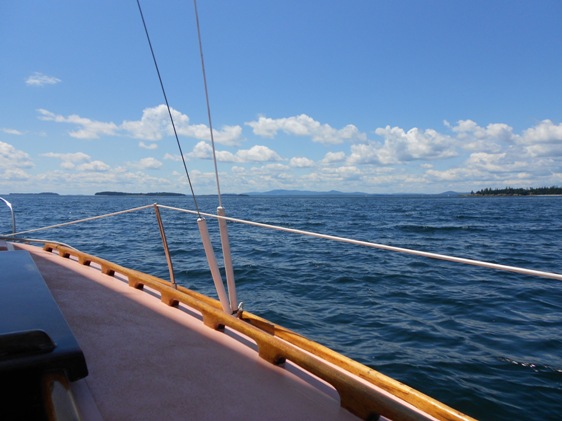 Camden Hills on the horizon - arguably one of the primo sailing environments on the planet.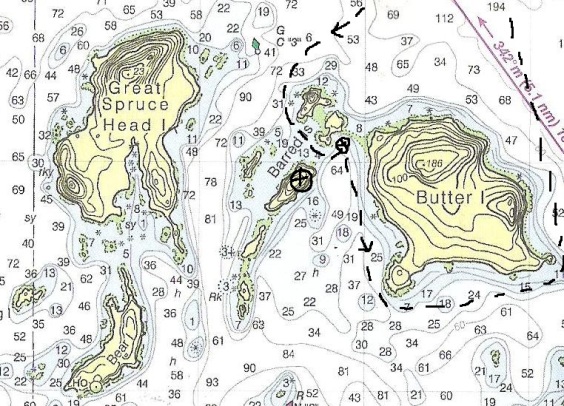 There is a green can, C "3", off the northeastern tip of Great Spruce Island and, as we left it to starboard, we dropped our sails and started our cautious entry into the Barred Islands anchorage - an anchorage made for Dolphins. This area is Jim's back yard and he suggested we anchor behind the bar connecting Butter Is and the northwestern most Barred Is. We found a single vacant mooring, and tied up.. One thing was immediately clear. These little islands, mostly bare 35 years ago with some small pasture type areas, are now mostly heavily treed as the sheep are long gone - part of an environmental push to protect these islands from the overgrazing/erosion that the sheep caused..
| | |
| --- | --- |
| | |
Leaving Jim to guard the ship, I rowed 'TEER toward the nearest island and beached her on the bar. A prominent sign advised "No Trespassing". I considered rowing over to the island off Marionette's port quarter, the island that I think had the white bear, and it seemed to me to be not worth the effort. It too, was heavily treed, not like I remembered it.

I committed myself to find those 35mm slides of the kids and the white bear, and Marbles' adventures in these islands. They were buried in one of several 100 slide carousals in a large box in the basement. I rowed back to Marionette.

One of the pleasures of a project like this is going back and actually finding that slide. Below is the 'bear'.

Click on picture at left for a larger view.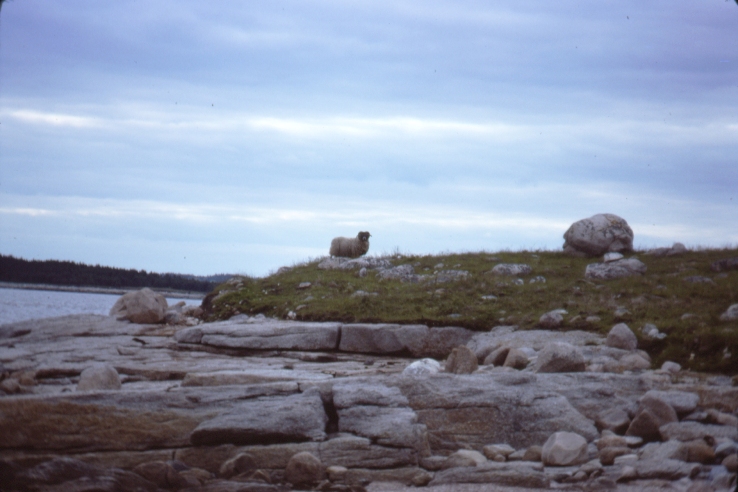 Bear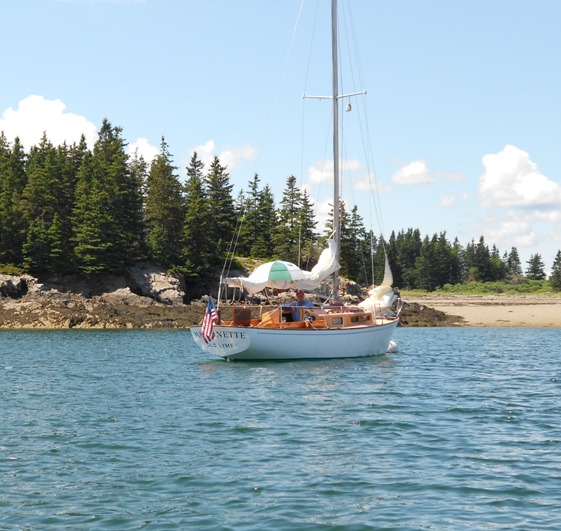 Jim standing watch - note Marionette's "dodger"
We decided to sail back by going around to the south of Butter Island. The breeze was holding nicely but we could see some thunder heads building on the northern horizon, and a few ominous dark clouds. As we approached those clouds the wind freshened some but not enough to reef. We were making 5.5 - 6.2 knots in flat water beating back to Bucks Harbor - towing 'TEER! A really great day of sailing.
Dropped Jim off at 5PM, put Marionette back on her mooring, rowed back to the club and then drove to Blue Hill's new hot spot restaurant, the Boatyard Grill, for a BLT Lobster Roll, and a couple of beers at the bar. Back to Marionette by 9 and fell asleep to the steady patter of just arriving rain drops on the foredeck, exhausted - no leaks!!
July 28, 2011. 5AM, light fog, forecast, a nice day for a 6 1/2 hr drive back to Old Lyme, CT. Made breakfast and set up Marionette for her 5-6 day break. Rowed ashore with a small detour - a guy standing in the cockpit of his nice 36' cruising sailboat anchored nearby waved, and as I rowed by I heard "say, is she a Dolphin?" - a Dolphin webmaster's work is never done - we will have another website visitor, I'm sure.

'TEER's skeg dolly worked perfectly. Here is 'TEER, tucked up neatly against the side of Jim's shed. Her painter is 'threaded" through the skeg's dolly hole and holds her up against the wall.

A stop was planned at the Camden Library to check on email and update the website. A word here - the free WiFi access in libraries is a critical component of a cruising Dolphin webmaster's daily routine, especially in Down East Maine where cell phone coverage, and WiFi access is so limited.

Next week is the Eggemoggin Reach Regatta for classic wooden boats - we'll be there to report. Stay tuned.
*************************
Wednesday, August 3, 2011. Left Old Lyme, CT at 4!!AM - 6 1/2 hours later I was fitting the skeg dolly to 'TEER. Worked. Cloudy, threatening rain, no wind - sound familiar?. Rowed out to Marionette, all ok, loaded the cooler with ice, liquid refreshments, and food, straightened up the cabins (despite rumors to the contrary that's plural in a Dolphin), set up the sleeping bag, pillow, etc., got the foul weather gear and rowed back the Bucks Harbor YC. Jim Kurt and I drove to Castine to see the Herreshoff wooden boat exhibit. These are boats that will compete in Thursday's Castine to Camden race.. There were a bunch of S&S classics there too. Here's a couple of teasers
| | |
| --- | --- |
| Spartan, NY 50 | Next day Spartan sailing |
| | NY 30s and 40s alongside the Maine Merchant Marine Academy's training ship State of Maine |
| --- | --- |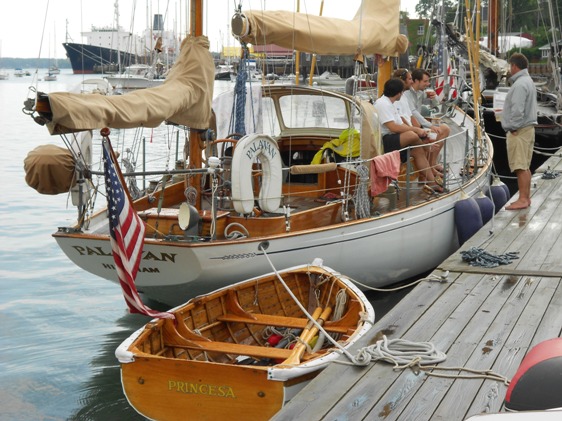 1st of several Palowans originally owned by IBM's Tom Watson - S&S design #991 built in 1952
Our examination of these beauties was interrupted by several heavy rain showers. Castine YC hosted a symposium late this afternoon at the Maine Merchant Marine Academy featuring interesting discussions about several Herreshoff classic boats present for the racing tomorrow. After a quick bite drove back to Bucks Harbor, bailed "TEER and managed to row back to Marionette without getting soaked. Asleep by 9 - exhausted.
Thursday, August 4, 2011. Up at dawn, low clouds, no wind, intermittent rain forecast all day; made breakfast and packed a lunch, bailed out 'TEER - did I mention it rained during the night? Rowed to the BHYC, picked up coffee at Buck's and drove to Castine. Attended the Skipper's meeting - very low key - 1st Sailing instruction - no protests allowed; 2nd - Party at Camden YC starts at 6. Harbor Start at 11. Intermittent rain showers, thought about a spectator boat try but decided to drive to Fort Madison, a Revolutionary War fort right on the water overlooking the starting area at the mouth of the Harbor. Good Call!! Got the primo parking spot - could watch boats coming out of the harbor and milling around waiting for the start - from the dry comfort of my car!
On and off rain and very light breeze, fog in the Bay moving up toward the starting line. Starts postponed over an hour waiting for more wind. No more wind and then the Race Committee started them anyway - otherwise, late for the party!! Did I mention that the tide was low and incoming so that there was 1-2 knots pushing boats back into the harbor. Most of the pictures I took were censored by the Maine Dept of Tourism but I managed to get a few through.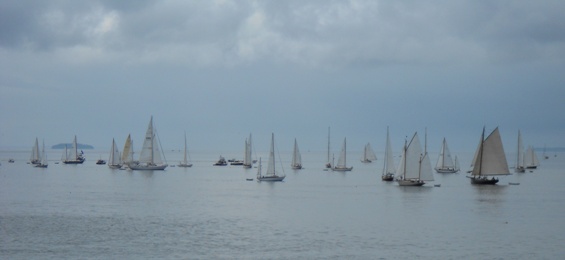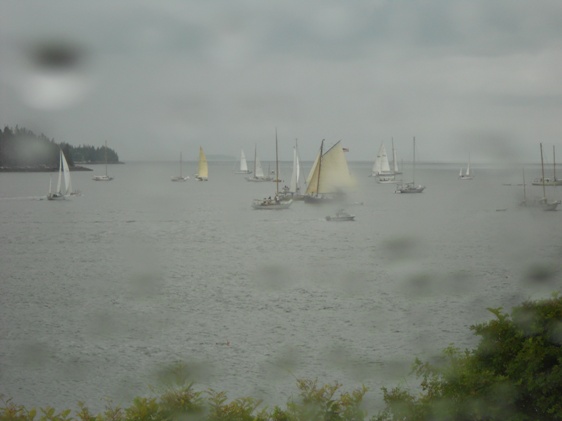 Painful, but I was dry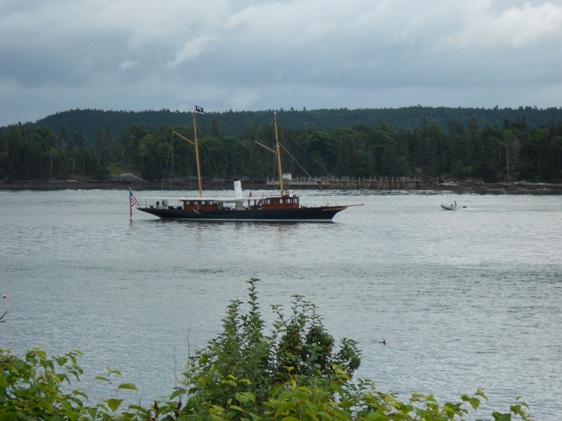 I didn't get the name of this one - I called her Awesome
I couldn't take anymore and went to the Castine Library with my travelling Webmaster Kit and worked hard to share the misery. Tomorrow, Marionette sails down Eggemoggin Reach to meet the fleet racing from Camden to Brooklin. Weather forecast partly sunny, late afternoon showers possible.
***************************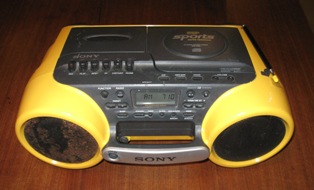 Friday, August 5, 2011. Pizza at the Brooklin Inn Pub bar last night, got back to Bucks Harbor early, bailed out 'TEER and timed my row out to Marionette perfectly - between rain showers. Up at dawn, 5AM. Saw cloudy skies, fog, forecast clearing, partly sunny, light and variable winds north, going south. Usual early morning boat chores, wash, shave, bail out cooler, make breakfast/lunch, straighten out both cabins - listen to soothing Maine Indian music - unable to take world and financial misery on news stations (25,000 kids starved to death in Somalia, the Dow down 512, Italy/Euro crisis, etc). BTW, Marionette's 16 yr old entertainment center works beautifully.
Bailed out 'TEER - this is getting tiresome - and rowed to BHYC. Its a short walk to Buck's Market for coffee and to check out the local newspaper for yesterday's race results. Nope. After website update rowed back to Marionette and set up for the single handed sail down the Reach to Center Harbor, Brooklyn where I had a mooring reservation for the next 2 days. Left at 11, got fuel at the Bucks Harbor Marina - the only fuel on the Reach. Closest option is Blue Hill 6 hrs away. A light breeze, then no breeze, as I approached the Deer Is Bridge.. Went to start engine with the pull cord - free wheeling! Not good! This was my 'new' motor (I call it my #2) that I just spent $400 on a thorough refurbishing. Twenty minutes of fussing around. Nothing. A little breeze came up so I turned around and headed back to Bucks Harbor. Breeze picked up and I sailed to my mooring - I can always do this flawlessly without witnesses...
Change of plan. Drive to Weir Cove, our August cottage rental location, 10 miles up the Reach, where I had stashed my old motor (the #1). I had, perhaps prematurely planned to designate it my back up because my new (old) motor (#2) has been reliably driving the boat 1/2 knot faster, probably because it has a longer shaft. More on this, and a 3rd!! motor, are covered in excruciating detail at Marionette's 4 hp Johnson engine(s) - click to go there
Next change is to drive, instead of sail, to Wooden Boat Magazine's campus in Brooklin and, positioned at their dock and on the overlooking hill, take pictures of the fleet finishing at the entry to the mooring area. Also to check in with Bill Thomas, Ruby, O'Day/Marscot #4 who is an instructor at the Wooden Boat School (Done!)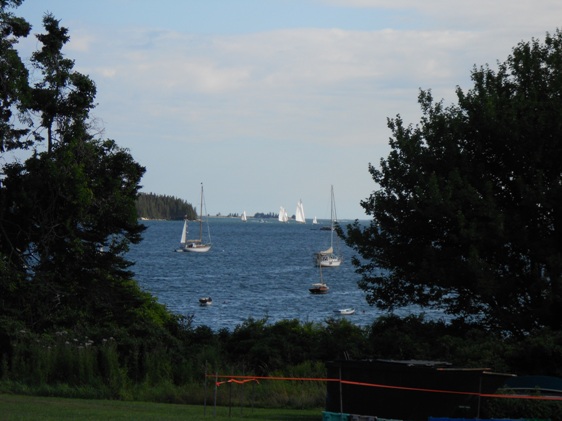 Finishing at Wooden Boat on Friday Click for a larger view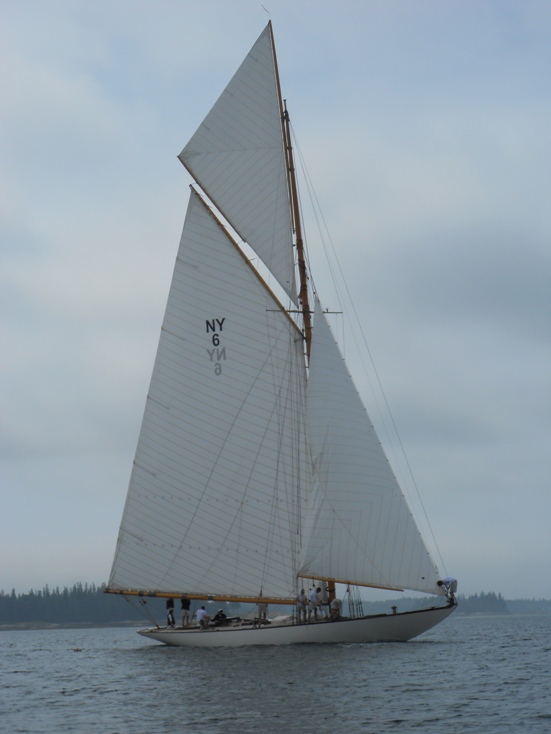 Spartan NY 50 - again
Saturday, August 6, 2011. 9:30AM. Jim and Dave Kurt and I, and Jim's Boston Whaler, made the 10 mile run, partly in fog, down Eggemoggin Reach to the start of the ERR of Torry Castle Island. Here is the course.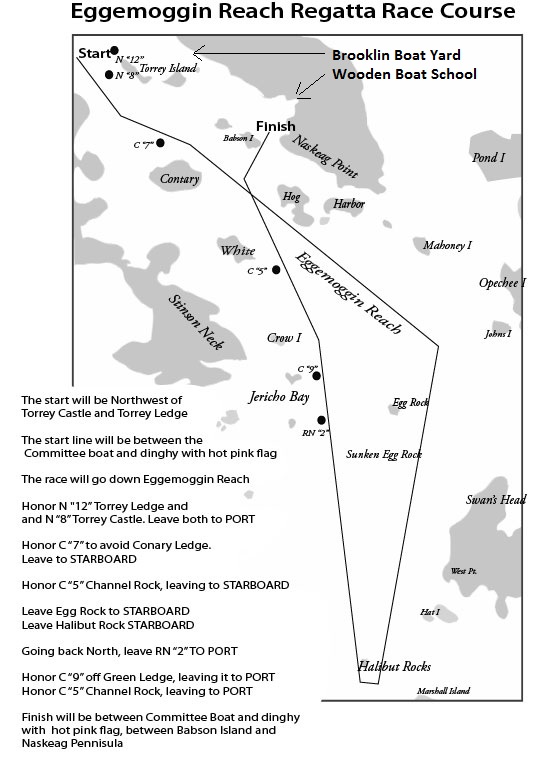 The fog lifted and the sun revealed a spectacular Maine summer day. The scheduled 10:50 start was postponed 30 minutes due to light wind. We cruised around the starting area with 100+ of the most beautiful classic boats one can ever be lucky enough to see. Here's a few more.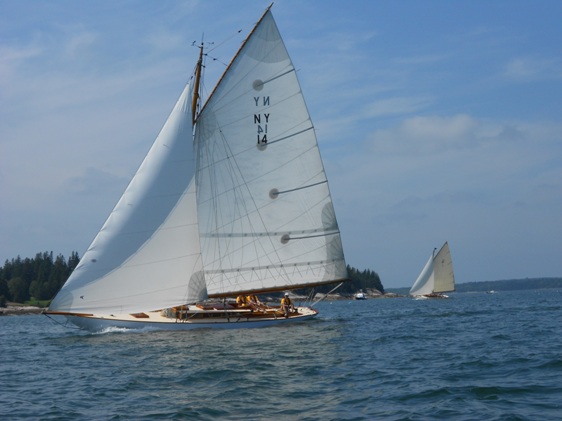 NY 30's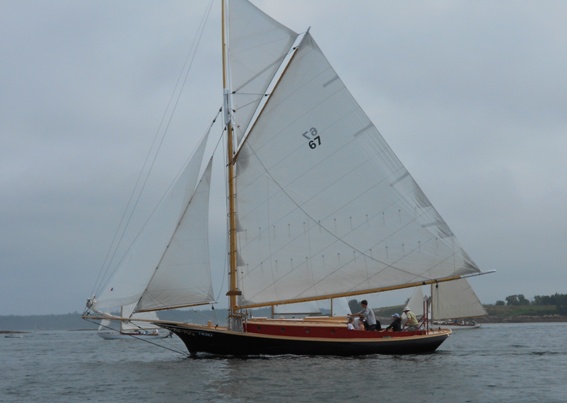 Friendship Sloop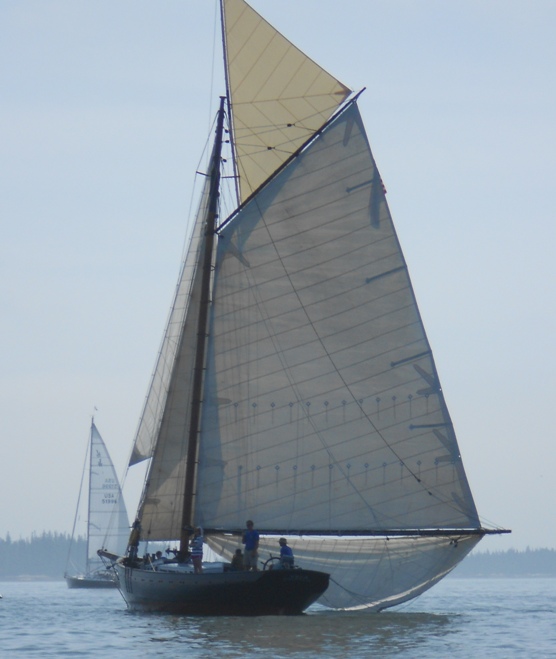 A boomsail, and a flipping topsail! It rotates at the spar midpoint when tacking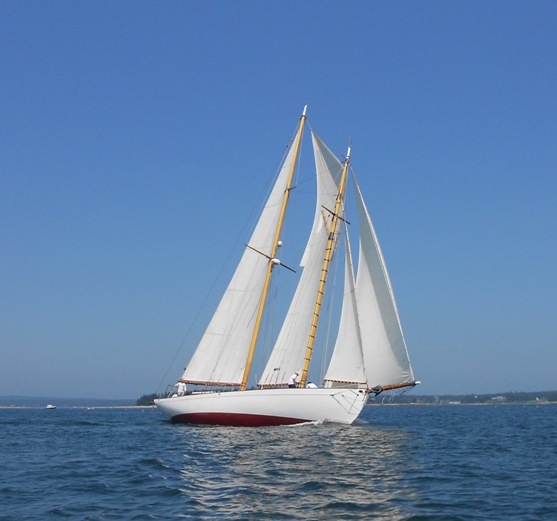 Sweet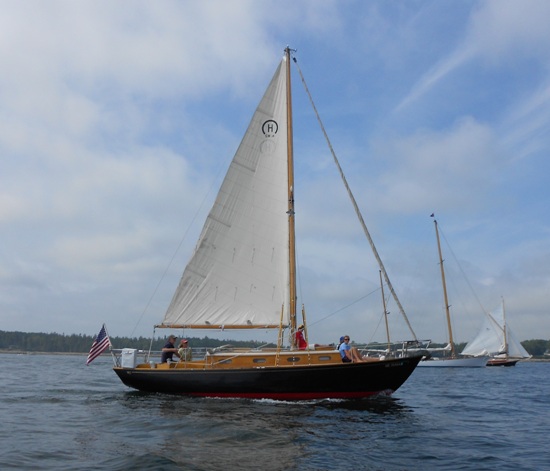 A HinckleySouthwester Jr. w/Sausalito, California crew
There were winners but this regatta is more about just being there - and no protests! I'll get a link up when results are posted somewhere. BTW, it was ok to bring your tender. There are tenders, and there are tenders. The one at the left is a tender...

August 10, 2011 - Here are the results http://www.erregatta.com/Results/2011/ERR%202011.pdf

Spartan won her 19 boat Class in the ERR - Schooners and gaff rigged boats, and also the Most Photogenic Boat Award. She also won the Castine - Camden race.
Well, I've finally got to see this series of Classic Boat regattas. Now, back to Bucks Harbor, button up Marionette, row to shore, set up the skeg dolly, wheel 'TEER to Jim's shed, and then a long drive back to Connecticut and the grim real world. Be back in a week to move operations for a 3 week stay at Weir Cove. Stay tuned.
************************
Monday, August 15, 2011. The 6 1/2 hr road trip up from Connecticut started in pouring rain - and we (the webmaster, the Admiral, and Pumpkin, our 8 yr old rescue Airdale), carried it all day, bringing it to Maine with us. We checked in at our cottage at Weir Cove - in the rain. Unloaded the loaded wagon, roof top carrier, and the repaired outboard #2, (the long shaft - a worn out pawl was the problem). In bed by 8:30, exhausted.
The following photos define Marionette's homeport for three weeks.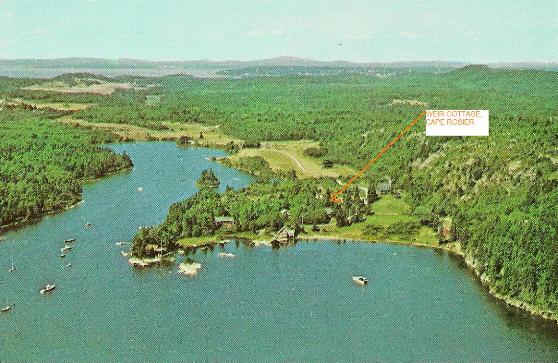 Weir Cove at Cape Rosier (image from a post card)
| | |
| --- | --- |
| Undercliff Farm on Weir Cove (File photo) | Cottage (File Photo) |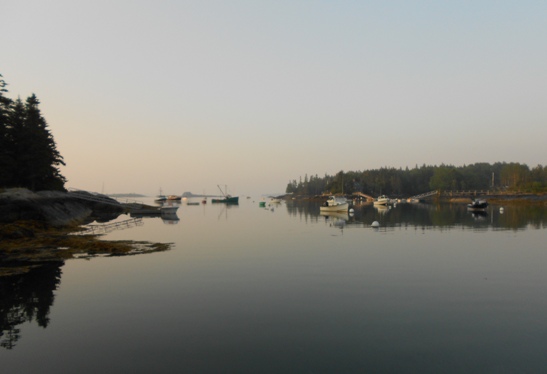 Weir Cove harbor taken from farm dock looking out to Eggemoggin Reach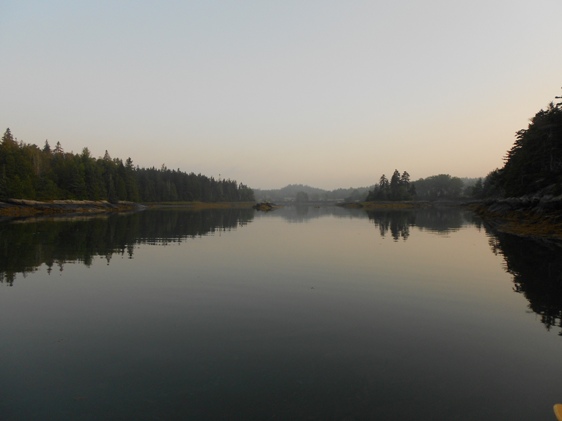 Weir Cove from farm dock looking up the cove
Tuesday, August 16, 2011- Heavy Rain - Walked The Dog (WTD)
Wednesday, August 17, 2011 - (WTD) Fog, Clearing. Afternoon got 'TEER from Jim's place, set up the skeg dolly (worked), wheeled her down to the stone ramp at Bucks Harbor YC, loaded the outboard and a block of ice and rowed out to Marionette. She was dry! but enjoyed being opened up after 10 days. Tested the repaired outboard, reset the locker doors and upended cushions, stocked the cooler with liquid refreshments and she was ready to go to work. Rowed back to the YC.
Thursday, August 18, 2011. (WTD) Heavy fog, cleared enough by 11:30. Rowed out to Marionette, got her ready to sail, motored over to the YC to pick up guests who were to sail with us, towing 'TEER, to Weir Cove, our homeport for the next 3 weeks. We had a light breeze that built to 10-15 in the afternoon. Guests, who had brought lunch, and chilled white wine and plastic! cups!, were impressed when the skipper handed over the helm, went below, emerging moments later with proper wine glasses from Marionette's cupboards. She was on her floating post mooring in front of the cottage by 3PM.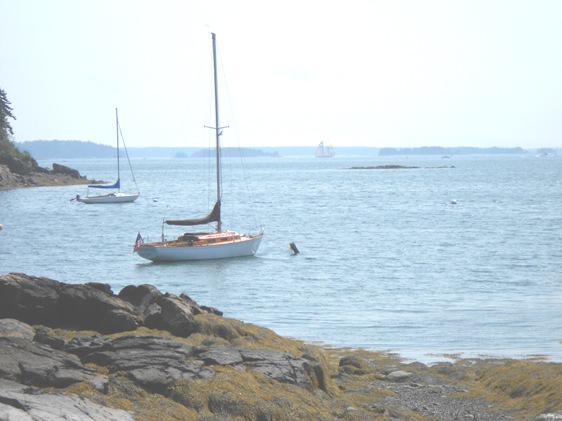 At Weir Cove - note schooner in the distance on the Reach (Click for large view)
Friday, August 19, 2011. (WTD) Light fog, cleared by 9AM, bright sunny day with possible late afternoon thunderstorms. Rowed out to Marionette, opened her up, got all the sail bags, rope and rigging bags up on deck for a long waited proper airing. Back at 4PM after various Admiral mandated shore side duties, the daily website maintenance, and with thunder clouds massing to the north, closed her up and rowed back to the farm dock.
Saturday, August 20, 2011.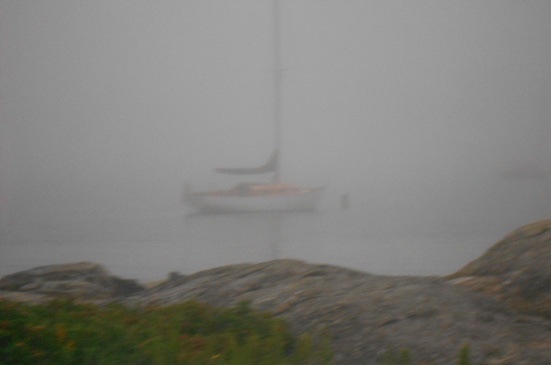 (WTD) Heavy fog. Started clearing at 10:30. Off to the library to check the website and see What's New in the Dolphin 24 world.
I should clarify WTD (Walk the dog). Pumpkin gets a 30-45 minute walk on the farm road along Weir Cove sometime between 5:30 and 6:30AM, rain or shine. We have foul weather gear and umbrellas. She loves her walk, and fog intensity permitting, this gives me an early morning look at how Marionette and 'TEER have fared through the night. I will dispense with the WTD activity notification in the log henceforth - it is a given...

Also, some have noted that Pumpkin Island Lighthouse marks the entrance to Eggemoggin Reach. This also - with a poet's license - marks the nearby location of Weir Cove, our August vacation cottage for the past several years. That both the island lighthouse, and the dog, are named Pumpkin is strictly a coincidence....
Sunday, August 21, 2011. Shore side duty. Checked doubled mooring lines; added pickup stick to system - a lobster buoy w/stick; repaired pad eye that holds rod for forward hatch; checked for emails re website at closed local library 6 miles away.. Bless them - they keep their wireless router up when closed so that traveling webmasters, and over anxious business men on vacation, can sit on their steps, laptop on their knees, log in and monitor world problems...Heavy weather forecast for this evening/night.
Monday, August 22, 2011. Front came thru last night with 25+ knots winds and heavy rain. Hard to sleep thinking about Marionette out there on her somewhat exposed mooring. Morning came with heavy fog/rain, 10-15 knot northerly breeze. Marionette was fine. Cleared by 10AM, shifted "TEER to leeward side of farm dock. shopping, website duties, WTD, etc.
Tuesday, August 23, 2011. Nice afternoon sail in light breeze building to 15 +/- knots; 'Circumnavigation' of Spectacle Islands. Heard something about a hurricane coming up the coast, and an earthquake in Washington, DC??? Recently repaired motor # 2 (long shaft) would not start - the starting gear was not engaging - same problem as before. Happily, motor (#1 - short shaft) was aboard and performed flawlessly. Stay tuned for more on this motor issue.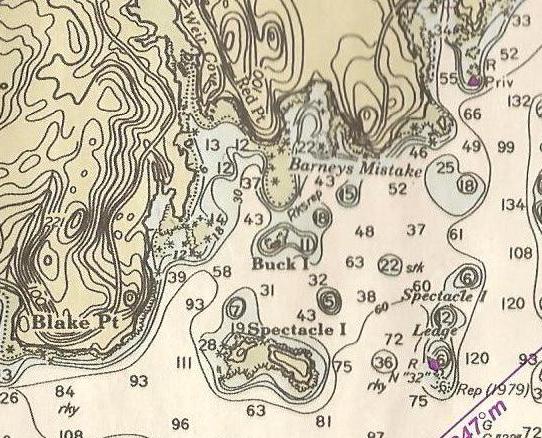 Spectacle Islands
Wednesday, August, 24, 2011. A nice day, 5-10 knots forecast, but there are other things in life besides sailing. Visited the Wooden Boat Magazine/School campus in Brooklin. Toured the school classrooms - a busy and fascinating place. As a graduate of the John Gardiner Wooden Boat School at Mystic Seaport (my graduate thesis was "TEER), these places are irresistible to me.
Marionette's engine does not have an alternator - we use very little electrical power.The only major draw is the Autohelm which is used only sparingly, except on 'long day passages'. Some of these are coming up. Except for a couple of days back in June Marionette has not been in a slip and there has not been an opportunity to recharge. So, this morning was calm so before our shore side program commenced I rowed out in "TEER to get my battery and smart charger.
| | |
| --- | --- |
| Battery in locker under forward end of stbd quarterberth | Battery charger in same locker |
This battery must weigh 70? lbs and lifting it out of the locker, and cabin, and into the tippy dinghy, and carrying it, is a bit of a challenge, but once in a while I have to recharge when a slip with power is not an option. Right arm gets a little longer each time I do it...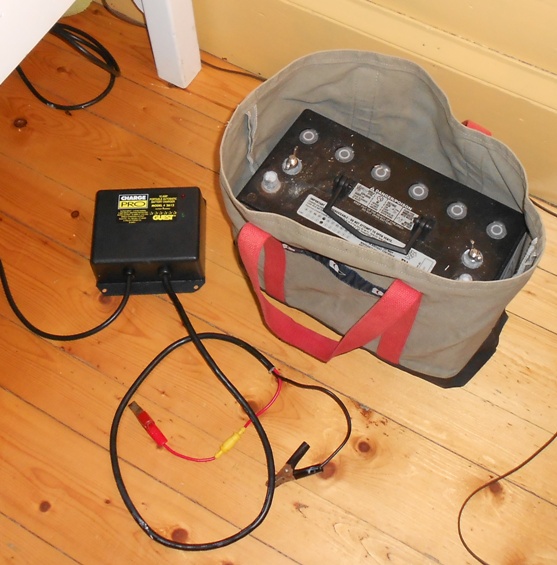 Thursday, August 25, 2011. Done! Now I have to reverse this process. While the battery has a carry handle I use the 'heavy duty' carry bag, also used as a block ice bag, because the straps make it easier to lower heavy stuff into, and raising out of, the dinghy. But, this will have to wait - strong breeze, 15-18, 25 knot puffs, Marionette bobbing at her mooring, light rain, thunder storms possible. Maybe tomorrow.
Tropical storm conditions, from potential Category 3 Hurricane Irene passing offshore, are forecast for this area on Sunday/Monday. Weir Cove is too open for these conditions. If this forecast holds plan is to sail Marionette back to Bucks Harbor to her much better protected mooring in the cleft behind heart shaped Harbor Island at Bucks Harbor (see June 21 pictures above).
Friday, August 25, 2011. Light breeze, early morning fog lifted by 8. Forecast - heavy rain? late on Saturday with a Small Craft Advisory - 25 knots; Tropical Storm conditions starting Sunday afternoon/evening. Sailed/motor sailed Marionette to Bucks Harbor mooring. Extra chafing gear on mooring line.
Saturday, August 26, 2011 - Fog, light breeze. Latest Irene forecast is Tropical Storm Conditions starting Sunday afternoon/evening. High Tide is 10PM; Winds 40-45 knots, gusts to 65 from SE. This angle brings the longest fetch right into Weir Cove. Power outage expected. One cottage will be evacuated. Will move cars to high ground, fill the tub with water and get extra block ice for the big cooler....
Sunday/Monday, August 28/29, 2011. Irene passed through as forecast - Tropical Storm conditions. Marionette was fine on her mooring at Bucks Harbor. We lost power for several hours here in Maine, and back in Old Lyme too. Power outages affected WiFi connectivity. Winds howled all night.
Tuesday, August 30, 2011. Finally got a chance to get a few Irene related pictures up. Nearby hurricane holes were pretty much filled up by Saturday afternoon.
Here are a couple of photos of Smith Cove, a fairly large hurricane hole inside, and south of, Castine. It attracted the big guys...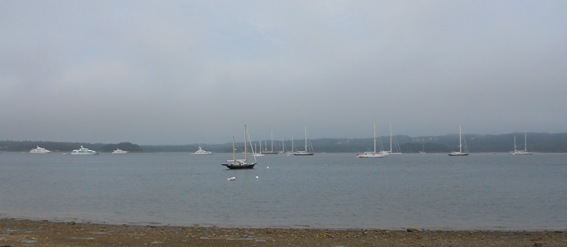 Smith Cove, inside and south of Castine - taken from Indian Bar

Some of the big guys
We were on the east side of the storm - mostly high winds, some periods of heavy rain. Winds started to pick up seriously Sunday afternoon - probably 20-25, higher gusts. Off shore islands kept wave heights down. Peak of the storm was late Sunday night - maybe 60 knot gusts. Slept through it.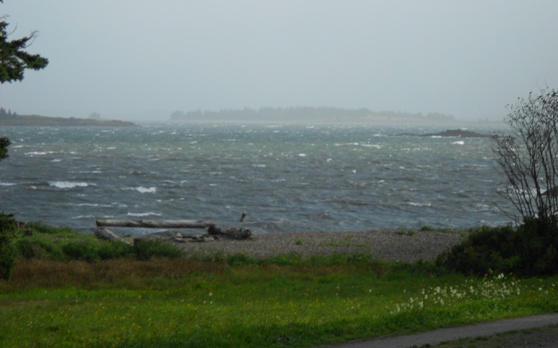 Sunday afternoon - breeze starting to get serious

Postcript Note, December 17, 2011: It seemed fitting that this headline be preserved here
September 22, 2011. Its been three weeks since the last log entry. Here's why. Hurricane Irene passed but on the next day, Tuesday afternoon, August 30, Hurricane Chris arrived (Chris is sometimes known as the Admiral, other times, the webmaster's better half). This log will not recount the details but she became ill, had a bad night with the result that early Wednesday morning we packed up and headed home - a 6.5 hour drive (maybe I've mentioned this earlier?). Marionette was left on her hurricane mooring and son Michael and family stayed on at the cottage pending developments. On arrival home it was decided that she should go to the hospital. Thirteen days later she was discharged.
Six days after her discharge it was felt that, as she was recovering satisfactorily, leaving her in the care of daughter Nicole and Airedale Pumpkin would be permissible. So, on Friday, September 16, I drove the 6.5 hours up to Bucks Harbor to start the process of getting Marionette back home. She had been under the watchful eye of the Kurts and, from outward appearances, had weathered the storm, and her owner's inattention. The hoped for Fall Sailing Season in Maine was cancelled by the combined fury of the back to back hurricanes. My new plan was to sail her to Rockland on Saturday, the 17th, and on Sunday, prep her for hauling at Journey's End Marina. Friend Mark would drive up with the trailer early Monday, the 19th, and she would be hauled, bottom washed, mast unstepped and we would be back home in time for dinner.
With that lead-in, let's finish Marionette's log, Summer, 2011.
Friday, September 16, 2011. Drove 6.5 hours to Bucks Harbor, set up the skeg dolly on 'TEER along side Jim Kurt's shed, bought ice at Bucks Market down the street, wheeled her and my gear down to the stone ramp, unfastened the skeg dolly, and rowed out to Marionette. No chafe (!) on the mooring line which was protected by a rubber sleeve but we had a nicely polished bronze chock. Down below was a bit disheveled, but ok. Loaded the ice and stocked some beer, sat down and looked around. No leaks, electrics working fine, she had been doing her job. I told her our plans had changed and that we'd be heading to Rockland tomorrow instead of the 7 day cruise we had planned. No complaining, just ready to do whatever I asked. Forecast NW 6-9, sunny day. I rowed back to shore for a season ending dinner at Bucks Restaurant with Jim and Dave Kurt - Dolphin war stories for dessert. Rowed back under a dark sky filled with stars. One shooting star. Fell asleep immediately, exhausted.
Saturday, September 17, 2011. Very chilly night, in the thirties! A quick, cold breakfast. A silent harbor except for a far off lobster boat leaving. I set up the small jib on deck, raised the main, cast off at 6:45AM, and slowly motored out of Bucks Harbor - no wind.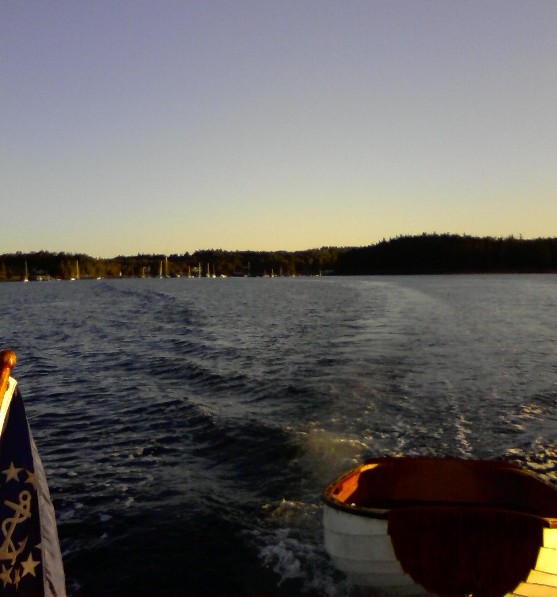 Leaving via the west passage - Bucks Harbor. Harbor Island dark in the right foreground
About 11AM, 4 1/2 hours later, we were approaching the Rockland breakwater and its famous lighthouse. We mostly motor sailed but a light breeze came up about 10AM so we killed the motor and had our final sail. About 22 miles averaging close to 5 knots towing the dinghy - not bad. We headed for the inner basin behind the Coast Guard station, secured, made lunch and had a cold beer. Then I called for a taxi to take me back to Bucks Harbor to get my car. It's nearly a 2 hour drive, one way - a better way to gauge the trip - $185 cab fare. Could have gone over in a chartered high speed boat in about 1 hour - $225, probably should have...
On the return stopped in Camden to visit their super Library, with free access WiFi, to check the website and related emails, had an early dinner at the bar at Francine's (arguably one of Maine's best), and in my bunk by 9PM - exhausted.
Sunday, September 18, 2011. Up at 5:30, walked to the 6AM diner on 'main' street, and walked back in a beautiful dawning September morning in Maine. Great day for sailing....Spent the morning pulling down the halyards, removing the lifeline and stanchions, draining the fresh water tank, packing duffle bags, folding sails and the many small things that needed doing to get a head start on stowing stuff for her 300 mile road trip, and her winter rest. Made a sandwich using up the last of my meager supplies, had a beer, and tried to develop an afternoon tourist plan. One component would be a stop at the Wyeth Center at the Farnsworth Museum right here in Rockland. I had noticed a sign indicating that they were having a special exhibition featuring Andrew Wyeth and Christina's World. He is the Admiral's favorite artist and the Christina's World print hangs in her office. A few years ago we were having dinner at a small restaurant in nearby Port Clyde when the man himself walked in with his son Jamie, and good friend, Helga. They sat at the table next to ours, he on the banquette next to Chris. We decided to have another after-dinner drink.....
All morning I had been glancing over at the US Coast Guard station immediately behind Marionette's slip. A large cutter was berthed there and its name gave me another component for an afternoon program. Just a few miles down the coast was Spruce Head and the marina where a Dolphin 24 named Abbie Burgess would be found. A visit there might allow me to claim that this was a working trip.
Here is our Abbie Burgess, Clifford Dasco's Lunn built hull # L212, with her winter frame being set up.

Both these boats were named for a famous teen age heroine - a lighthouse keeper. Click here for that story

Webmaster Note, February 26, 2012: The Dolphin 24 Abbie Burgess has a new name, Maya Elena - click to go her new page

A late afternoon ice cream cone in Port Clyde, followed by the 1/2 hour drive back to Rockland, a couple of IPA's and a plate of nacho's at the bar at the Black Bull Tavern, and I was in my bunk at 8:45, exhausted.
Monday, September 19, 2011. Marionette, ready to be hauled. Flawless work, again, by the yard crew at Journey's End Marina. Meticulous pressure wash of the bottom - Maine's cold water gets some credit...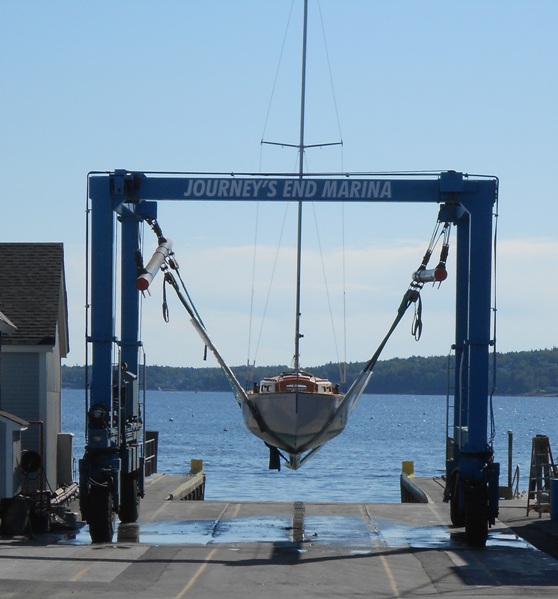 gotta like this shot....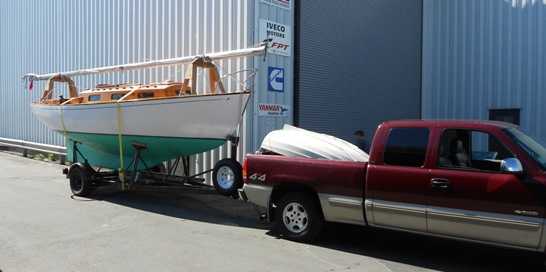 Ready to go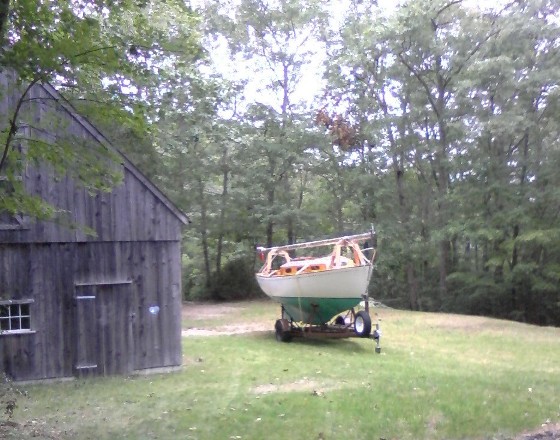 Back Home
***************************************************
ps Forgot a couple of Dolphin sightings.....Kudos to anyone who can place these Downeast Maine sightings
***********************************