October 30, 2013. We did not have a page in the Technical Section on bilge pumps so, motivated by the apparant failure of Marionette's 18 year old Rule bilge pump 10 days ago, it was time to start a page. We'll add more to this page as we get more imput.
Marionette, Marscot/O'Day #12 does not have an inboard - she has outboard in a sealed transom well - and so does not get leaks from a prop shaft. She does not have any leaks from below the waterline from thru hulls or her centerboard pennant tube. She does havea few, small, annoying leaks at the hull/deck joint, and some small amounts of water from condensation on the inside of the hull can accumulate in the bilge. She, thankfully, has not yet had a wave wash into her. All in all her bilge pumps do not get much use. A couple of times a season I spray down the inside of the hull below the cabin sole with a bleach/water solution and then rinse with a hose as part of her cleaning/mildew prevention program. At hauling time I drain the water tank into the bilge, and in the Spring I drain the water tank's antifreeze/water solution into the bilge, and have to pump her out.
Marionette has had a Rule 50 electric bilge pump with a seperate Rule-A-Matic float switch for nearly 18 years (Picture at left - click here for a larger view)

Until now, flawless performance - no problems. She has a fused control panel switch for off, manual and automatic operation, with on/off red light - wired directly to the battery, not thru the main electrical panel.
| | |
| --- | --- |
The smaller diameter hose, picture above left, is from the Rule 800 automatic bilge pump. The larger diameter hose is from the bilge and goes to the manual pump ( a Whale Gusher Titan Bilge Pump) mounted in the cockpit - see picture at left. The two bilge pump hoses discharge out the same hull outlet (They cannot pump into one another because of check valves but I confess to worrying about a 'stuck' check valve and one pump pumping water back into the bilge via the other pump's hose!) The space under the cockpit is used for storage and has a removable panel. The hoses extend below that panel and lay in the V of the bilge - pictures coming.
When I was getting ready to haul a few days ago I drained the water tank into the bilge, and although the little light on the control switch lite up, the pump did not go on. "Jiggling' the float switch in the bilge with a long probe did not get the pump to turn on so I pumped the bilge out using the manual pump, and went to Defenders.
The above two pictures show the old bilge pump with separate float switch (left) and (right) the new pump with integral switch. The new pump fits! While I never had a problem with the old pump's float switch, I always thought about something falling in the bilge on top of the float, preventing the lever from 'floating up' as water rose in the bilge. The new switch utilizes digital technology to sense the rise in water level. We'll see what happens.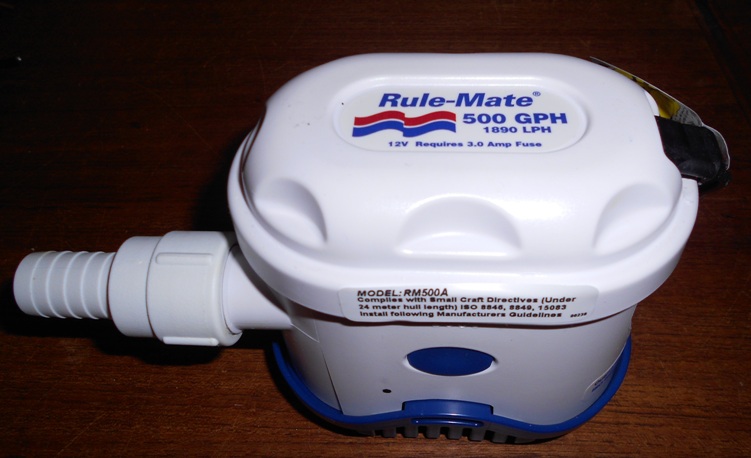 Note that this pump has a capacity of 500/gal/hr - the old pump was 800/gal/hr.....Next step is wiring and testing - probably not until the Spring. Have to remember this pump takes a 3 amp fuse, the old one a 5 amp fuse. Stay tuned....
******************************************
November 4, 2013. DFI Mike Zint, Grand Finale, Pacific Dolphin 300, has been working the new bilge pump issue too, and responded to the above post (emails edited)
Ron

I've been looking at the same set up as you have. I've been pricing the Titan pump and have found it for $110 to $189 depending on who you buy it from. There's an old Guzzler mounted in the cockpit now, but it was installed to pump fore and aft which I don't like so out it comes. I'd already purchased a small pump and float switch to go into the bilge, but think I'll throw it on CL (Craigslist) and get the Rule 500, one less thing to worry about down in the hole.

ps My bilge looks about the same as your, except mine still has sand and leaves in the very bottom. Time for the shop vac and a stick. Both the Rule and the Atwood automatic pumps have troubling reviews on the West Marine site.

Mike
Webmaster reply:
Mike

Yikes!! Those are just awful reviews (click here to go to the West Marine Advisor review page for the Rule 500). Thanks for the tip - I put a note in your DFI file but money is tight this year with sequestering, health care costs going up, etc.

I switched from the 'old style' separate float switch and pump because I heard that the new, non mercury float switch did not work well. I wondered about the 'new technology' automatic pump with integral digital float switch but never checked the West Marine Adviser reviews. And I wondered if the 'failure' I experienced was actually a failure in the panel switch? The light went on and I checked the fuse but that doesn't mean the float switch was getting power, or the pump was getting a turn on signal (connection problem?)

At least I need to tell the world about the West Marine Adviser reviews!! I talked to one of Rule's Technical Service guys - Mike Irvine(sp?) this morning - he was aware of the West Marine Adviser reviews and we had a good conversation. Basically,
1) while Rule had some early problems with the new electronic switch pumps they have made improvements
2) West's Adviser comments can be dated
3) the newer, non mercury, digital electronic float switches are sensors and can be more vulnerable to external electrical field changes' ie., a very close swinging metal centerboard.... Proper installation is important
4) wiring mistakes made in installation are a problem
5) in the last 12 months they have sold nearly 40,000 of the 500 Rule pumps, 200,000+ since introduction in 2009
6) they stand in back of their automatic pumps

They had to get out of mercury switch pumps because of environmental law changes starting in California. Their switches had a 'lot' of mercury - 10x the amount the CA law permitted in the entire boat.

I confess to being tempted to take the new pump back. What's a webmaster to do? The Atwood pump reviews aren't so good either (click here to to go to the West Advisor Atwood Pump review). I did say way up above "we'll see what happens" and elected to procrastinate!!

I think I'll stay with my procrastination plan, carefully read the installation guidelines, and report back next summer.

Thanks again for the heads up

Ron

ps Mike gave me a few installation tips

a) the leading edge of the pump is very close to the back edge of the centerboard trunk - electronic switch can be sensitive to changing electric fields - thats a 'swingin 110lb bronze centerboard in there - separated by probably 1/2 inch of glass.

b) there are two release buttons on oposite sides of the pump (see blue button at right of pump - better visable in picture above) that allow you to pull the pump from the bottom housing (screwed to the bottom on the bilge). Make sure you have enough room on either side to push them in to release pump.

c) be careful if you have a check valve in the discharge line - particulary if it is down low

d) check out the Jabscotech.com website for installation tips

e) connect the proper wires - otherwise you can/will toast the internal circuit board.

Reader comments welcomed!!

********************************************************
September 25, 2015. Mike O'Brien's email regarding his Yankee #196 and water in her bilge (below/minor edits) reminded your webmaster that he owed a report on how Marionette's new bilge was working. I am pleased to report she is still floating and the pump seems to be working fine. Of course, it helps that Marionette does not appear to have any leaks...
Ron,

I started reading what is on the Dolphin site about bilge pumps after finding some water in my bilge this year. I am pretty sure we had none last year, and was a bit surprised to find water in there. Next time I get to the lake, I will be removing everything stored under the deck so I can get a good look underneath, but hoped you might suggest where best to look. Hoping this is something inconsequential, but deck drains are not leaking here.

Do you know of areas of concern, (better yet, leaking sources that are of no concern), and is it typical to find some water in the bilge? Also, The pumps I have are located under a panel under the cabin floor (I assumed all Dolphins were set up similarly). Looking at photos of your arrangement, they appear to be further aft, where it is almost necessary to wedge them in place. This appears to be a better arrangement, as even with my wife and I standing as far forward as we can on deck, we can't get the bilge fully drained.

I do not own, and am not familiar with a manual pump, but assume that is how I will get the water out. I assumed these were hand held with hose that drops into place where needed, though it sounds like yours is permanently in place. As always, my questions are basic, but the tech support is greatly appreciated nonetheless.

Thanks,

Mike

Webmaster replies:

Hi Mike

Thanks for your email - and the reminder that I 'owe' an update on this matter. http://dolphin24.org/bilge_pumps.html. As far as I know I still don't have any leaks/water in my bilge so its hard to judge how well my system is working - except when I dump water in it to test the system, or empty my fresh water tank by draining it into the bilge. The system gets out the water just fine - whether I manually pump it out using my cockpit mounted manual pump, or let the electric bilge pump take it out.

The classic 'leaks' are a split/cracked hose, or maybe a loose or non functioning hose clamp at one of the thru hulls. http://dolphin24.org/thruhulls.html Those of us (me) with outboard motors usually have 5 thru hull fittings below the waterline - 2 for the cockpit sole drains, the intake for the head water, the discharge for the head, and the discharge for the galley sink. The centerboard control line tube is another potential source. If any of these are suspect wrapping and taping a thick band of towel paper around the joint, checking it a day or for two later for evidence of dampness is a good tool.

Leaks thru the deck fittings, chainplates, hatch or hatch slides, the seat drains (http://dolphin24.org/cockpit_seat_drain_repair.html), or the deck/hull clamp joint are usually visible from stain marks or wet spots/puddles. Check http://dolphin24.org/leaks.html for more on this.

Condensation on the inside of the hull can be a problem but this is usually an annoying damp cushion. A solar powered forward hatch fan and improved ventilation are solutions - see http://dolphin24.org/ventilation.html.

I also have a large flat 'dry' sponge I leave on the cabin floor at a spot where I occasionally see a small puddle - on the cabin sole, starboard side at the main bulkhead in front of the starboard locker. I have tried to track down the source of this occasional puddle/ leak (usually happens after a major rain storm) without luck so far.

In addition to my 'built in' systems I have a manual pump - long tube with long hose - that I can stick into a bucket or over the hatch sill - picture at left.

And a bucket is the 'last resort'. I hope this is of some help.

Keep us posted on developments.

Ron

*****************************
August 8, 2017. Another Mike (Mike O'Brien, Yankee #196) and your webmaster contimued this conversation on this subject and have been trading emails re bilge water, etc., compounded by problems Mike (and others) had/have registering with our Forum (these problems are continuing). Our interchange is below (minor edits)..
I am writing you at this time, I will pose the question(s) I was hoping to look into on the Forum; I have seen some water in the bilge, towards the stern, that does not get deep enough to reach the pumps. Its not an issue, but surprises me that the pumps (under the floor in the cabin) are not at the low point(?). The same is true of the deck drains which leave some standing water, as they are not the low point. Seems these would both be the low points.

Any chance there is something not properly balanced, or is this typical? I have only a small Tohatsu 6 in the well, but it seems if I had the diesel in the black hole, the circumstance would be worse. Please advise.

Also, the transducer installation information on the site is helpful, but I think I can buy a component that will create the necessary angle. Is the dead rise known, at the location for install mentioned on the web site (in correspondence with Alan I think)

Depth Sounder - I have fitted a new depth sounder/fish finder. The old depth sounder packed it in before I hauled out to start the restoration - so both transducer and instrument are new. (I was using a lead line.) I mounted the transducer where the old one was on the starboard side about a foot forward of the main bulkhead and about a foot up from the keel line so that it is vertical. That entailed laminating up a solid glass block inside and outside to accomodate the angle of the hull. It is a Navman instrument that I bought for a good price at the Sanctuary Cove Boat Show on the Gold Coast several years ago.

Not sure about a glass block outside, but if I can mount an in-hull, I don't think I need the outside glass block. Also, I assume I can measure the angle needed, but if it is known, I can order parts now.

Thanks again for your time, and take care,

Mike

Webmaster Responds

Sorry about the Forum problems - ever since I had to change to a new website hosting service things have not been going well with the Forum. I am working on trying to resolve but time will tell. One of the problems is conflicting email system security systems prevent password related auto responses - or so I am told. I may have to go to another hosting service - a transition nightmare....patience

Marionette is an early O'Day, hull #12, and her bilge layout appears to be different - the bilge system has a much deeper section at the rear of the cabin sole, aft of the centerboard housing, under the steps/bridgedeck area, and accessible by another cabin sole hatch. My pump is located there. Check out http://dolphin24.org/bilge_pumps.html

Re Deck drains - are you referring to the cockpit seat and cockpit sole drains? If, over time, more weighty stuff gets located aft of the boat's balance point, water does not drain properly - particularly noticeable when on the trailer with the bow too high. Do you leave your OB in the well when not in use? full gas tanks in the well?

Re depth sounder transducer http://dolphin24.org/depth_sounder_installation.html. I rarely use mine. In hull mounting is the way to go, I think

Ron

Mike responds

Not sure if the photos are of the construction you refer to, but most of the bilge for 196 is shown. Seems like there may be a place for a narrow pump, but you may see a difference between this bilge and Marionette. Thanks for looking.

I was referring to the cockpit sole drains (don't believe I have any seat drains). I have two, but only one through hull. The port side drain is channeled to the starboard drain which is hosed to discharge. I did find some water on the aft side of the through hull for the rudder, but I honestly (hopefully) believe this is water draining from the above fitting for the rudder at the cockpit, and draining down the shaft and collecting (photos). I saw this puddle for the first time after a heavy rain, and have seen no accumulation before. I will monitor.

You mention that your transducer is mounted in the starboard q.berth locker. Is this the first locker as I enter the cabin (to my right). This is where I access the battery from, and where my electrical panel backside is accessed from. Seems like a good spot, although, I was looking at a (locker?) forward of here on the same side, that would be under the seat forward of the table. If this matters that much?

Thanks

Webmaster responds

re Marionette's Battery locker - Yes, this locker is at the forward end on the starboard Q-berth http://dolphin24.org/marionettes_battery_charger.html and also houses the depth sounder transducer

*************************
August 14, 2017 Your webmaster's and Mike's conversation touched on 3 areas - bilge pumps, depth sounder transducers and battery lockers. This prompted a 'photo tour' of Marionette's related interior spaces
| | |
| --- | --- |
| The photo above may take a moment or two to register. It is of Marionette's battery locker taken from above and outside the companionway hatch, looking down past the steps leading below. The locker is immediately to the right of the companionway step - the forward end of the starboard Q-berth | A close up of the locker. The battery is an Interstate AGM 115 amp marine battery. The black box (lower right) is the battery charger - a removable unit (see wing nut). More at http://dolphin24.org/marionettes_battery_charger.html The depth sounder transducer is in the upper left hand corner of the locker |
Click on the photos for a larger image
| | |
| --- | --- |
| Marionette's cabin sole looking aft. Battery locker at left. Bilge access floor panel lower center | Mid cabin sole access panel. There is another access panel in the v-berth sole |
| | |
| --- | --- |
| The aft cabin sole bilge access panel, You can just make out the bilge pump at the bottom of the bilge in back of the centerboard trunk | This picture shows the pump location with hose. A couple of years ago I replaced the pump that had a seperate float switch with a one that had an integral float switch. (see pictures/text top of page) |