October 31, 2015. Nate Donnay checking in as the new owner of Yankee #150.
Ron,

You can take my WANTED post down, I bought Jack VanZandt's hull 150 and had it towed out to Lake Elmo, MN. She will spend a year on the trailer while I work on projects, but we hope to have her in the water (Lake Pepin, MN) in 2017. Thanks again for posting my "want" ad, a few people contacted me with boats they were willing to sell but currently aren't listed anywhere.

Thanks also for running such a useful site!

Nate Donnay

Welcome Aboard, Nate!
Webmaster Note: Nate contacted us on September 17, 2015 asking to be listed in our For Sale (WANTED) Section as interested in finding a Dolphin 24.
I've been actively looking for a Dolphin for more than a year.. I would prefer a Yankee, on a road worthy trailer, in the Upper Midwest, and not a project boat. But at this point I'm starting to consider any Dolphin in any location with/without a trailer (can't be a project boat though, 2 young kids absorb a lot of time).

Nate

DONE!!

*****************************************************
February 21, 2018. Its been a while so we followed up with Nate. He's been busy - here is his report (minor edits)
Hi Ron,

Lots of work done over the summer while she sat on her trailer in my backyard. I can't get pictures right now, she is all wrapped up for the winter. One big change is that she is no longer Wanderlust, she is Rosamond, named after my favorite character in 'Nate the Great' children's books. Our smaller boats are named after a few of Rosamond's cats - Big Hex (16'), and Little Hex (8').

2017 summer projects


New cockpit drain seacock; New sink drain seacock; New head discharge through hull; New head discharge seacock New lavac head; New holding tank and hoses

New electric bilge pump - Re-plumbed bilge pumps to discharge through the stern instead of into the cockpit
Added a 1.5" cockpit drain through the stern (the single drain for the cockpit made me nervous)


Added a permanent swim ladder to the stern

Added Harken cam cleats for the genoa

Removed the kerosene cabin heater

Added Vetus mushroom vent in cabin; Added cabin fan

Removed the existing electrical system; Built a small cabinet to house new switch panel that hangs under the side deck on starboard (didn't like the electrical panel 2" off the floorboards, odds are at some point in a boats life there will be a few inches of water in her). New switch panel; New fuse block; New cabin lights; New cabin wiring


Added 50w solar panel mounted on motor well cover; Added Genasun solar controller


Rebuilt platform where batteries sit (old plywood had rotted); New battery boxes and bullet proof tie down system (I hope); Added a power inverter

Added mounts for tiller pilot to cockpit and tiller, but haven't wired it yet

Bought a bimini and test fitted it, but won't install until I get the mast up and figure out boom height and main sheet clearances

There are probably a few projects that I'm forgetting, but I've listed the major ones.

I started the process of rebedding the portlights, but the two sliding ones from the factory were too far gone to reuse. I bought a set of cheap portlights to replace them, but I don't like how they are designed and was investigating other brands when the snow started falling and the tarp went on the boat for the winter.

I still need to finish plumbing the head, replacing at least 2 of the portlights, new running rigging and a few other things before she goes into the water in the spring.

I already sent in my check for the slip (Hansen's Harbor, Lake City, MN), so it's going to get wet, just not sure on the exact timing. Once the boat is in the water I might tackle an overhaul on the trailer...or I might just ignore it and enjoy the boat. I can't wait to get my kids (will be 6 and 3 this summer) out for some sailing, swimming and overnights.

Nate
Webmaster Note: We have a continuing interest in familiarizing our readers with our Dolphin sailing areas. Here, with Google Earth's help, is Hansen's Harbor on "Lake Pepin"/Mississippi River.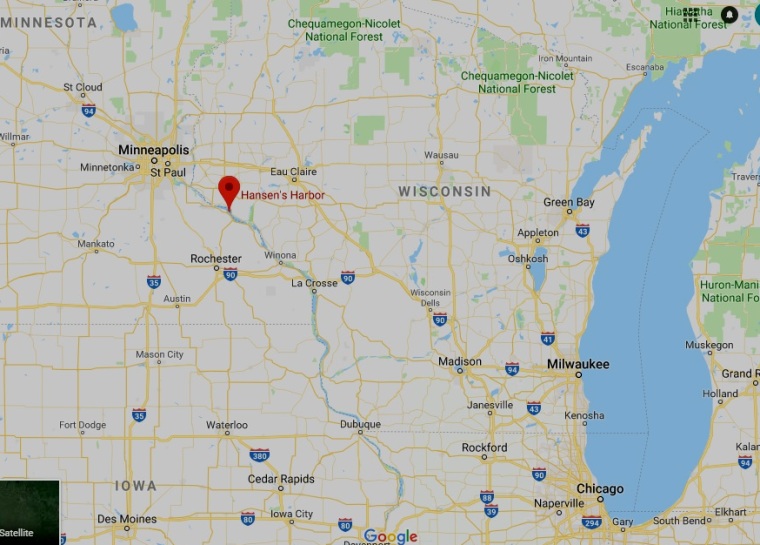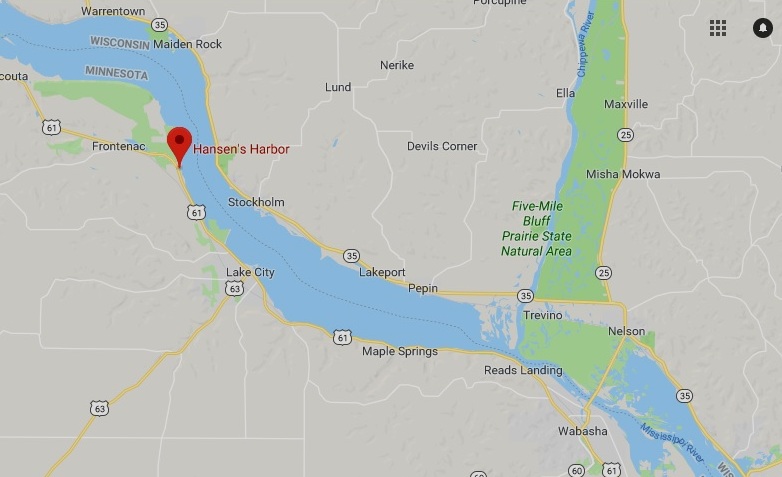 **********************************************

*****************************************

****************************************************

**********************************
This is the record of Yankee #150 as we know it to date. Previous owner was Jack vanZandt, Olympia, Washington
October 29. 2015. We got the following email from Jack, and standby for the new owner to check in.
Hi Ron,
Due to a failing shoulder I had to part from the Wanderlust (hull 150) and sold it quickly to a fellow in Minnesota. About a dozen others expressed interest after the sale, several even offered substantially more that the asking price

. It was a sad day to see her go but it was getting dicey to sail with a bum shoulder. Anyhow, thanks so much for your web site...I will still check in when feeling nostalgic.


Jack VanZandt

*******************************************
October 16, 2016. Senior DFI Mike Friel brought this to our attention.Here is the link to the Craigslist ad http://seattle.craigslist.org/oly/boa/5269916780.html
Yankee Dolphin Sail Boat - $6200 (Olympia)
1970 Yankee Dolphin 24' Pocket Cruiser Sail Boat with Quality Trailer $6200
(Specs: displacement 4250 lbs, ballast 1652 lbs, beam 7'8", full keel 2' 10", 5'2" with board down)
Sparkman and Stephens design classic sail boat in excellent condition
Includes:
• 6 hp 1999 Yamaha Outboard
• Harkin jib furler
• Anchor windlass
• CDQ & Danforth anchors
• VHS radio (new), depth gauge, speed indicator w/ log
• Small Zodiac inflatable with 3 hp Yamaha Outboard
• Cockpit cushions
• Rebuilt head
• Two main sails. . .one newish full batten
• Dodger newish
• Alcohol heater
• Everything works. . .ideal for single hand or family
• Lots of spare parts included
This boat is presently in dry storage and available for inspection and survey. This is a well designed safe and stable sailing vessel that can stand up to rough conditions. Ideal for single hand or family. Sleeps 3-4. For further information check out the web site http://www.dolphin24.org/
********************************
November 4, 2012. Its been a while but Wanderlust is doing well. Here is a short email from Jack VanZandt (edited)
Hi Ron,
This was a wonderful summer of sailing in the Northwest and I sadly hauled the Wanderlust out a few weeks ago just as the rains started. Love the website.
Jack VanZandt

******************************
April 14, 2008. Jack sent us the following old pictures of Wanderlust when he checked in, and he promises more when she gets shined up. These are believed to been when she belonged to Jack Dubnoff in 1999 (see below).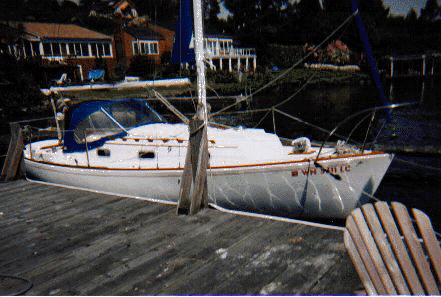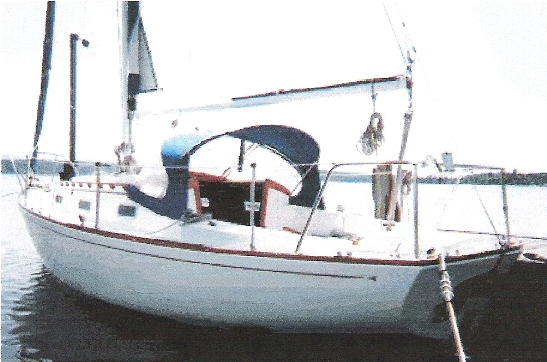 Note the furling main
************************
On October 3, 2008 former owner Bryce Wills sent the following super pictures. He owned the boat from 1999 to 2007.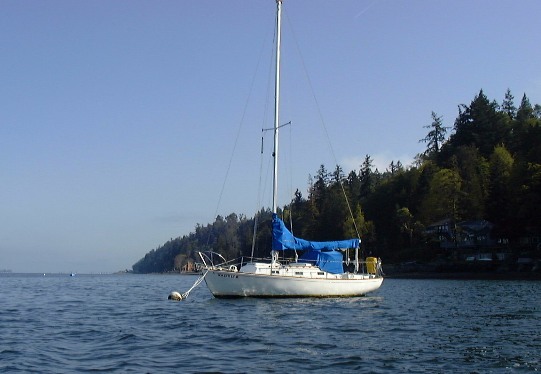 Wanderlust (above) is on her mooring west of Vashon Island (formerly the home of the K-2 Ski Company) which is just a short ferry ride west of Seattle. Note that the furling jib and furling main are gone; the original dodger is under a new cover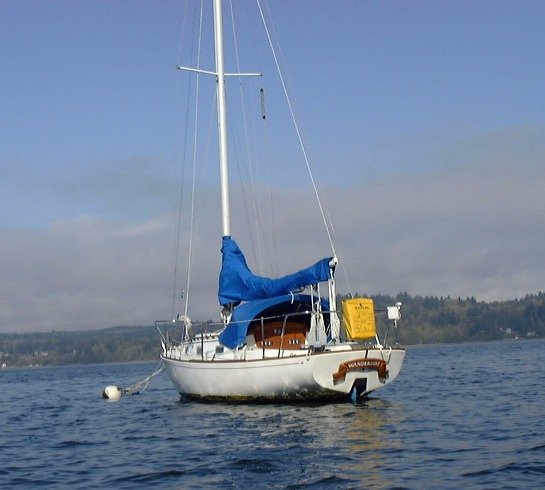 How many Dophins have you seen with an outboard in the transom well - with a cutout so you tip up the motor? Bryce advises he did not like this setup. It ruined an otherwise beautiful transom and his Yamaha 6.6hp long shaft did not clear the water when tipped up. He sailed with the motor down and in neutral.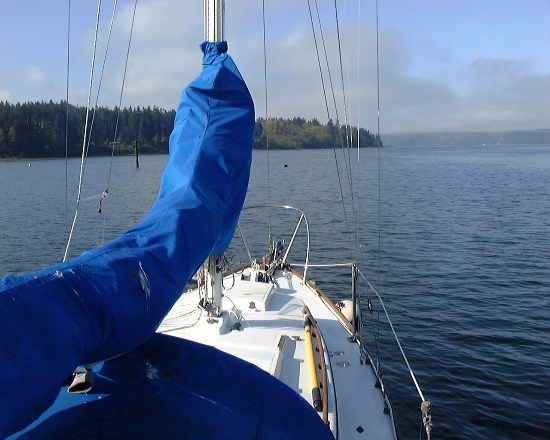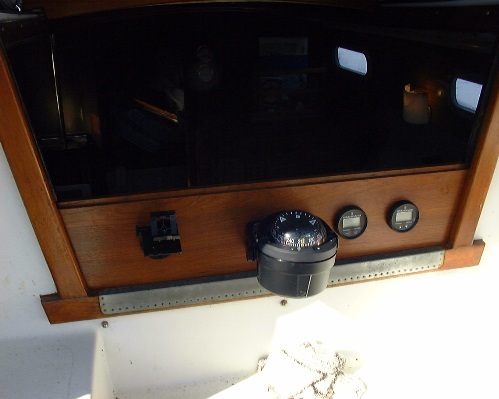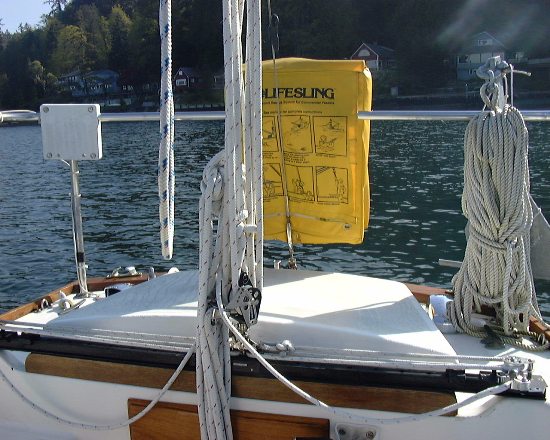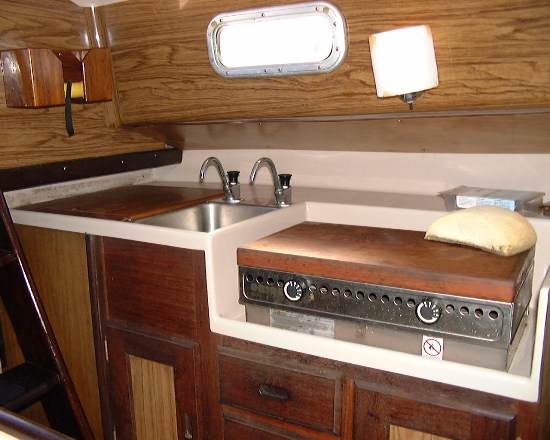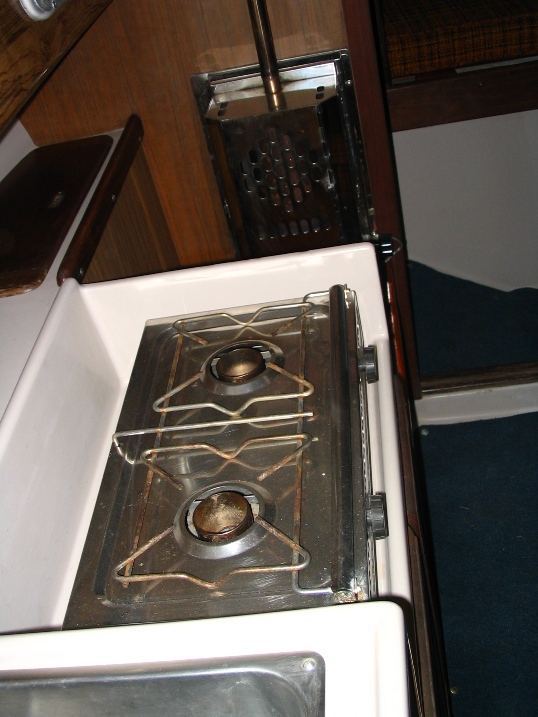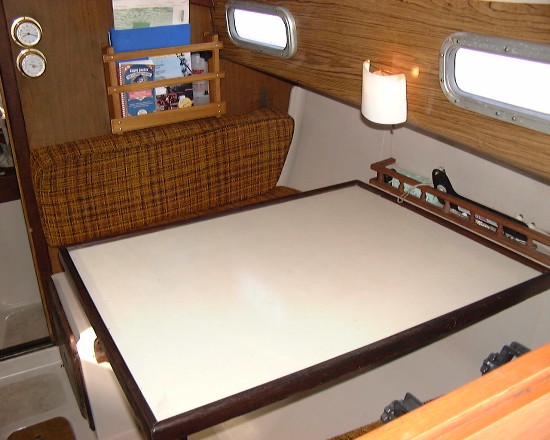 ***********************
Webmaster Note: Wanderlust was for sale in 1999 and sold by owner, Steve Dubnoff, who posted an ad with pictures at www.mvnereid.com/yankee The text of that ad and a couple of pictures are below. Also, there was some question about this boat's hull number (148 or 150) but former owner Bryce Wills has seen the nameplate and confirms she is # 150.