February 17, 2013. Ryan and Liz Lacz have checked as the new owners of Tango II. Click here to go to their page. This boat was formerly Psycho and then was owned by The Sailing Club of Washington. Click here to go to Psycho's page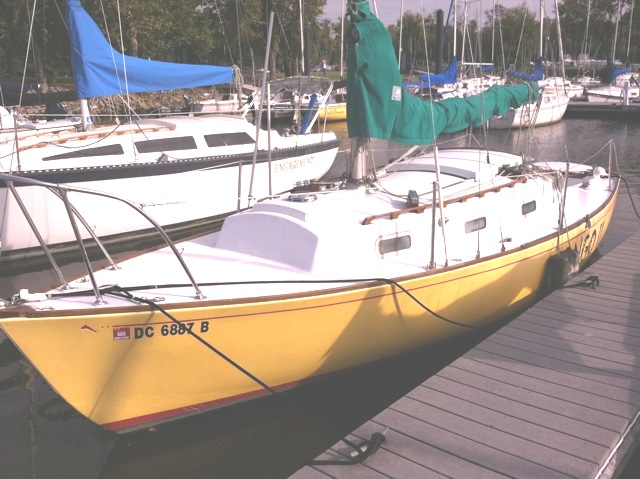 Ryan Lacz sent in this picture and since Rob was the guy who had her painted we figured she deserved to be here to. She looks great!
August 29, 2013. We just found the For sale ad for Tango II. Here it is.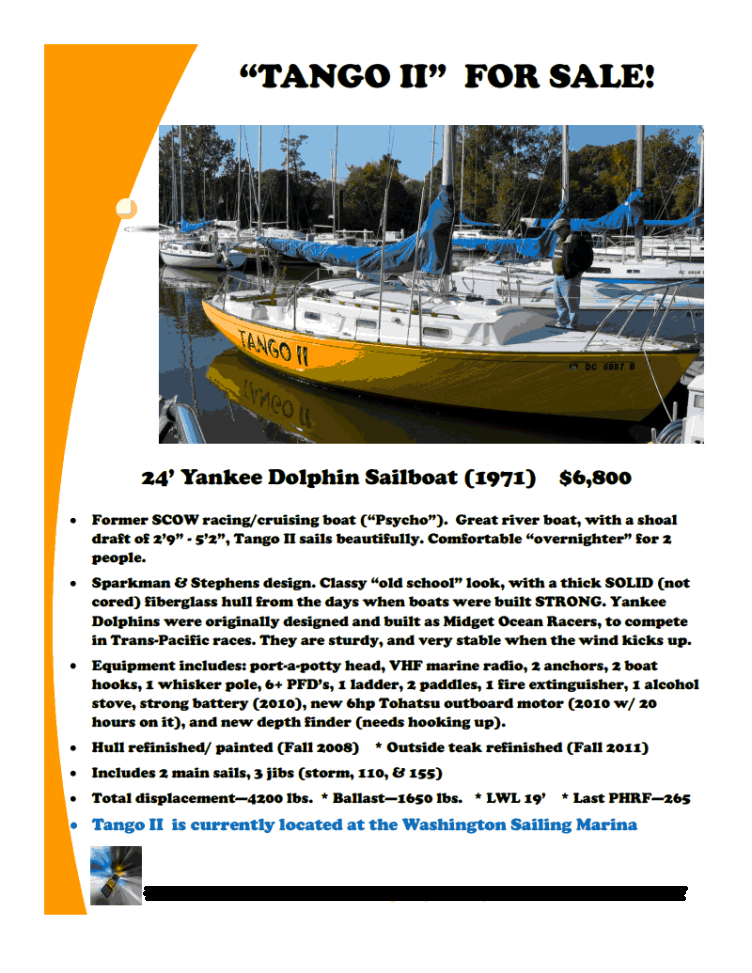 *****************************
We first heard from Rob Tassel in August, 2008 with the following emails (edited)
August 15, 2008

I recently bought a 1971 Yankee Dolphin 24, which is in a marina near Washington, D.C.. I used your website as one valuable source of information about the Yankee, and I guess I'm interested in membership information. Also, is there any way to get a copy of an owner's manual for my boat?

I'll probably think of lots of questions, so I'm glad there is Dolphin 24 group to contact. I look forward to future communications.

Rob Van Tassell

(P.S. - The boat sails great, as described in several forums)
****************

August 17, 2008

My boat was a sailing club boat called Psycho. It was built in 1971, and is hull #244. I'll send photos after I repaint it, which should happen in the next few weeks. I'm having the marina people do the work. I have time to sail, but little time for doing my own work. I love the history of this boat, and it is perfect for the shallow waters of the Potomac River. Thanks for the answers to my questions, and website data. We will definitely talk again.

Rob

*******************

On January 31, 2009 Rob checked in with an update - edited

Hi Ron

The Sailing Club of Washington, in Wash. D.C., where I am a member, had Psycho for about 25 years. She was their original "club cruiser". They wanted to sell her to get a larger boat for the club, and I wanted a traditional "classic" boat in that size range. It also came with a slip, so that sealed the deal.

I have since performed an official renaming ceremony, changed her name to TANGO II (Tango I is one of my far out cats), had her entire hull repainted, and had her outside teak refinished. She sails beautifully, and looks great. I hope to get you some pictures soon.

Thanks for the great web site.

Rob
Stay tuned for new pictures...