December 12, 2013. We have set up a new page for MELE, hull #16. Click here to go there
***************************************
October 16, 2013. Robert Pitt checking in as the new owner of MELE, Marscot/O'Day hull #16. Mele's been waiting for her rescuer a while - but these ladies are patient!
Ron,

I am checking in as the new owner of Todd Croteau's Dolphin #16. It is in need of a lot of work .We did a 3 day marathon trip from Tampa Bay area , Florida to Mayo, Maryland to get the boat loaded off the ground. Lots of jacking, rolling and wallering in the mud . The trailer info on your web site was more than helpful to prepare balance and poppet location prior to loading. This is one heavy boat. Will check in as work progresses, but for now it will just have to sit, as I finish my Abaco dingy to sell and a few other projects. Know anyone interested in a just restored Winer Malone 14' sloop?

Robert Pitt , Bradenton ,Florida
Welcome aboard Robert!!
*************************************************
August 14, 2018 A friend of a former owner of MELE sent in the following email and pictures.
Hi,


I'm trying to get in touch with Bob Pitt. I'm friends with a former owner (John Scott who gave it the name "Mele") and he
shared the link (http://www.dolphin24.org/edgewater_oday.html) with me.

I happen to live in Bradenton now and was hoping to take a photo or two for John who lives on Maryland's Eastern Shore. It looks like Bob did an outstanding job resurrecting that boat. Anyway, if you wouldn't mind sharing this with Bob, I'd greatly appreciate it. (I've attached some old photos of "Mele" circa 1983)


Thanks,


Ken Kurlychek

Webmaster note: Ken's email was forwarded on to Bob Pitt
Click on the photos above for a larger image
****************************

******************************************

********************
Here is the history we had on this boat.
On January 30, 2013 Todd Croteau advised Mele is still available - she has been patient but needs to be rescued. He is asking $1!!! On March 19, 2013 Todd advised Mele is still available, but not for long. DFI David Blakley told us of this latest CraigsList ad and has spoken with Todd. He has to place her somewhere as he is moving and if not gone she will likely be crushed.... Below is the Craigslist ad (expired) and contact info, also some additional photos.
In a follow up email Todd advised that MELE's nameplate says she is hull #16. We are working on getting some history about this boat.
1965 O'Day Dolphin Project Sailboat - $1 (Edgewater/Mayo MD)
Date: 2012-03-13, 8:30PM EDT
Reply to: pqcc3-2900891603@sale.craigslist.org
1965 (1960) O'Day Dolphin designed by Sparkman and Stevens. Also known as a Yankee Dolphin 24. This is a pretty big project, but its a boat with solid bones I think and a great pedigree. Has mast and sails and tiller. Interior is water damaged and inboard engine is rusted frozen. Boat doesnt leak sea water but does get some rain water. Was in water until recently. On land ready to be hauled with a hydraulic lift trailer. Lots of nice teak wood and classic hardware. Needs a mast support rebuilt or place a post under the mast. Needs a rudder and lower gudgeon made. The tiller bracket is there with some of the rudder post too. Centerboard was swinging good but needs a new cable attached. Cushions are there but fabric is a mess. The foam seems ok? The paint is peeling off the interior cabin top so it looks scarier than it really is. The fiberglas is pretty solid considering its age. Shoal keel with fiberglass centerboard is a great design. I hate to crush this boat up, but I'm gonna have to soon because I'm moving and can't take it with me. Ps I have the title to this boat.

Please save a classic

Learn more at the following website http://www.dolphin24.org/index1.html Contact Todd at 410.212.6149 or email toddcrot@gmail.com for more info


Location: Edgewater, Maryland

*******************************************************
December 13, 2010. Todd advised today Mele is still available.
***********************
September 5, 2009. Dolphin Field Investgator (DFI) Zack Beatty brought this Craigs List ad to our attention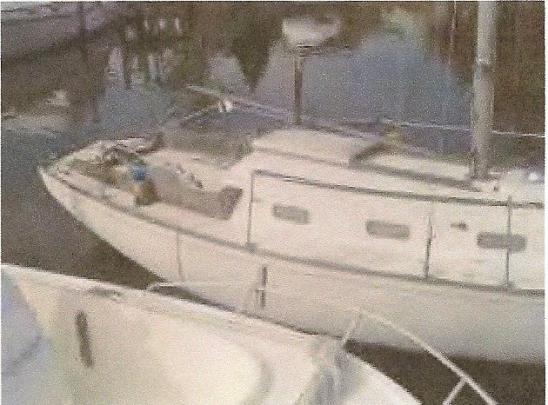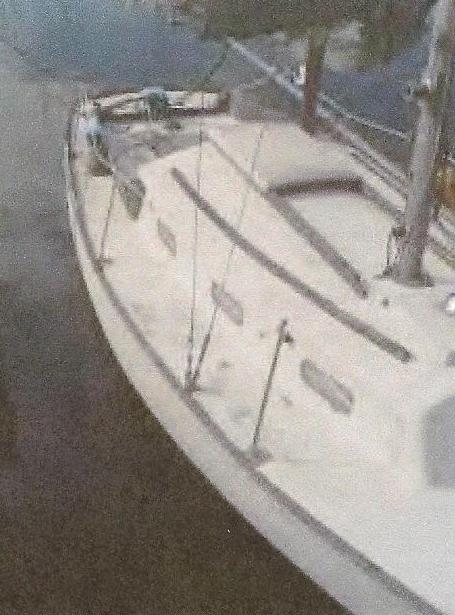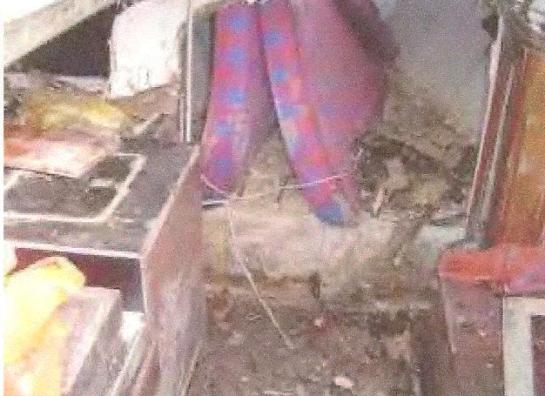 Yikes! No doubt, an in-progress restoration
Stay Tuned
***************************