November 11, 2013. David Shorter checking in as the new owner of Conchita. Here is his email (minor edits)
Hi,

Just found your site. We brought Conchita off Dan Hayes in 2012. She is now kept at Northcote Point and is actively cruised around the gulf. Had a great trip out to the barrier reef last xmas and plan to try do the same this xmas.

Cheers
Dave Shorter

******************************************

**************************************************************************
The following is our historical record of Conchita to this point. She belonged to Daniel Hayes and was kept on Okahu Bay, Auckland, New Zealand. On April 18, 2012 Giles Grimston reported that the Trademe ad has been pulled and replaced with a Sold notice. We are standing by for the new owner to check in.
******************************
June 2, 2011. On March 20, 2011. DFI (Downunder Field Investigator) Giles Grimston (Summer Wine) brought this to our attention. We are trying to get more information. Here is the ad and photos from the ad, also the updated link to contact info and more photos.
Sparkmans and Stevens Falcon
http://www.trademe.co.nz/a.aspx?id=380855886 (new link June 2, 2011)
Asking price: $12,000 Or Near Offer

Includes mooring at Okahu Bay & dingy rack. Price will differ if not wanted

Listed: Sun 20 Mar, 9:47 am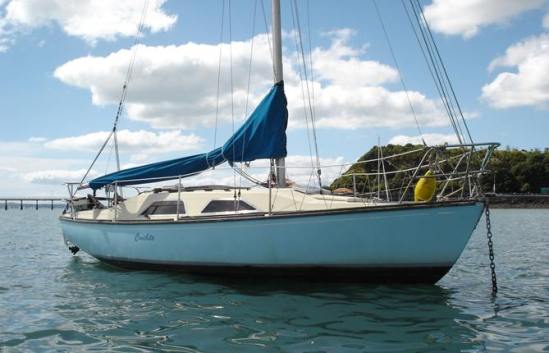 Sparkmans & Stevens 24ft Falcon
Plastic dingy, with 2yr old 3hp yamaha.
Yacht includes:
7.5hp Evinrude.
Main sail, 3x Headsails, & spinnaker.
2x Batterys.
VHF, Epirb, radio, etc.
Electric toylet, & holding tank.
2 burner stove & gas bottle.
Wet weather gear.
Spare ropes, hardwear & odd n ends.
Charts, GPS, Depth sounder/fish finder.
Pretty much everything to go sailing.
**********************************************