October 6, 2010. DFI Joe Sharpe (El Gitano) found this boat on a Dolphin hunting trip down to Eureka, CA. The excerpt of his email is below. The full (edited) text of his email re this trip is on El Gitano's page - click to go there.
Hi Ron

The other boat, whose name I couldn't see from the dock, reg number CF 0698 EA, is at Woodley Island Marina - just over a short bridge from Eureka.....
December 29, 2010. This boat looks suspiciously like Buck Owens' #80 also in this area. Note the green sail cover and jib bag, and then compare to #80. A mystery? This boat is not yet officially on our Roster. We have not heard from Buck in a while. Stay tuned.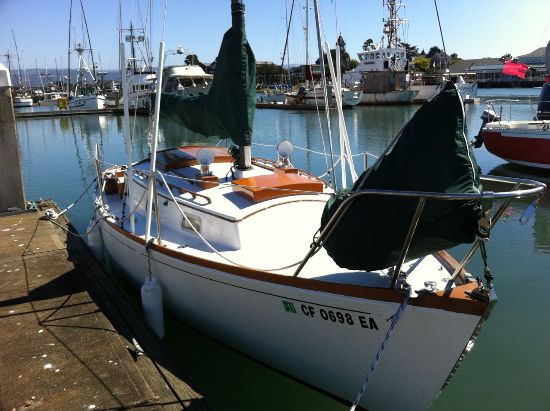 December 14, 2014. DFI Aaron Coyle (Belles, #94) filed the following much appreciated report. We'll leave this page up on the website as a good example of webmaster confusion and the relentless effort of our DFI's to get our historical record correct.
Hi Ron,

My apologies for the slow reply, it's been a busy time of year for me. Regarding your questions about 80 and 85:

I have spoken with Greg, the owner of #85, a couple of times now and have compared #80 and #85 in person while they were moored next to each other, including seeing their CF numbers, and I am certain that the photo and listing you have for http://www.dolphin24.org/0698_eureka.html is not hull #80 and is actually #85 http://www.dolphin24.org/moondance85.html.

If you look at photos on the dolphin24.org site of both boats you'll see that although both boats have the same color of sailbags, #80 features low-profile cowl vents on the dorade boxes, where as the 0698 boat has the fully rounded cowls. In the more recent photos the differences between the two are increased by the renovations done to #80 including the very distinct pushpit/motor hoist.

Aaron

**********************************