April 28, 2017 . Veninde has been listed for sale in the current issue of Wooden Boat Magazine (page 143). Here is the ad and contact info. The wordpress.com link has a lot of information and some really great pictures.
24' KEEL CENTERBOARD YAWL

Bill Shaw design. Built 1958 Jensen & Sons, Denmark. Lovingly maintained. $20,000

Contact: 401-743-1490

More info and lots of pictures at www.venindeforsale.wordpress.com Listing still valid July 22, 2018

Newport, Rhode Island

***********************************************
March 9, 2017 This is the latest link to the ad for Veninde - http://boats.iboats.com/1958-shaw-24-bristol-ri/1736666.html.
1958 Shaw 24 Location: Bristol, RI
Type: Antique & Classic Boats
Price: $19,800
Listing#: 1736666
Offered for sale is this classic keel/center-board wooden 1958 Shaw 24 Yawl. This boat was designed by Bill Shaw and built by Jensen and Sons. It is powered by the original Coventry Victor MW 2 engine (gasoline). This vessel is completely restored and is aggressively priced at $19,800. The boat has spent the past five years under the ownership of highly experienced wood workers with three plus decades of wooden boat experience. "Veninde" is now on the market as the owners have moved up to a larger wooden sailboat and are planning an extended cruise.

Phone: 877-523-1162

********************************************************************
April 2, 2016. Veninde is still FOR SALE
July 1, 2015. Nancy is selling her completely restored Veninde - a true classic. The following picture is of the banner displayed at Mystic Seaport's Wooden Boat Show. More details coming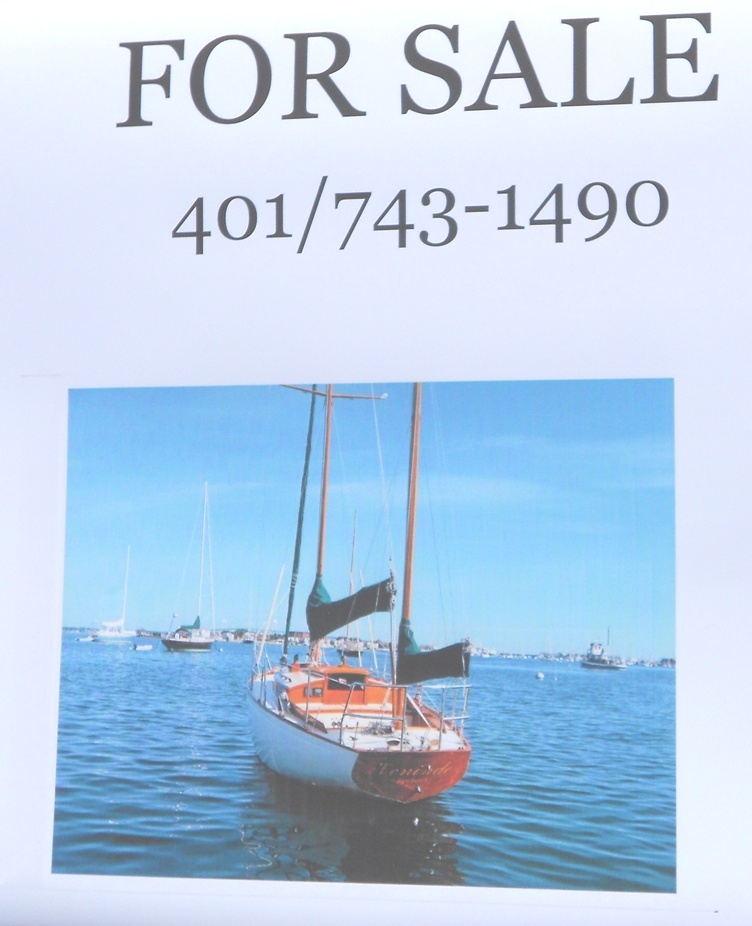 Asking price $28,500
A lot of detail regarding the Shaw 24 can be found on Trina's page, Shaw 24 hull #1 - click here to go there.. Both boats were built by Jensen in Denmark - double planked mahogany and cedar over oak, a keel/centerboarder with a yawl rig.
Dyke Williams, former owner of Trina, wrote an extensive article on the Dolphin 24, and the Shaw 24 that appeared in Good Old Boat Magazine - Sept/Oct 2005.. Click here to go to the article.
********************************
**************************************************************
November 7, 2012. On a routine follow up we noticed that Veninde had been sold. Hopefully, the new owner will check in. AND, SHE DID!! Here is her email today
Hello Ron,

It's me, the owner of Marc Chramiec's Dolphin, Windsong (renamed Belladonna) from 1981 – 88. I bought Veninde from Joe Tornello & brought her down to Newport. She spent a few weeks in a slip at the Newport Yacht Club before we pulled her out before Hurricane Sandy. She's snug in her winter storage & we'll launch her as early as possible in spring. This may be her first time in salt water.

She's in extraordinary shape. Joe truly loved her. I hope to keep her to his standards.

Nancy Harley

********************************************
June 29, 2013. We reserved a space right here for Nancy's first pictures of her Veninde - here they are
| | |
| --- | --- |
| Veninde's first sail at Newport | Sailing past Newport Yacht Club |
******************************
******************************************************
We first found out about Veninde when Dyke Williams (Trina, Shaw 24 hull #1) saw this boat in a YachtWorld ad and told us about it. Dyke thinks she was hull #3. She belonged to Joe Tornello who checked in with us in January, 2009. She looks like a beauty. Here's the ad (edited)
Shaw 24 Yawl
Price Reduced from US$ $20,000 to 14,900 (check broker to see if changed)
Located In Colchester, VT
Hull Material: Wood
Engine/Fuel Type: Single Gas/Petrol
Builder: Jensen & Sons 1958; Designer. Bill Shaw
LOA 24'; LWL 18'6"; Beam 7'6"
Displacement 4300; Draft 33"; Ballast 1500#
Engine: 6hp Coventry Victor, Model MW2
Tankage - Fuel 7 gal; Water 14 gal; Holding 7 gal
Bruce Hill Yacht Sales, Inc.
4520 Harbor Road
Shelburne, VT 05482 USA
Toll-free 866-400-4383
The story of the Bill Shaw designed Shaw 24 is told on Trina's page - Hull #1. Click here to go there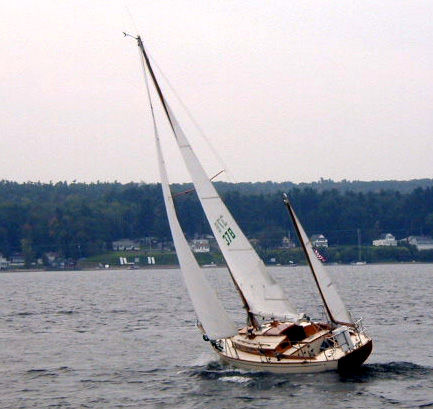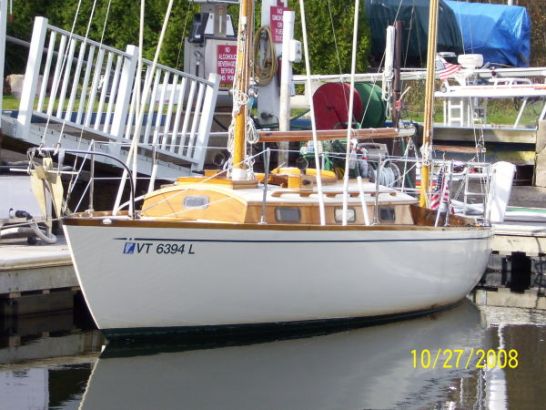 Fifty Two years old!!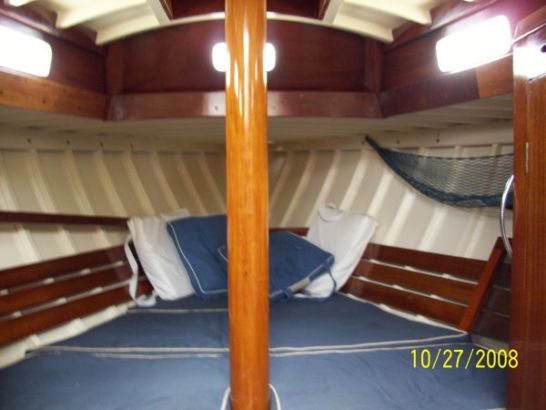 V-berth and mast strut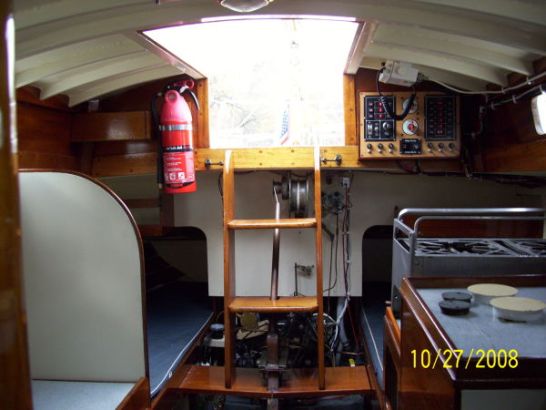 Looking aft - engine cover off
| | |
| --- | --- |
| | |
| Original Spec Sheet | page 2 |
November 27, 2011. Additional pictures from the ad
| | |
| --- | --- |
| Stove, Panel, Port Q-berth | Galley - sink |
| | |
| Hanging locker | Deck pumpout hose inside locker |
| | |
| --- | --- |
| Head and holding tank | Starboard Q-berth |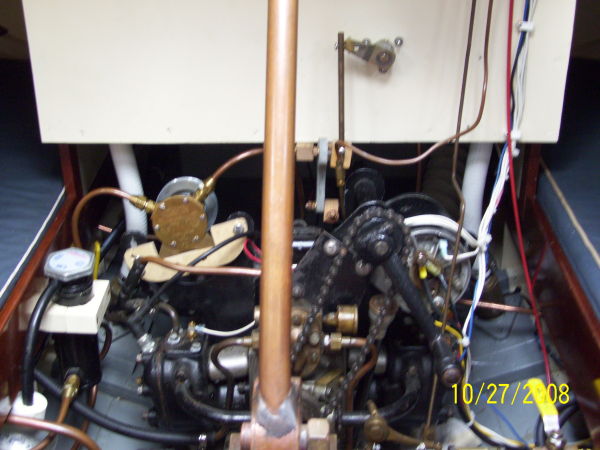 Engine - cover off
*****************