April 16, 2020 Jurgis, Giedre and Frida checking in as the new owners of Tintooki. Jurgis sent a lot of photos - click on them for a larger image. Webmaster Note: Tintooki took a 'namebreak' and became known as Wind Waker - click here to see her.
Welcome Aboard Jurgis, Giedre and Frida!
Hi there,


We took over Tintooki in February 2019 from Roger in Milford Marina. I've got some decent sailing experience and my partner decided to look for a cheap boat for my birthday present :)

She found Tintooki was for sale in Milford and after having a look I've found it's quite a decent boat with a good sail set. All we had to get an outboard, life jackets some lines and sail away. Roger has was intermediary from previous owner. He did a good job cleaning her up, replacing a sink tap, helped us getting a decent outboard and convincing it's a good boat for us :)

We've since refurbished sails a bit, redone anti-foul, added a large solar panel and did a trip to Great Barrier Island. Since then we've had a little stowaway to add too!

Sincerely

Jurgis, Giedre and Frida!

| | |
| --- | --- |
| | |
| | |
| | |
| Sunrise - the mountain ahead is Rangitoto volcano in the Hauraki Gulf near Auckland | |

Ok, enough - lets get to work

Stay Tuned
********************************
*************************************************************
*******************************
This is the history we had on Tintooki up to this point in time
February 13, 2012. Bill Cole checked in as a former, long time owner, of Tintooki. Here is his email (minor edits) to Giles Grimstom (Summer Wine) who is helping us find these missing members of our fleet. (Webmaster Note, March 7, 2014. Giles, who despite emigrating to Australia, keeps an eye on goings on in NZ told us that this boat is now for sale of Trade Me. Click here to go there)
Hi, Giles,

I saw your request for info in the Devonport Yacht Club Newsletter. I was owner of Falcon 24 " TINTOOKI " NZY No.1560 from November, 1978 till June, 2007.

Unfortunately the person I sold her to only kept her for a couple of years, and then sold her. I last saw her in
Milford Creek Marina Auckland.

If you are interested I could put together some pictures and couple of small modifications that I did to her plus I have an original Sea Nymph brochure which I could scan. I was on the Owners Association Committee when it was wound up due lack of interest .

This photo came in later but we decided this first email needed a bit of color....

They are a brilliant little boat, very forgiving, very predictable. When racing in later years when my son was old enough we pushed her pretty hard .

Fastest speed I saw was 9kts under spinnaker and as the old Sumlog impellor was slowly losing its vanes it
under reading. Mind it didn't last long, a crash gybe ended it. (Had a preventer on the boom so no sore heads, just held down in the water till we let the preventer go)

Strongest wind was reportedly 55kts, double reef and storm jib and still playing the traveller trying to bash to weather.

Regards

Bill Cole

***************************
February 16, 2012 Some great sailing pictures and an email from Bill (minor edits). Lets start with an inspiring photo.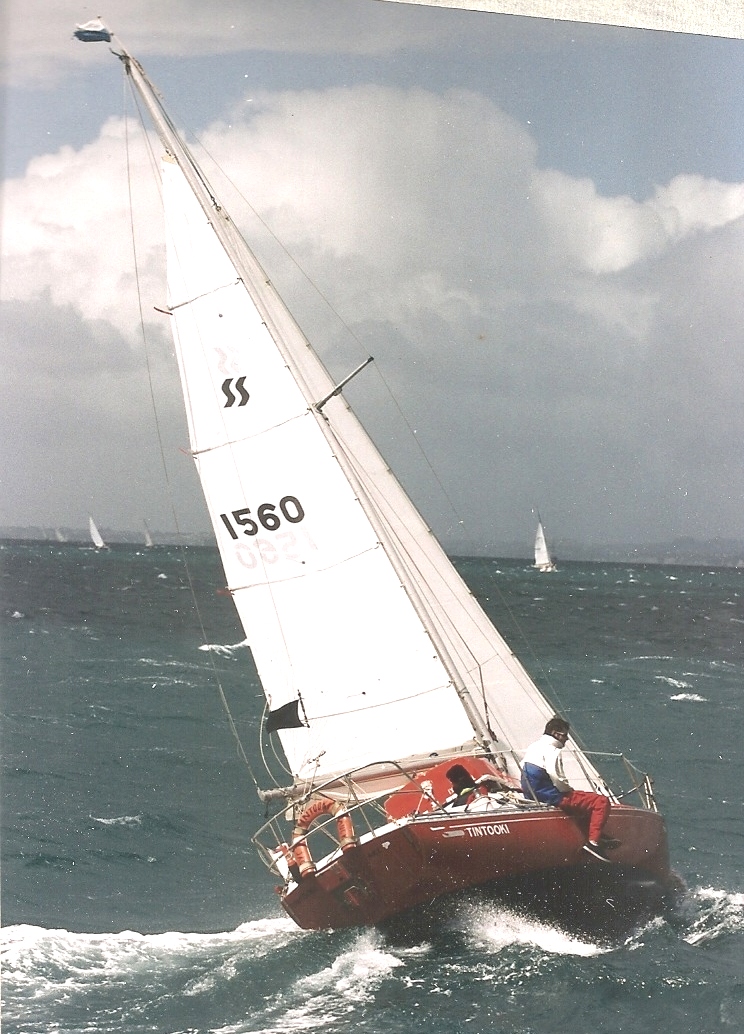 Hi Ron

I bought Tintooki from a Mr Henderson, an Australian who had bought her new and had finished her off but he had to return to Aussie. When I bought her, we had just returned from working for a private company in The Kindom of Tonga for 10 years, very interesting, but definitely not financialy rewarding. However I was determined to find a small keeler, having always sailed. So price was the main aspect - I looked another local keeler, a 25' Reactor, but they were too dear. The genuine SS24 ( with low coachroof) was a prettier boat, but the Falcon was a more practical option with a wife and two small children (6 + 4 approx) but the Falcon had the S+S hull so " it should be ok" . That she was in the terms of the time. A "Tupperware boat" term also suited, as I would not have much time for maintenance due to work demands.

The name "Tintooki" was also an amazing coincidence. When living in Tonga my boss, an Aussie, had a family dog of the same name (which reportedly means the equivalent of an Irish leprechaun in Aboriginal) so seemed an omen....

The main alterations I made were to replace the flimsy forward opening forward hatch with an aft opening double coaming timber/ply hatch. It was invaluable in that it could sit partly open on two triangular side pieces when sailing and get ventilation. I extended the aft portion of the main hatch as the reverse slope of the bulkhead caused drips to drop inside.

I glassed two knees to the deckhead on the forward side of the interior bulkhead as the forward edge of the mast step was unsupported other than the actual deck. I also later added a SS bracket under the turning block for the main and headsail halyards.

I also added three chocks on the cabin top to take a plywood dinghy instead of towing one. Hoisted out of the water by the main halyard and bridle from stem and transom, land that way on cabintop, take halyard off, sit it on edge on the stbd side deck, pickup and complete the turn and slide it under the boom.

Again, invaluable in fresh or bad weather. The main hatch could still open under dinghy.

I fit a lee cloth to the main bunk, and moved the pivot point of the stove lower to be in line with bottom of the pots so they just tilted, not swung through an arc; folded the lead sheet and hose clamped to the fuel tank to compensate - that plus a pressure cooker with its lock on lid, and we were fine.

We were never as good on the wind as I thought we should be and it was thought at the time that the spreaders were too wide. In the last year I had her I did put a new jib sheet track further inboard but the shrouds still fouled the clew etc., - at one stage I was trying two sheets, one inside for hard on, and another for any eased work, but too messy.

Never had a No1 genny - most of the time the No2 was fine. Quite early on I got an MPS which set from stemhead on the spin halyard. It was good for passagemaking, really improved speeds, and easy to handle, just let the tack rope fly , the load is gone and as the sheet had another line back to the stem, it just flew like a flag to leeward till dropped.

Later on used the same principle on the kite, with a snap shackle to the clew, trip it and the load is gone but the pole is still firmly held in place by guy, foreguy, and topping lift. It's fine on boats this size, but do keep your head clear of the pole as it springs to windward! The other item, I'm firmly in favour of, is a preventer on the main boom, in the light air in a slop, ferry washes - so much easier than someone having to hold the boom. Its led 'round the Samson post and back to the cockpit with a jam cleat.

She was kept on a swing mooring off Devonport in Auckland Harbor. As the outboard was hopeless unless flat calm, all anchoring mooring, etc., was done under sail, dropping the headsail and approaching just on main - not much drive in a reefed main unless really fresh.

Early years we cruised up to Whangaroa, Bay of Islands, and out to Great Barrier Island , all on the NE coast of North Island, later years spent closer due to everyone's commitments.

When I sold Tintooki to Dana Hemmingway, due to a bad back, she didn't owe me a thing - she'd been brilliant.

I hope that some of this is of interest to someone.

The photos show the hatches, harbour racing in different conditions, and on a passage race.

Regards

Bill

There must be a story behind how Bill got this great photo!!
Webmaster Note: February 21, 2012 There was a story! Bill sent in a couple of interior photos and comments (minor edits).
The photo you comment on was taken by a commercial photographer, together with the reefed down one, from a helicopter during a passage race back from Mahurangi to Auckland (appx 24 miles) appx 6 yrs ago. The race was part of the annual Auckland Anniversary Regatta (Public Holiday). He would fly around shooting anyone that looked interesting then try sell you the photos. He convinced me....

Note the outboard under to cockpit and the extra heavy fiddles around the galley.

For a larger view click here

Unfortunately the only interior photos I can find are ones I took for the sale and she is showing signs of needing some work. The bracket under the turning block is clearly visible, also the edge of plywood panel I glued/bolted under the anchor well to stiffen it up. I fitted a robust fiddle round the galley bench so you could hang onto it, and also put deeper stronger bunk boards on the bunks. The old pivot hole is visible on the SS stove (2 burner kerosene). The new one just shows level with the timber.

Regards

Bill

Bill also sent in a Sea Nymph brochure and price sheet. Click here to go there.
**************************