April 21, 2010. Jim Robinson, Aquila, Pacific Dolphin # 273, sent in an interesting 'fix' on scratched. cloudy plastic windows..
Hi Ron,

I'm in Yosemite doing my camp host gig. Being here gives me time to weed through my hard drive for long lost files and I found these pictures I took over a year ago of a window reclamation project on my Dolphin. The windows are Plexiglas and badly oxidized and /or sun damaged over the years. I had already decided to replace them and I thought I would experiment with and old friend, Barkeepers Friend (a light abrasive powder) found at Wal-Mart and a new found friend, Mequires PlastX (cleanser/polisher for plastic headlight covers) found at Kragens or Auto Zone. Between them I was pleasantly surprised at the results. One picture captures the outcome of the combined application. Suffice to say I did not replace the windows and a year later they are still clear.

I hope all is well with you.

Jim

Before and after

*****************************
July 13, 2013. Your webmaster needs to read the stuff thats gets sent in! Today we posted an article on repairing and polishing a galley pump that morphed into a project to polish a cloudy compass dome face, and from there to a project to polish a cloudy portlight (click here to go there). The product used was Flitz based on a recommendation from a marine supplies store. We'll repeat that repair segment here. We had been talking about polishing a galley hand pump.....
A small but important diversion here - this polish can even be used to polish and clear up the clouded plastic dome on your compass!
This is not a commercial! We use this polish on high heat enameled stove grates, and surrounding stainless on the burner to remove stains baked on. It works wonderfully on brass and bronze, and even on plastic

'After' photo of the compass - see below
Truth telling time . See that tiny bubble at the top of the dome? That, coupled with the cloudy compass face led me to decide that after 18 years maybe it was time for a new compass.
So, laboriously I removed it from the bulkhead and contacted a compass guy who happens to live in my area - he said Plastimo compasses are sealed and difficult to repair/add fluid. He recommended replacement with a Ritchie compass which have a fluid valve. So, I drove to Defender's and looked at new ones - a replacement Plastimo - $250, a Ritchie - $300. But, in a discussion with the Defender sales guy, who had just bought a new Ritchie for his own boat, he said 'try using Flitz polish on the face - it might clear it up".

I didn't know Flitz could be used on plastic! I use it all the time - and I even can read! Missed it. My credit card safely in my wallet, I immediately went back home and went to work. Applied with a soft, clean cloth, rubbing it well and clean.

I could have polished it in place and saved a couple of hours of labor and angst, plus driving, etc...But I did save $300!! Here's the result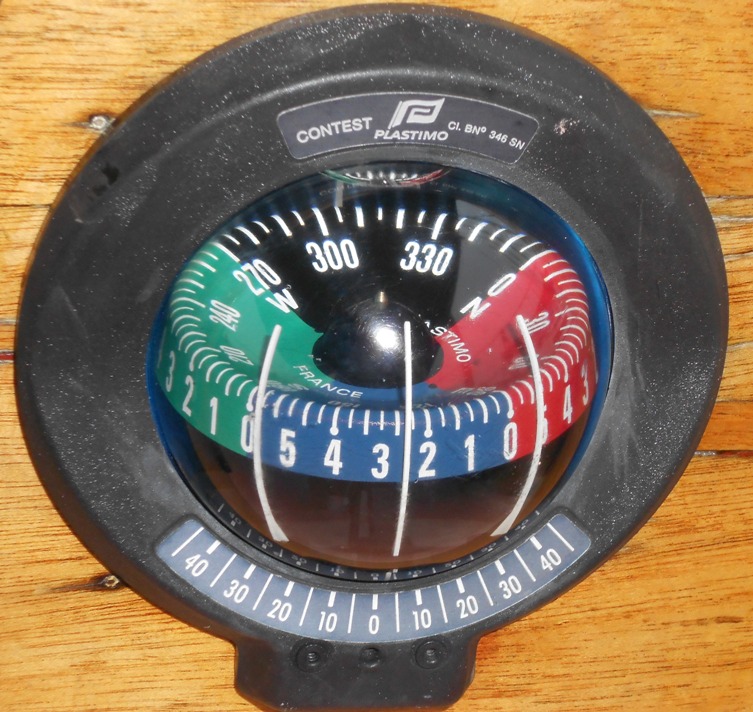 Magic
Like new!! The little bubble is still there but its been there about that size for several years. Maybe it won't get bigger? Right.
This effort got me thinking about the portlight in the v-berth on the port side. Its plastic and that side gets a lot of sunlight and it was pretty 'cloudy'. So here's the outcome with a single polish application of Flitz.
| | |
| --- | --- |
| Before | After |
The other portlights are nowhere near as cloudy but I'm going to buy another Flitz and do them all
********************************