February 1, 2013. Jerry Slaughter has advised us that Weeks Yacht Yard has accepted his deposit and that he expects to trailer this boat down to Texas in the Spring. He will name her ROWDY and is now working on her trailer. Click here to go to ROWDY
****************************
*************************************************************
This is the history we had on the boat. On December, 2010 Ian Holzmacher, Wanderlust, Yankee #122, brought this boat to our attention. At this point we didn't know much about her - other than she was located in the Weeks Yacht Yard in Patchogue, Long Island, New York. Her rudder shape marked her as an O'Day era boat, and Ian sent in a few pictures. Having no name for her we entered her in our database as the 'Patchogue Dolphin', and posted only the following picture.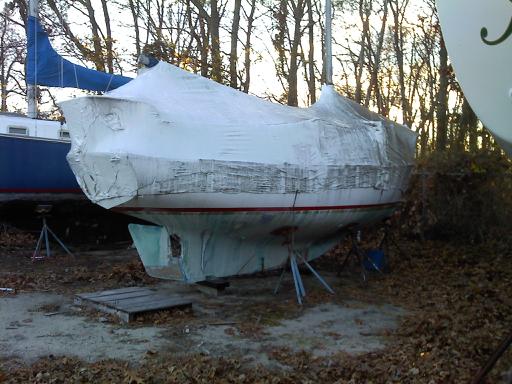 On March 1, 2011 Kevin Weeks checked in advising that Weeks Yacht Yard in Patchogue is now the owner of this boat. They are interested in selling her and expected to put together an ad. Somehow time went by and this did not happen.
On December 22, 2012, your webmaster followed up with Weeks Yacht Yard and we were advised that the boat was still for sale, Pictures and more information were promised early in January. Anyone interested can contact them at
Phone 631 475 1675
Email: weeksyachtyard@aol.com
The yard advised that they installed an Atomic 4 some years ago for the prior owner. Some paperwork with the boat had indications that the boat was built in 1960 and that her hull # may be 24. After review we have determined that this is a 'newly found Dolphin' our 209th. Click here to go there. We never did get an ad.
With this update we finally got this page up on the website. Holidays, missed phone calls, and poor staff work contributed to the delay in getting her up on the Roster.
Stay tuned
*******************************************************
September 27, 2013. In the past several months we have found out a lot about this boat, including the fact that she was originally Greyling, Marscot/O'Day hull #5. A whole chapter in Boughton Cobb Jr's 1965 book Fiberglass Boats, Construction and Maintenance was devoted to her restoration. This story is covered on Rowdy's page. If you have not yet been there, click here to go there.
We may still have a few gaps in Rowdy's past to fill in. Here's four more pictures Ian Holtzmacher took back in December, 2010, one of which will impress the reader with what some of these ladies have to endure while waiting their rescuer.
**********************************************************