On this page we will try and accumulate information on refinishing your spars. Our first posting here came into our Forum on Feb 11 from Dick Galland, former owner of Kestral, in response to a question on this subject.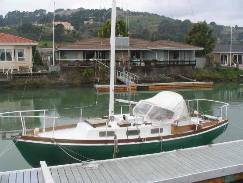 I had an O'Day Dolphin in the 70's and painted her mast and boom white. Can't recall the details. Then I bought a little 16' swing keel day sailor. Her mast had been gouged somehow. I had the gouge welded up and sanded smooth. Then I sanded the whole mast and boom with moderate grit sandpaper, to remove burrs and scratches. I acid etched the aluminum with a product from West and painted both the mast and boom by hand with a brush. I seem to recall that I put two coats on. It worked very well. I wouldn't hesitate to recommend the process. Hope this helps.
Dick Galland, Kestral
You can see a larger image of Kestral and her white mast by clicking here.