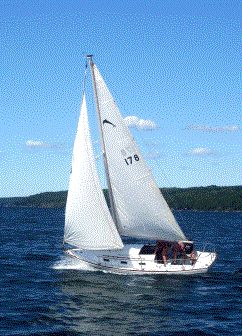 July 21, 2009 Phil checked in on July 21 with the following email
My wife and I purchased Orion from Eric Hazlitt at the beginning of the summer and now have her at our place in Lodi, NY on Seneca Lake. Having had most of my experience on a Star, in comparison, the Dolphin 24 is a sweet sailing boat. We expect to do painting and some other work next year, but for now we are enjoying her as is. We will probably rename her at that time and will let you know.

Phil Groben
****************
November 30, 2013. We have had some Dolphin discovery activity (soon to be released as field investigations are ongoing) on nearby Cayugo Lake (Colossal and the Ithaca Dolphin) and this led website staff to check out what was happening on the neighboring Finger Lake - Lake Senaca. Here is Phil's response:
Hi Ron,

We still have our boat on Seneca Lake, near Lodi, NY... Never did get around to renaming her (it's still Orion). My wife and I are retired and spend our summers there. We love sailing our Dolphin 24 and, because it was in such great condition when we got her, we've had to perform almost no maintenance on her.

Phil Groben
*************************
January 13, 2014. Phil sent in the following report. (minor edit).
Nothing new to report. We still have not changed the name and have done little work on it, but the boat is still in good shape and is wonderful to sail. We live in Phoenix, Arizona, but spend our summers at our place on Seneca Lake in New York where we keep our Dolphin 24.

Phil
The recent discoveries of 2 Dolphins up on the Finger Lakes inspired staff to get a geography lesson. The Finger Lakes are a series of north/south lakes in upstate New York, draining into Lake Ontario, and separated by 'mountains'. With the help of Google Earth staff offers the following
Click on the above pictures for a larger view, click on the new pictures to move around; click the back arrow on your browser to get back here

*****************************************

***********************************************************
Looking back
We first found out about this boat when former owner Eric Hazlitt checked in on December 19, 2007
Just found your site! Guess I hadn't googled it in awhile. I have Yankee Dolphin #178 "ORION" on Seneca Lake in upstate NY. I'm glad to see that there is a site dedicated to this great boat.

Eric Hazlitt, Hector, NY.
********************************
January 29, 2009. Eric has bought a bigger boat and decided to put Orion up for sale. We have some pictures from the ad that was running on YachtWorld.To go directly to the ad click here.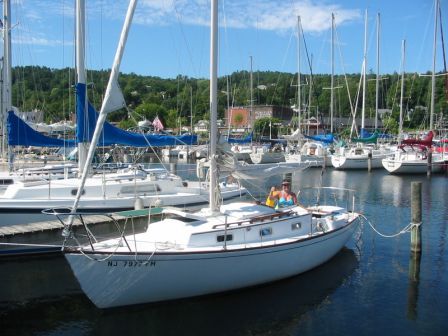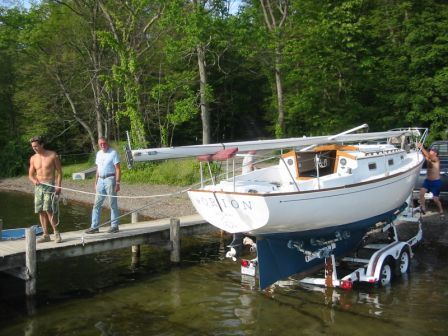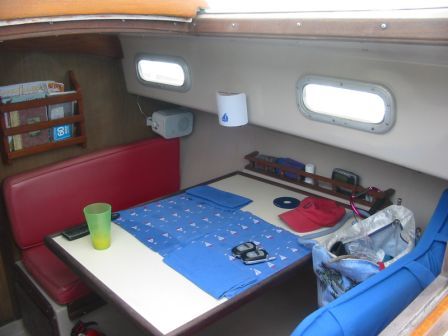 **************************
February 3, 2009 Eric sent in some additional info about Orion and his new boat - edited
Hi Ron

Being the diseased boat rat that I am. I just had to buy the Pearson Triton out of the "Dead Boat" row at my local marina. The Dolphin was just a little bit too small for day sailing my extended family and I figured that if I was going to go through all of the pains of restoring an old sailboat I had better go with one a little better suited for my situation.

The Dolphin is a hell of a good boat and a great sailer! She's a solid boat but she needs a bit of TLC. Someone painted the deck with a brush years ago so that needs to be addressed and her brightwork needs refinishing but her standing rigging is new and she has a roller furling genny.

Eric
*************