September 28, 2010. Spoke to Jon today. The boat, believed to be a Yankee, was picked up in July by a guy who planned to take it to Rhode Island. Jon had the boat for 3-4 years and bought it from the Chatham Boat Works. Stay tuned - our DFIs are at work tracking down this boat.
******************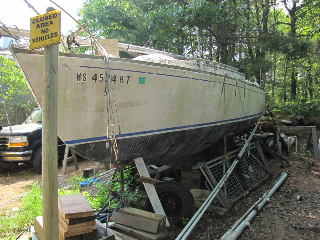 June 1 , 2010 We found out about this boat first with an email from Kevin on May 28 alerting us to the CraigsList ad below. We were in touch with Jon and were standing by for more info and pictures when we got a bunch of pictures from Senior DFI (Dolphin Field Investigator) Eric Varty (Canopache)
Free Sailboat-Needs Work (Chatham)

---

Date: 2010-05-19, 8:20PM EDT
Reply to: sale-uwtf8-1749703614@craigslist.org [Errors when replying to ads?]

---

Free 24 foot Dolphin Sail Boat. Needs work but very solid.Comes complete.
Call Jon 508-241-0025

**********************
These are some of the pictures Eric sent in. Garganey is going to need work.
Yankee # 234 1989 Florida sticker (no sky hook, photo rotated!

Raised lettering 1991 Town of WellFleet, MA

Galley Companionway