January 17, 2016. A Dolphin 24 webmaster's life is never boring. While working on the Irving Johnson's Yankee story (see Stories Section http://dolphin24.org/yankees_johnson.html) I connected with Henry Fuller, who owns the Cape Breton Boat Yard located in Baddeck on Bras D'or Lake, and who I thought might have some info about the Yankee's sinking in 'mysterious circumstances' in Herring Cove, just 2 1/2 miles up the bay from Baddeck. Henry is checking with his friends and will get back to us but he just happened to mention that he owns one of the original Shaw 24's, Galatea, built in Denmark!!
Here is a consolidated excerpt from his emails.
"I am in the possession of one of the original Shaw 24 wooden boats built in Denmark. I think five were built in Denmark. It has not been in the water for a number of years, but has had work done on it. I hope in the spring to do some more work. The hull is in good shape as is the deck and exterior bright work. I bought it back in the early 1960s. I will sent you some info on the Shaw 24. When I bought it is was called Galatea and owned by a fellow named John Runyon who sailed it up from New Jersey. It developed some leaks as some planking seams opened up. We sheathed the hull with epoxy and cloth and sistered three frames. The scantlings were light in the wooden Shaw 24s!

The work left on it is to reinstall deck fittings, install new through hulls. There is no motor in the boat although I have the little British gas engine that came with it. I have new rigging for the spar. I recently last winter, sent all sails to SAIL CARE in PA for inspection and repairs. They were all in pretty good shape. Before Christmas I traveled to Annapolis Royal to bargain for some bronze hardware from www.traditionalmarine.com. John Edelman has a great supply of traditional marine hardware sitting in a barn in milk crates!
We are standing by for a full report and pictures.
A couple of side trips - some years ago, pre website days, your webmaster was on a Fall driving tour of Nova Scotia and went to Baddeck to visit the Alexander Graham Bell Museum located there. Unable to resist checking out boatyards I wandered into, and thru Henry's yard and sheds while the Admiral waited impatiently in the car. There was an incredible collection of classic boats there - including several Concordia yawls. which have a connection to Dolphin 24s. The first Dolphins were assembled and finished by Leo Talesmanik, a legendary New England boat builder. Leo worked for Beetle Cat boats that became part of the Concordia Boat operations. More of this story can be found by clicking here
Henry and I were talking about the sinking of Yankee and he sent me an interesting 'sinking' article that appeared in the Gloucester Times, November 6, 1936, written by his uncle Horace W. Fuller. We thought it would make good, even inspirational reading for Dolphinites. Click here to go there.
*************************
January 31, 2017. While we wait for Henry to send us pictures of Galatea, Google has helped us get a picture of where she is. This effort is part of our continuing effort to familiarize our readers with the sailing areas of our boats.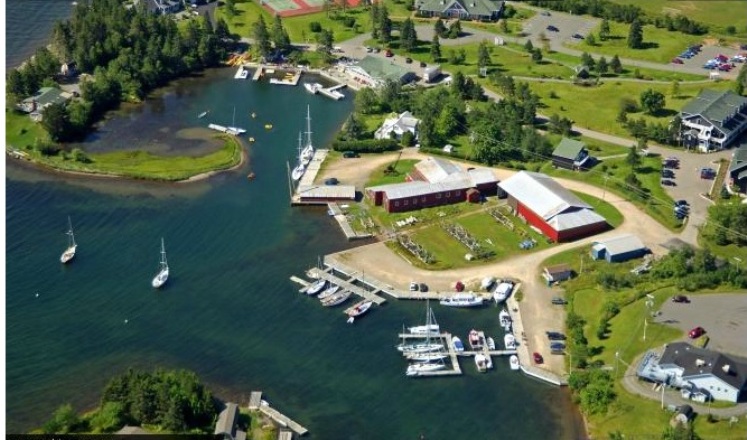 Cape Breton Boat Yard, Baddeck, Nova Scotia
Henry also owns White Mist, an S&S designed 45' yawl, that is in the evolution chain that led to Finisterre, TRINA and the Dolphin 24. White Mist was previously owned by G. Blunt White (past commodore of the Cruising Club of America and the Off Soundings Club), and Melville Bell Grosvener (of National Geographic Magazine fame). Henry has written a fascinating history of this boat. Click here to go there.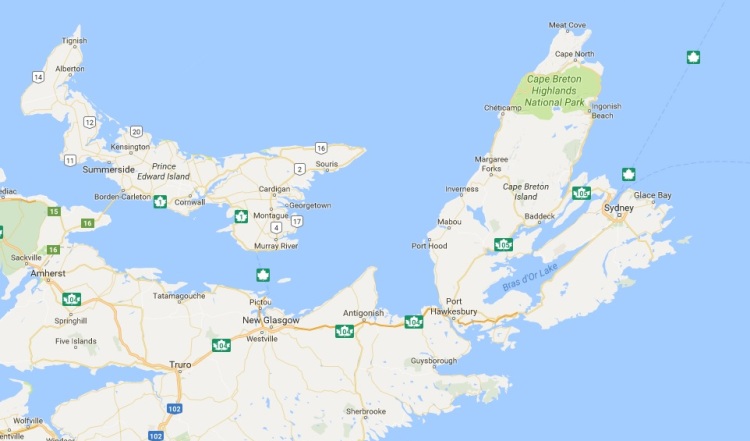 The island of Cape Breton is on the northeast tip of Nova Scotia, Canada. The Bras d'Or Lake is accessible from the Atlantic Ocean via a short canal and from the Gulf of St Lawrence via Sydney. Here is a photo album of the lake region http://www.novascotiaphotoalbum.com/Bras-dOr-Lakes/
*****************************