October 24, 2010. Bill Thomas checked in Clover, formerly Jim Kurt's The Rachel K, with the following email and pictures: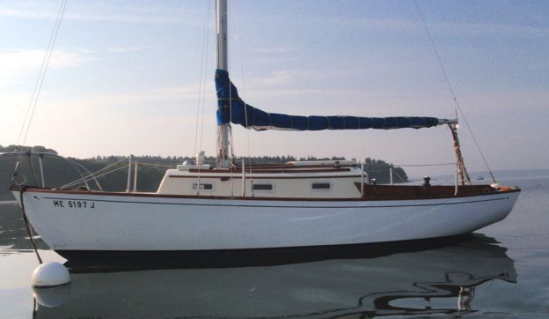 Hi Ron,

I wanted to touch base (something I should have done months ago) and let you know that my wife, Jane Ahlfeld and I bought Jim Kurt's boat the 'Rachael K.' last fall. We are very excited about the Dolphin design and proud to be the new owners of Jim's boat.

Jane and I are both instructors at the WoodenBoat school during the summer. Jane teaches navigation and small boat sailing. She also has her captains license. I teach small boat building, on water kayaking and small boat sailing and camping. Even though we live in southern Maine we spend most of the summer working on Penobscot Bay so we will be keep our Dolphin on one of 2 moorings off Eggemoggin Reach. One is in the Benjamin River, the other Great Cove which is the WoodenBoat waterfront. This season we got off to a late start but did have the boat in the water for about 8 weeks. In short, we love the way the Dolphin sails and look forward to cruising the coast of Maine during our weeks off each summer.

We have renamed the boat 'Clover' and have her at home right now tucked in to the dooryard in front of my shop. I'm planning on a major refit of the interior as well as deck painting and installing a new rudder this winter. I hope to start a blog on the progress of refurbishing the interior and systems.

Your website is fantastic and has served as a very useful tool. Our first big project was rebuilding and reconfiguring a used trailer to be able to tow the boat home. I have attached a drawing that you might find useful. Feel free to put it on the website. Also attached are some photos of 'Clover' in the water and on the trailer.

We are looking forward to crossing paths to other Dolphins owners.

Sincerely,

Bill Thomas

Clover approaching the Deer Island Bridge on Eggemoggin Reach
Clover in front of Bill's shop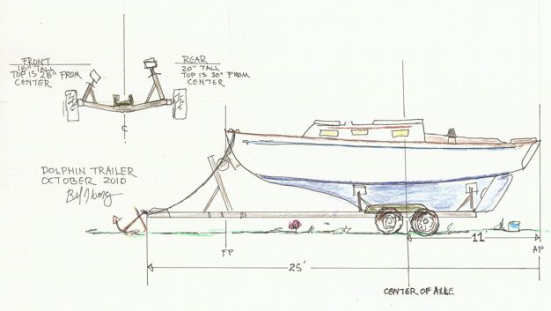 Bill's sketch of his trailer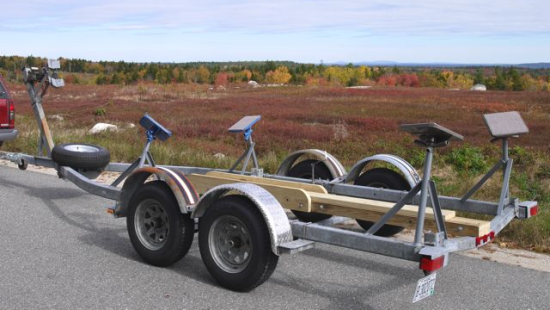 Clover's trailer
********************
November 10, 2010. Bill sent in a report on the building of Clover's trailer, It is included in the Technical Section/Trailers - click to go there.
June 27, 2011. We have an update from Bill on Clover. First they have changed her name to Ruby. Second, a major restoration continues and she won't be in the water this year. Third, Bill and Jane will be cruising the Maine islands though - they are also kayakers - space issues in the tent but no headroom issues in the boat. Here is Bill's email - edited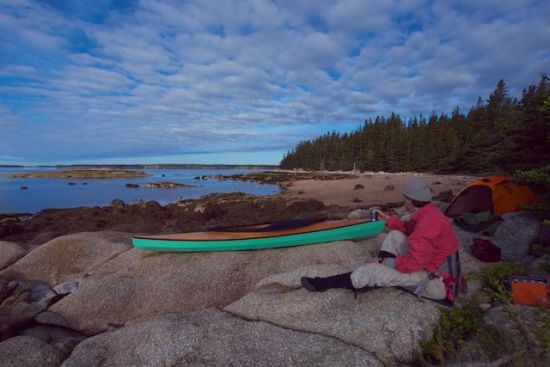 Hi Ron,


Great to hear from you. Not much to up date on Clover, except that we have changed the name to Ruby and instead of swinging on her mooring at WoodenBoat she's still on her trailer in our drive. Given the layout of our summer and a very busy spring she's not going in this year. We'll instead use the time and resources we'd spend on splashing her on much needed boat work and upgrades. Next spring she'll be in early and ready for a full out Maine summer.

We'll also be using some of that reallocated time to cruise Maine coast in our kayaks. As we paddle around Maine's islands I'm sure we'll be, in addition to living the the moment, planning next summer's adventures in Ruby. Attached is a photo of my last cruise.


Bill