June 12, 2017. Hal Schmelzer checking in as the new owner of Sunrisa, Yankee #168
Brad Miller's Sunrisa, Yankee # 168, Sequim Bay, Washington has been bought by Harold Schmelzer and now rests grandly next to my house in Portland, Oregon.

This adds to my fleet of a canoe, a recreational kayak, and Montego 19 sailboat. I keep the Montego (built in Florida) in a slip on the Multnomah Channel just off the Willamette River. The Dolphin will replace the Montego I have had for thirty years.

I am working my way through the registration paper work for the trailer and the Dolphin. I have to take the trailer to DMV so they can verify the VIN number. The Dolphin is easier to do through my local marina.

The Dolphin is only 4 and a half feet longer than the Montego and they have the same beam. The size and weight of the Dolphin in real terms is double my current sailboat. I am in awe of the mast and rigging. The previous owner took good care of the Dolphin and repainted the deck and topsides.

Here are a couple of pics from the 216 mile white knuckled ride from Sequim to Portland.

Your website sold this boat to me. (Dolphin24.org staff - take note!!) I kept going back to the laptop as we experience the longest and wettest winter in 20 year here in the Pacific Northwest.

Fair Winds and Following Seas.

Harold

***********************************

*******************************************

*************************************************************

*******************************
At this point is the history of we have of Yankee #168
March 21, 2016. Brad Miller advised us that #168 is FOR SALE. Here is his Craigslist ad and lots of pictures, more of which are in the Craigslist ad.
Ron


I have decided to sell my Dolphin. It has been a great boat but life changes mean I get less and less time on her. My craigslist ad is at http://olympic.craigslist.org/boa/5499303277.html.

Sequim is a ferry boat ride and one hour from Seattle.

Thanks

Brad Miller
YD 168 Sequim

Yankee Dolphin 24 with Trailer - $5800

Sparkman and Stephens designed Yankee Dolphin 24. Built by Yankee Yachts #168
Solid little pocket cruiser with good performance and Comfort.
Shoal Keel (30") with a centerboard (60")
Boat is in Fair condition,
Sails are useable but will need to be replaced soon. Main, Jib large and Jib small
Roller reefing jib system,
Comes with Lazarette mounted Chrysler 6hp which I never even tried to start. I used a 2hp Honda which served me well in the bay.
Cockpit Cushions are good condition
Interior Cushions, foam is in good condition upholstery needs replacement.


I have used the boat as a day sailor on the bay so it has not been outfitted with any electrical or electronics.
Trailer Aros 1984 needs work. Brakes, Tires, Fender, Bunk.... Gets the job done for me only 4 miles to launch.
Dolphin 24 web site (www.dolphin24.org) is great.
See Photos below and website, I have additional photos and will answer any questions.
I bought the boat out of a storage yard where it had sat for 10 years so I do not know the history of it.

Click on the pictures for larger images - more pictures on the Craigslist ad

****************************************

************************************************************
April 28, 2009. Brad checked as the new owner of # 168 with the following email and pictures.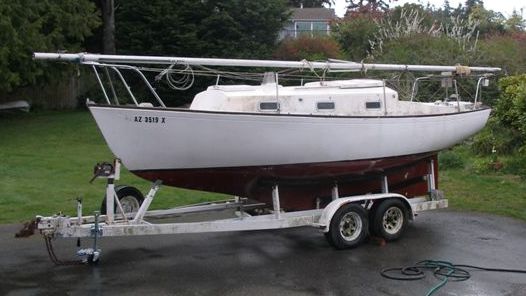 Hi Ron

I just brought Yankee Dolphin 168 home. She's was a bit rough, but after a good hosing and a bit of scrubbing she cleaned up respectably. Her interior is completely torn apart. But most of the parts have been located and identified. I am hoping to replace damaged cabin top rub rails and reset the cabin top hand rails, and the arch just to make her sailable. I'll leave the remaining interior cabin trim off for next winter projects. I've been pouring over your forum and tech section, a great source of information.
I'll be needing to figure out what is absolutely necessary and what I can leave off till later. More on that later.

She's listed in your For Sale section. Seattle/Vancouver Craigslist in October.

Thanks for a great web site and for the effort to keep it going. It was invaluable in keeping me interested during negotiations and I am sure will be even more so as I get into this project.

Brad Miller
Portland, Oregon (sailing area Sequim Bay, Washington)
****************
Here is a copy of the CraigLiist Ad and our first posting on this boat November 4, 2008. One of our field investigators came across this CraigsList posting for a Dolphin 24. We were trying to get more information about her but no luck until Brad checked in
Yankee Dolphin Sailboat and Trailer/needs some work - $4000 (Vancouver)
Reply to: sale-888436039@craigslist.org [?]
Date: 2008-10-21, 6:10PM PDT

Selling my sailboat and trailer well below market price. Moved back to Vancouver but the sailboat is still in Seattle storage unit. Will provide pics if interested.
Location: Vancouver
***************